We created this recipe from the desire for a quick shortbread cake that could be made quickly in the morning. We wanted soft, sweet and fast for our breakfast cake. Sweet and Buttery Breakfast Shortcake is what we came up with, and it has served many hungry tummies for many years.
Sweet and Buttery Breakfast Shortcake
You can use either soft white wheat flour or unbleached flour in this recipe. This recipe comes from Baby's First Foods where all the recipes use whole grain flour, but we've found some good old unbleached white flour produces a nice texture and is a bit lighter.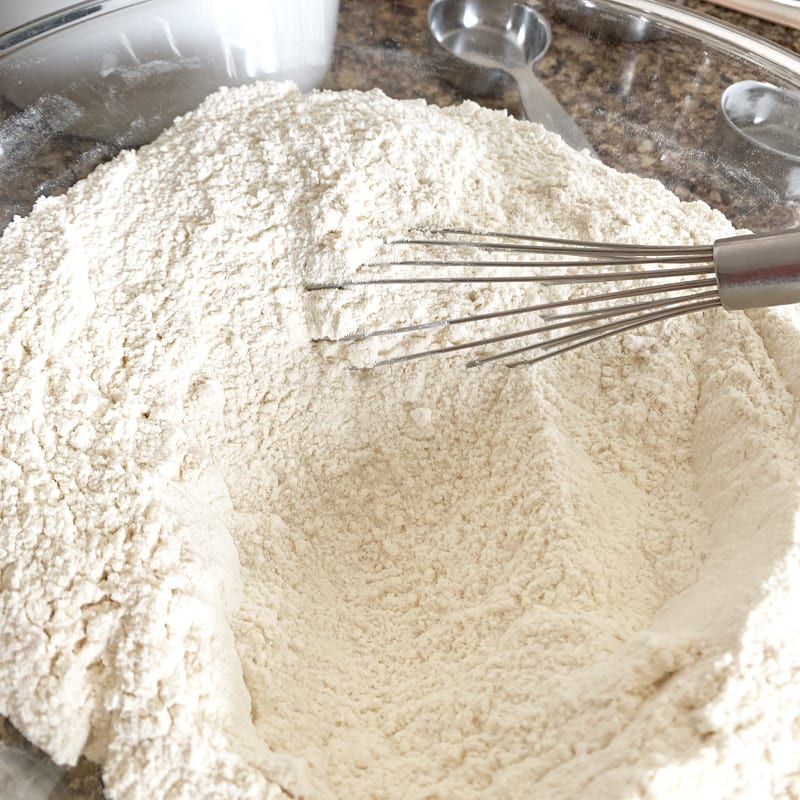 Make this recipe ahead so breakfast is fast! Preparing the flour mixture ahead is very simple. Measure out the dry ingredients and cut the butter in. Separate into storage bags and freeze.
Once you get your cold butter, flour, salt, and baking powder into the mixer, you'll add the eggs and half-n-half. You can substitute with heavier cream and milk, or a combination of liquids. We've been wanting to try almond milk as my daughter doesn't do well with regular, but haven't yet. If you try it, let us know!
I think I'll need to make this correction – I added more liquid than called for. The book says 3/4 c. – I added 1 1/2 c. and it was sticky, and not too wet. We live in a very dry climate, so you may find that working up from 3/4 c. to a total of 1 1/2 c. will work. Again, you want the shortcake sticky but not too wet.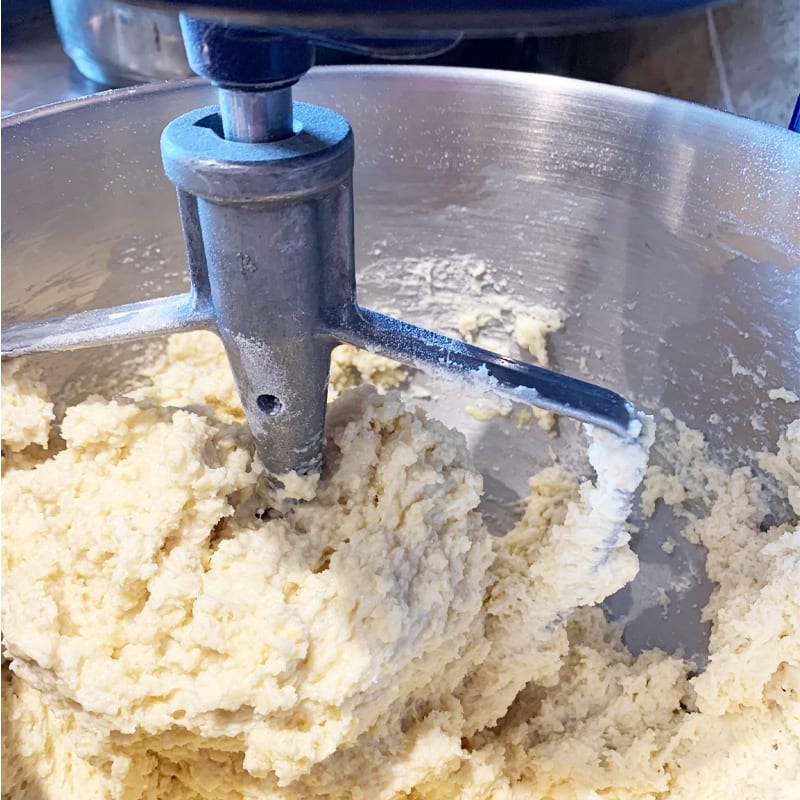 Scoop into a prepared 9″ x 13″ dish and sprinkle all over with sugar, or cinnamon sugar. Bake. Wait for the smell to swirl through the morning air, this is our favorite morning sidekick.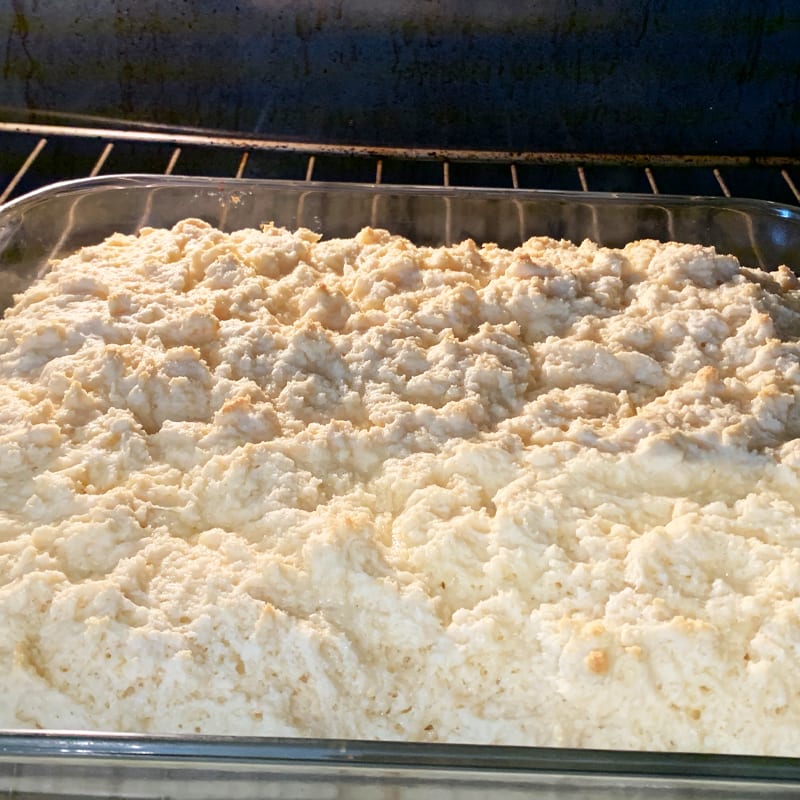 This shortcake is adaptable. Add cinnamon streusel, or serve with fruit filling – be creative.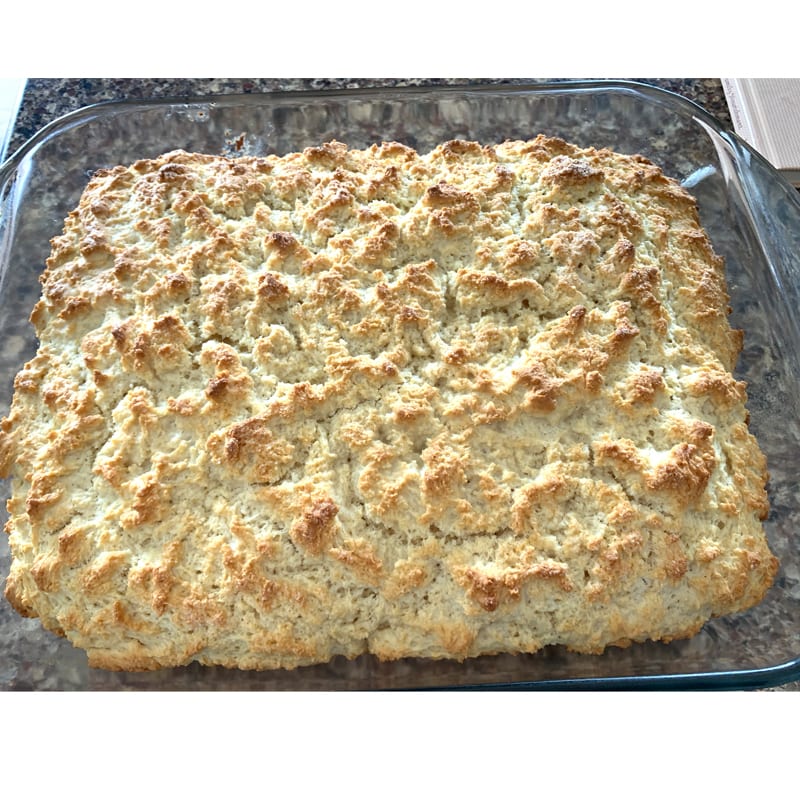 Make our spreadable butter and add honey – YUM. I hope this becomes one of your favorite recipes for breakfast! Our children have loved it for years and years.
Sweet and Buttery Breakfast Shortcake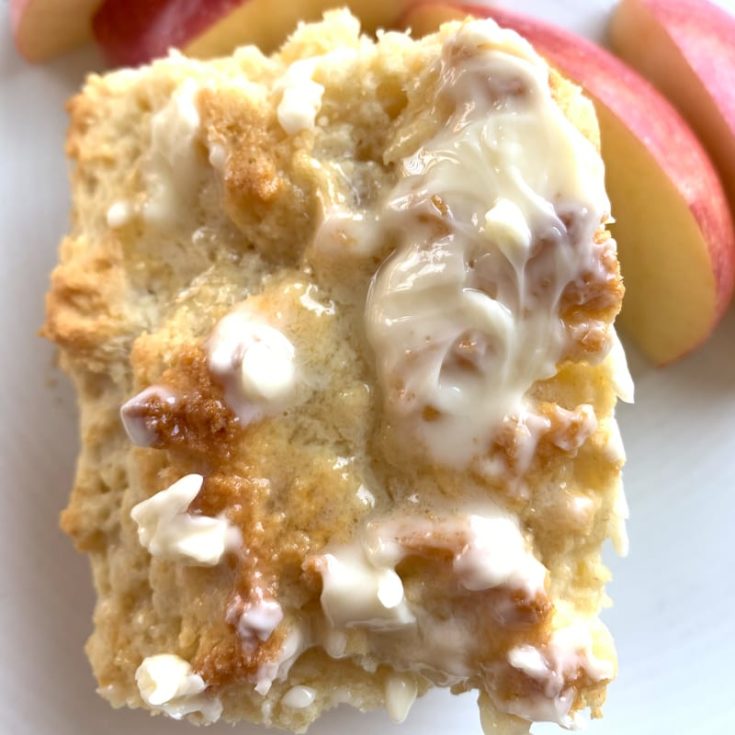 A perfect hot shortcake for breakfast.
Ingredients
8 Tbsp. cold butter
4 cups flour
1 tsp. salt
2 Tbsp. baking powder
1/4. c sugar
2 eggs
1 - 1/2 c. half-n-half (see the post on liquid comments)
1/4 c. sugar for top
Instructions
Preheat oven to 350 degrees.
Using a food processor, blend the butter and the dry ingredients. Add the dry ingredients to a mixer. Add the eggs and the half-n-half. Mix only until blended, don't over beat.
Scoop into a prepared 9"x 13" dish. Sprinkle with sugar. Bake 20 minutes or until a toothpick comes out clean.