Here is a great sugar cookie recipe which is perfect for rolling a little thinner, then spreading with filling. Shape the dough into hearts and you have a perfect Valentine's Day sugar cookie, or just a wonderful tea cookie. Here's how to make heart-shaped sugar cookies with cherry filling.
How to Make Heart-Shaped Sugar Cookies with Cherry Filling
I came across adding cornstarch to sugar cookie dough, and this has now become my addiction to sugar cookie recipes. Cornstarch is said to soften the harsh proteins in the flour and make the cookie softer. Because we don't want the cookies too crisp with the cherry filling, this is perfect!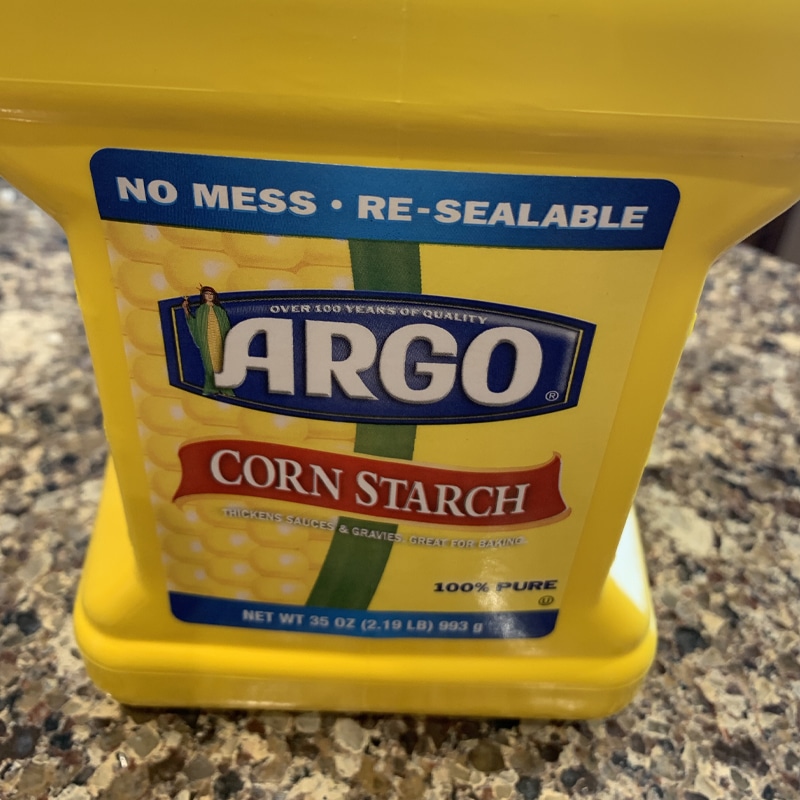 If you add too much cornstarch to your cookie dough, your cookies will be inevitably dry. Since these are cutout sugar cookies, we'll only add 2 TBSP. If you were making these rounds and just flattening them, add 1/4 c.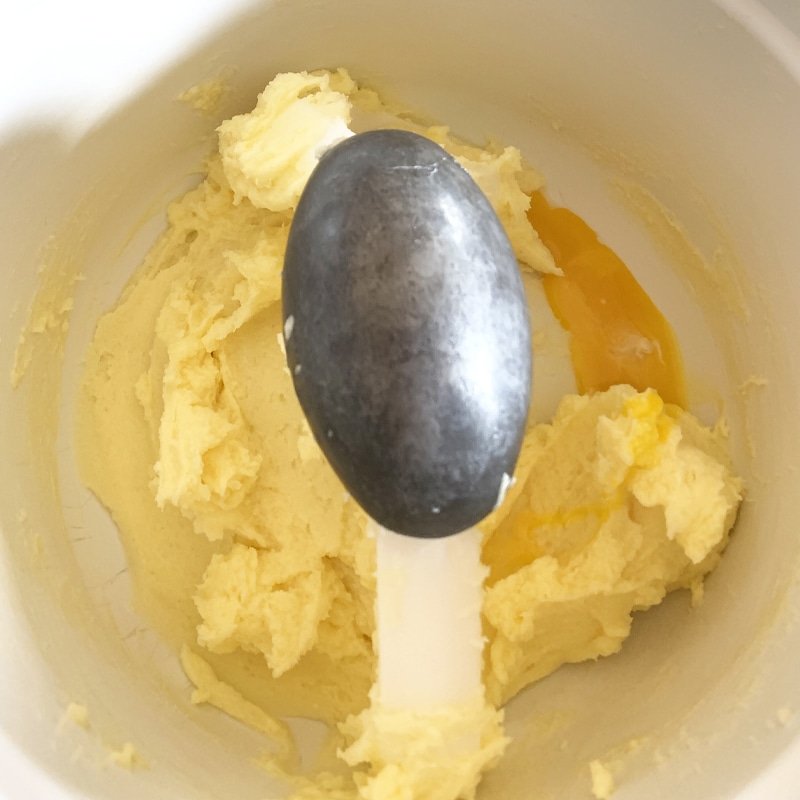 Always cream your butter, sugar until fluffy, and then add your egg and egg yolk, making sure there aren't clumps of butter. Not completing this step will suffer the finished cookie because you'll have uneven amounts of fat in the dough.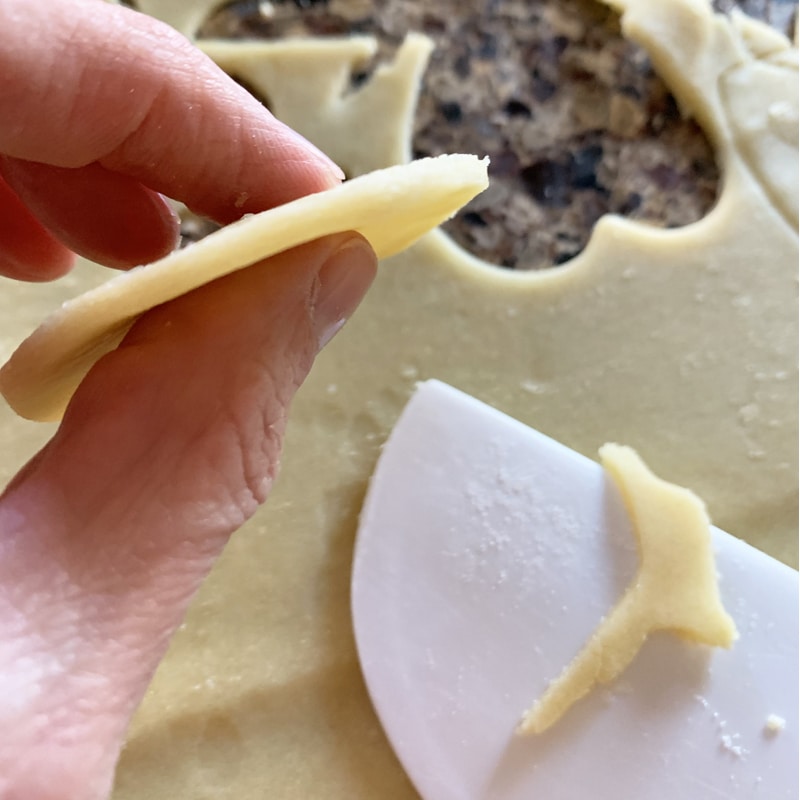 Roll the cookie dough to about 1/4″. Using the larger cookie cutter, cut the larger heart and then using a smaller cookie cutter, cut out the center of each large one. I didn't fill all my cookies and in a batch or two, I baked the smaller cut-outs on top of larger ones.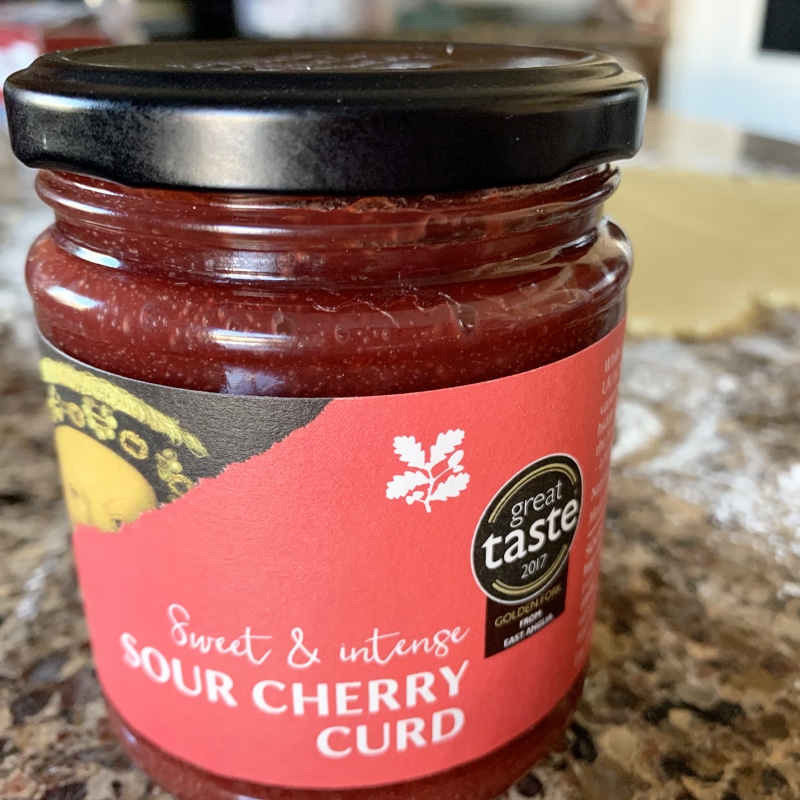 Jessica brought me this very tasty cherry curd all the way from England. Oh, so tart and sweet at the same time! Curd is not like jam or jelly. A bit denser, and much smoother. I'm sure you could find something similar in your favorite specialty grocery store.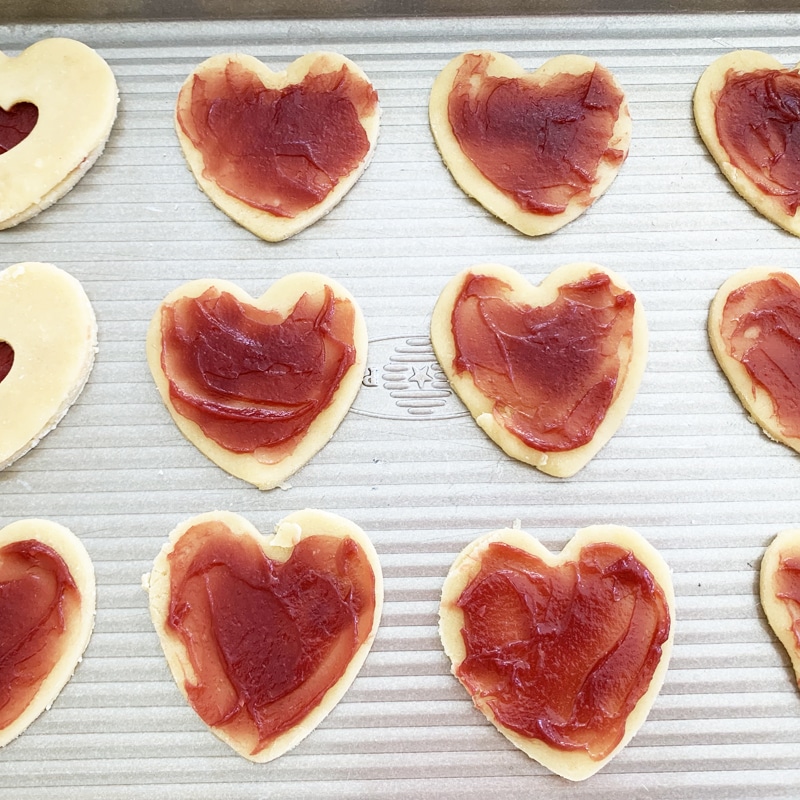 Spread one layer of the sugar cookie dough with a thin layer of the cherry curd. Curd does not bubble over unless you use too much. It's very easy to work with.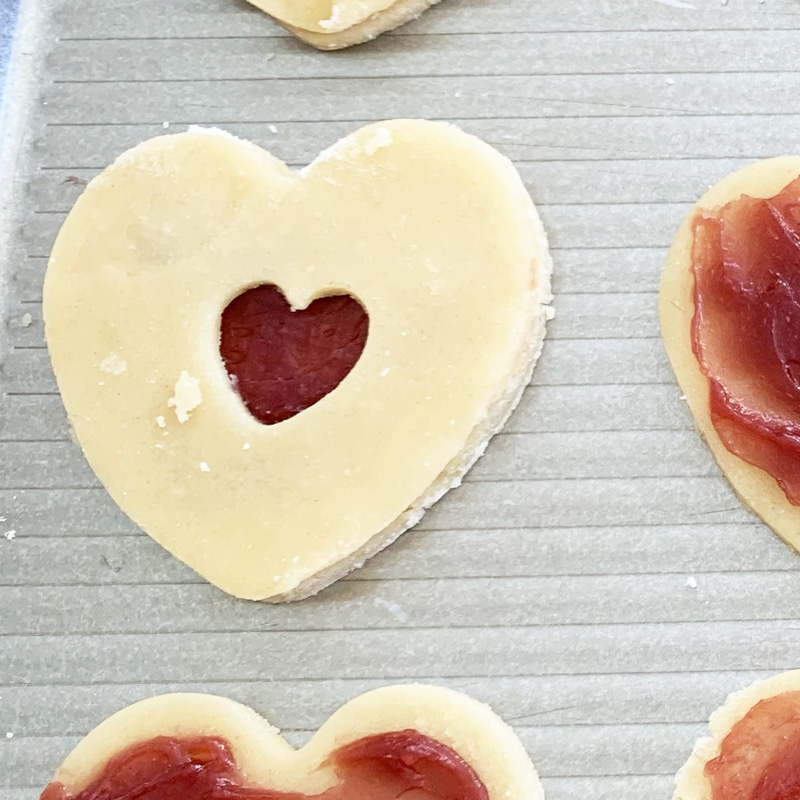 Top the cherry sugar cookie layer with another cut-out cookie. Bake 10 minutes, cookie should spring back slightly. Sprinkle with powdered sugar after they cool.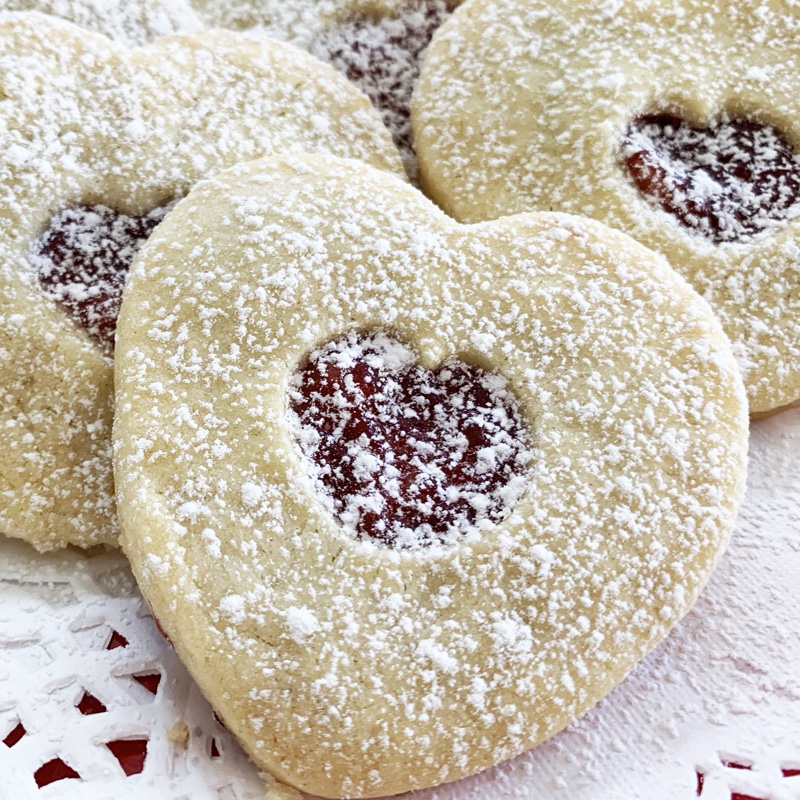 Enjoy!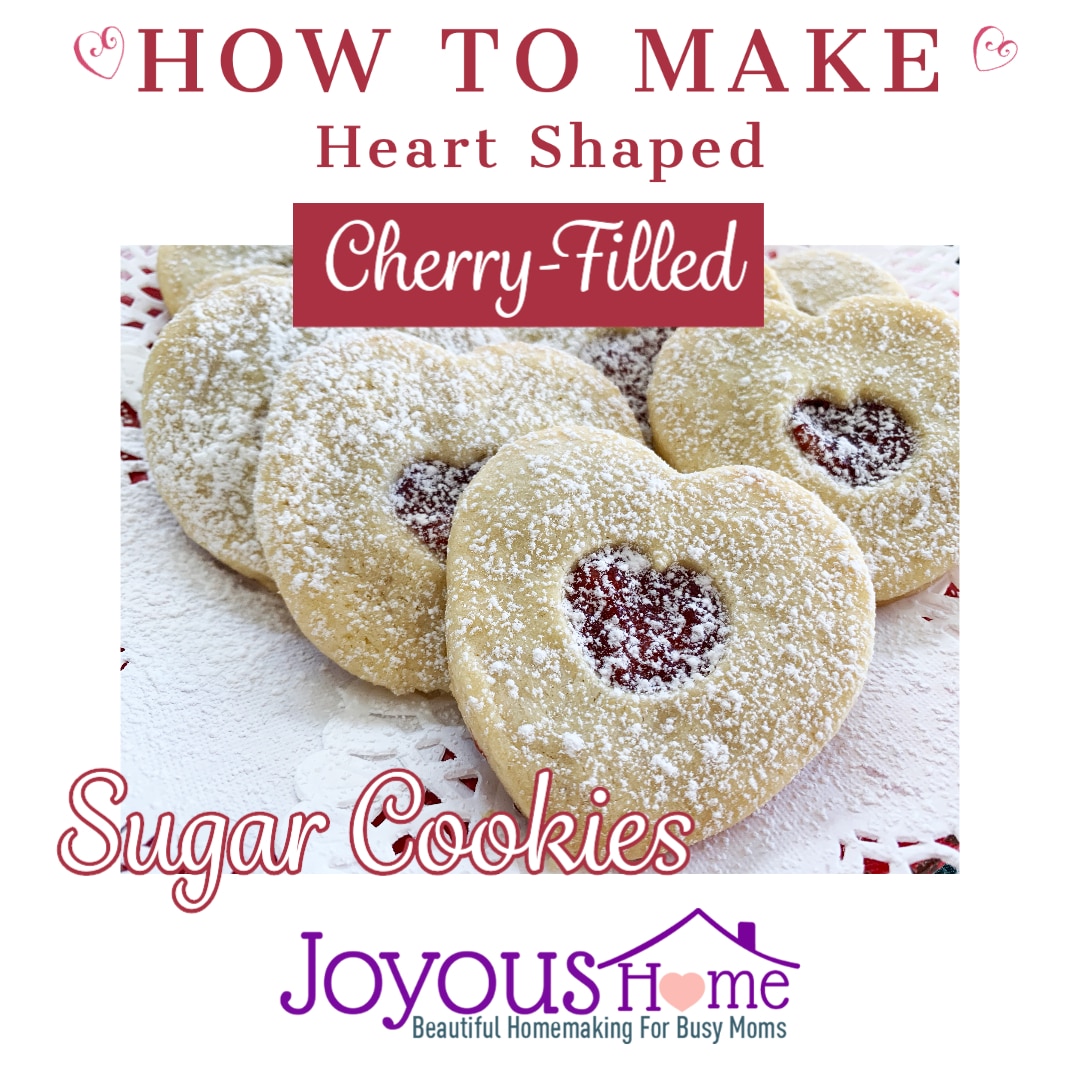 https://joyoushome.com/sour-cream-coffee-cake/
https://joyoushome.com/eggnog-fudge/
Yield: 36 Cookies
How To Make Heart Shaped Sugar Cookies With Cherry Filling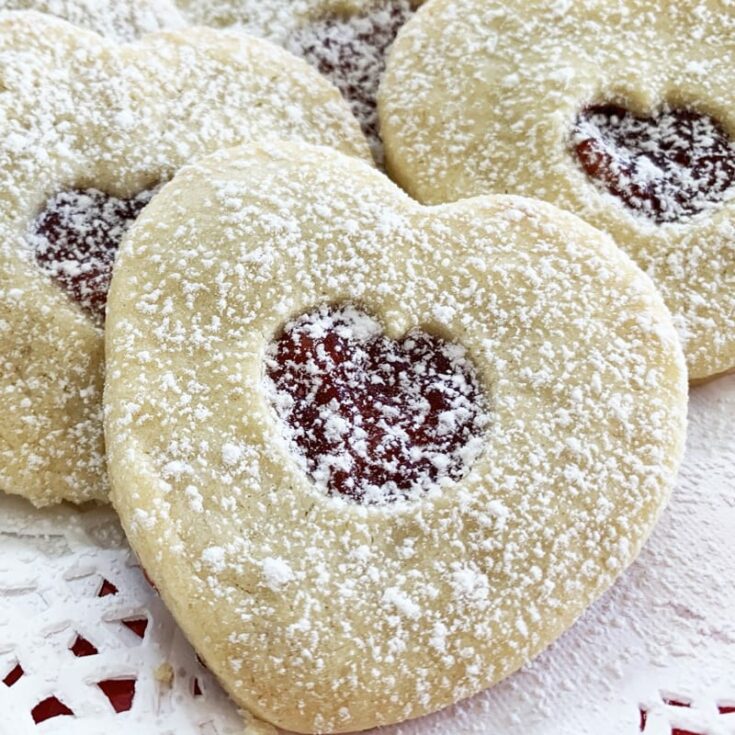 A beautiful heart-shaped cookie, filled with delicious cherry curd. Great for a tea party!
Ingredients
3/4 c. unsalted butter - softened
1 cup granulated sugar
1 large egg - room temperature
1 large egg yolk - room temperature
2 tsp. vanilla or almond extract
2 1/4 c. unbleached flour
2 Tbsp. cornstarch
1 tsp. baking soda
1/2 tsp. salt
Powdered sugar for sprinkling
Instructions
Set oven to 350 degrees. Use a silicone liner on darker cookie sheets. You'll need different sized heart cookie cutters to make the smaller cut out in the middle.
Whisk dry ingredients and set aside.
Cream butter and sugar until very pale and fluffy. Add the egg, and cream and then add the egg yolk and butter.
Add dry ingredients slowly, mixing as you add. Once blended, stop mixing
Scoop out of the mixer, form a ball, and cut the cookie dough in 3 parts, keeping the other 2 parts in the refrigerator.
Roll the dough into a rectangle and cut out heart shapes, using a smaller heart for the middle.
Bake about 12 minutes. Cool and sprinkle with powdered sugar.