We have officially arrived, it's the hot summer season in Colorado – and it's hot.  Today, I'm going to share something fun for all your cold, chocolately desserts – homemade chocolate chips for ice cream.
I've seen a Nestle` brand of chocolate chunks in the store, but I've never seen the flat chips anywhere before. You know, the yummy thin chips that you can sprinkle on desserts and mix in ice cream. Mint chocolate chip ice cream is my favorite, and since it's summer, I'm making lots and lots of ice cream. Have fun!
Homemade Chocolate Chips for Ice Cream
You can make chips with any kind of chocolate – white, dark, milk, bittersweet, they all work!
1. In a small bowl, melt 1/2-3/4 cup chocolate chips or chop any sort of baking chocolate.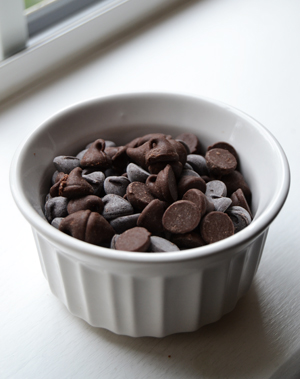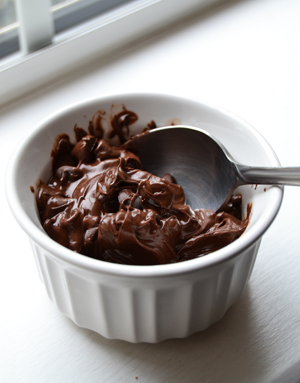 Stir until smooth.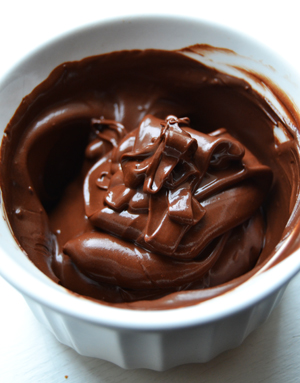 2. Line a baking sheet with parchment paper or wax paper. I prefer parchment paper for everything, but wax paper works just as well for this. Pour the melted chocolate on to the lined pan.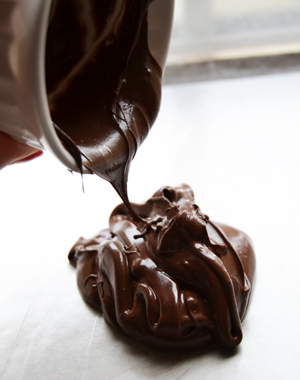 Spread with a spoon, metal icing spatula or other small spatula. I have found that if you don't have a metal icing spatula, a spoon works best.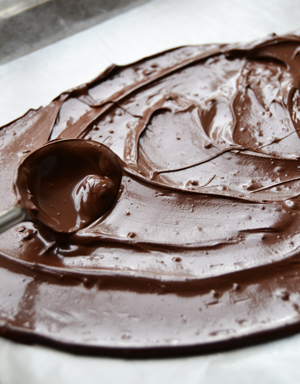 Spread it as thinly as you can. If you would like to make your own chocolate chunks (like for cookies), spread thicker, but otherwise, you want the chocolate to be as thin as you can spread it.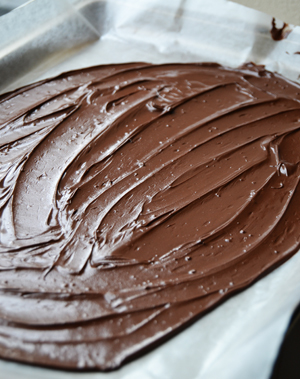 Place pan of chocolate in the freezer, and freeze until solid. This takes less than 10 minutes. (wow) Remove from freezer, and this is what you have…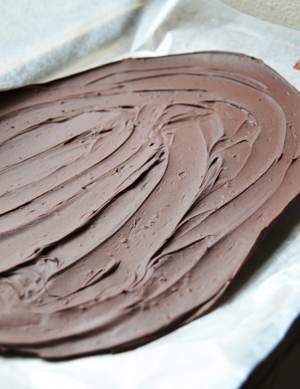 You have to work quickly at this point, especially if it's warm in your kitchen. Use a pizza cutter to cut the chocolate into rows, like so…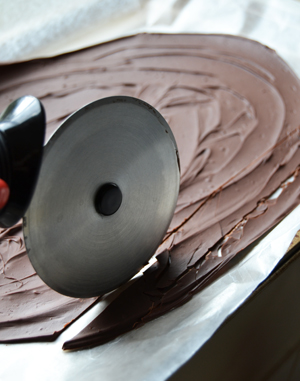 And then crosswise into chips…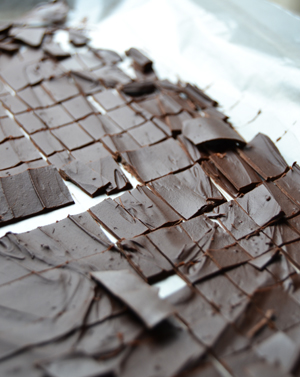 Cut them as small or large as you need them! If the chocolate starts to get too soft while you're working, just stick the pan back in the freezer for a couple minutes. They will return to a chilled sold state again. Cut the chips until you are content with their size.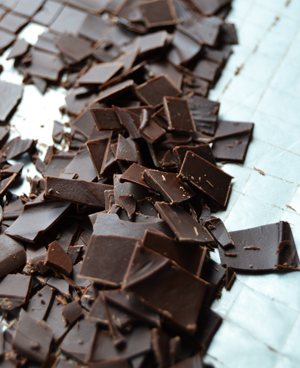 Place the pan in the freezer for a few more minutes – to make sure they retain their solid "chip" state. The key (and it isn't hard) with this whole recipe is keeping the chocolate cold while you work.
Now, slide the chips off of the pan and into a glass bowl. I store my chocolate chips in the freezer at this point until I use them, but the refrigerator is fine too. Usually not stored for long… they go into homemade peppermint ice cream soon after around here.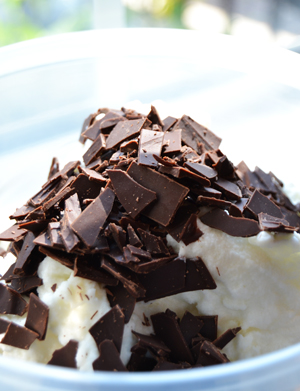 Isn't that great? It's almost therapeutic making chocolate chips. It's just plain fun and easy.
Do you want to see what else I've been working on? My Winnie the Pooh Quilt for our baby girl…
These are not the greatest pictures, but I was in a hurry! I'm hoping to be able to get it layered and pinned this week for quilting. 🙂 Yes, I'm going to iron it.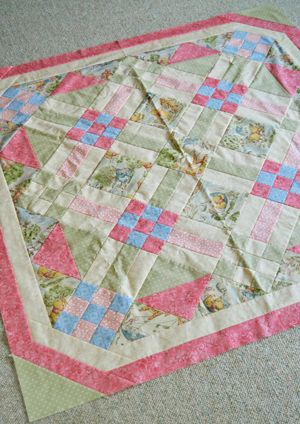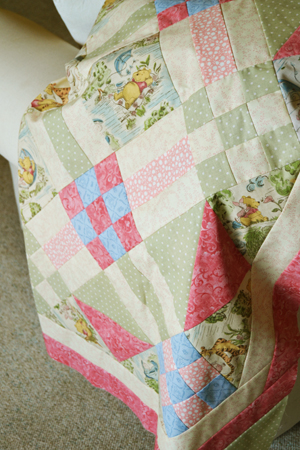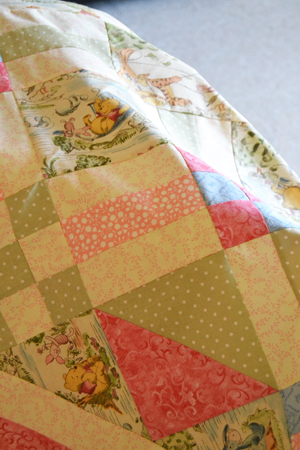 Have a blessed day, Jessica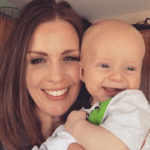 Child of God, Wife to Josh, Mommy to my four sweet children. Thankful for busy days filled with homeschooling, homemaking and loving my little family! And sneaking in sewing and pattern design whenever I can 🙂