My days are getting a little busier getting ready for our baby girl. At 30 weeks now, time feels like it's moving faster on me. I have a feeling that labor is going to be upon me before I know what happened! Watching and feeling my tummy wiggle is a new fun activity for mommy and daddy. She loves to stretch, and roll from side to side… she finds a spot to poke at and tends to poke and push in the same spot until I rub her away from it. She pushes against my arms if I have them leaning against my tummy while I'm sewing or reading. So precious to this mommy already!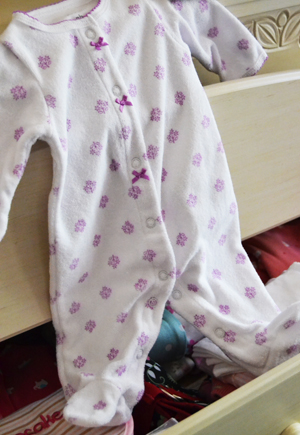 I'm finishing up buying the little extra things for her, and for the birth. Keeping things simple. A little baby shouldn't need much, right? The internet seems to be a plethora of opinions and ideas on the topic (some of them provide a good laugh), but I like to stick to the simple basics I know my mother had for her babies. So thankful for my mom who taught me what I needed!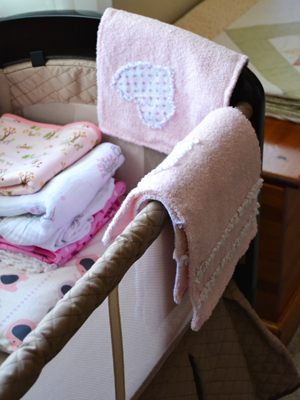 My "nesting" is including little things like these… cuddly burp cloths that are almost too pretty to use for their intended use – spit up. Josh says they're too pretty for what a baby is going to do to them.
Girls like this kind of stuff. We eat it up. That's why!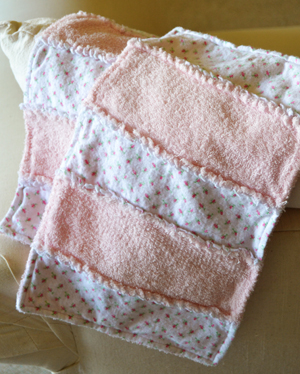 While digging around in my sewing cabinet last week, I found some sweet, soft flannel in my fabric stash. You can't waste precious fabric like that with a baby coming! I love how these burp cloths came out, and will probably make a few more. I like them so much better than the ones I found at the store. So, please do enjoy this little something from my "nesting" projects…
Rag Burp Cloths
These are so simple to make, and if you've never done this before, you are going to get to use the "rag" quilt piecing technique to put these together. The flannel I used was a very soft flannel – some of the flannel prints in the fabric store are quilting flannels. These tend to be stiffer, and won't have the cuddly baby feel, you will be able to tell the difference. Find flannel prints meant for making baby apparel. ~ This will make 6 burp cloths, finished size 16″ x 10″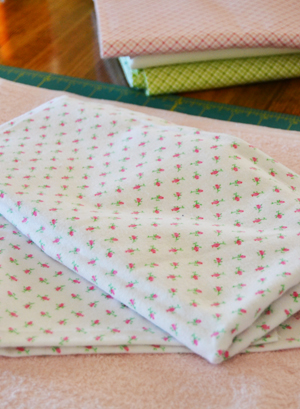 You will need:
1/2 yd. soft flannel
1 yd. terry cloth
basic sewing supplies – sewing machine, small applique or embroidery scissors, matching cotton thread
Cutting the Fabric
From the terry cloth cut:
12 – 4 1/2″ x 10 1/2″ rectangles
6 – 10 1/2″ x 16 1/2″ rectangles (this is for the back piece of the burp cloth. You can also use the flannel for this piece instead )
From the flannel cut:
18 – 4 1/2″ x 10 1/2″ rectangles
(cut 10 1/2″ x 16 1/2″ rectangles for the backing piece, if you would like some to be backed with flannel – this is an optional idea!)
Constructing The Top
I'm keeping the instructions simple and easy!
1. Lay out your pieces as shown, 3 flannel pieces and 2 terry cloth pieces. In rag quilting (piecing in this case really) your pieces are sewn wrong sides together and then laid open, with the seams on top of the quilt.
In the picture below I've already done all but the last so you can have a quick view of what you're working towards. Take the first two pieces, and pin them wrong sides together. Sew with a scant 1/2″ seam allowance.
All sewn together…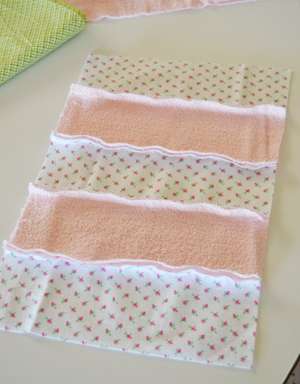 2. Press the seams open flat as shown with a hot iron.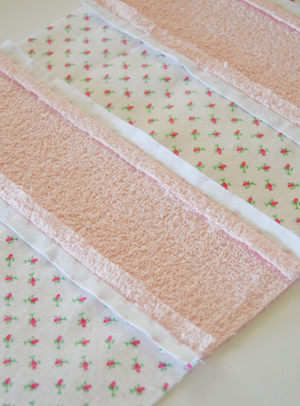 3. Alright, now let's sew the back on. The great thing about terry cloth is that it doesn't have a right or a wrong side, BUT a flannel backing piece will! So remember, if you used a flannel piece instead of terry cloth for the backing, you need to pin it right sides together.
So, place the 10 1/2″ x 16 1/2″ backing piece on top of the pieced top. Line up the edges and pin. No, pinning is not optional!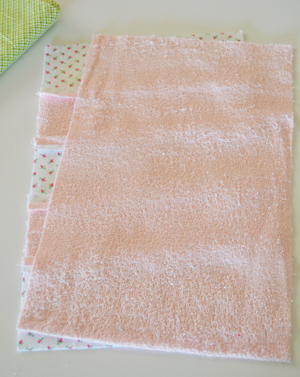 Pin your corners the "proper way"… so they don't shift around.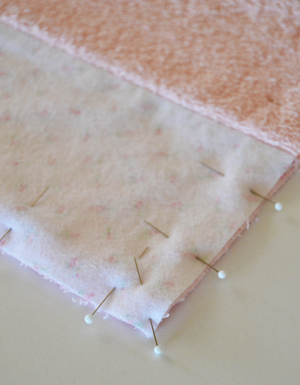 Ready to sew! You are going to leave one narrow side completely open. Do you see how I didn't pin the top side? Start at the top of the long end on the right side. Stitch using a 1/4″ seam allowance.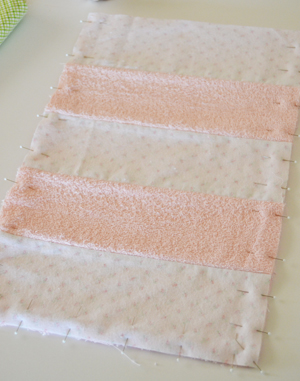 When you're finished, clip the corners as shown. This will take out some of the "bulk" in the corners when you turn it right-side out.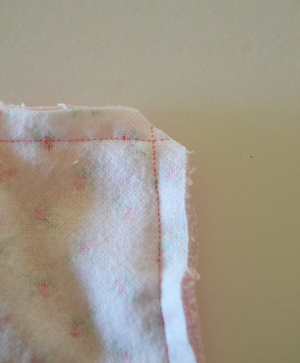 4. Turn it right-side out. Poke out the corners so they are as pointy as you can get them. Run your fingers around the side seams to push them out all the way as well. So close to being done… can you believe that? It's so pretty already!
Lightly press it flat.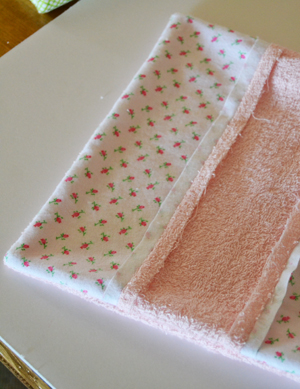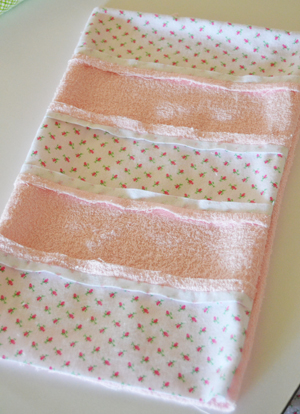 5. Your burp cloth feels like a pillow case right now, but you're going to fix that with this step. Working on one side at time, fold in (in, not out) the top as shown, about 3/8″. Press flat.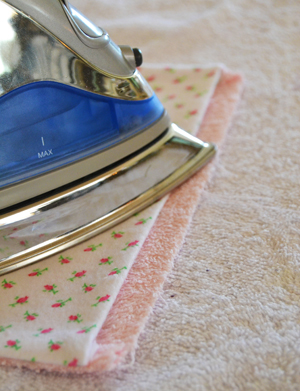 Now flip it over and do the other side…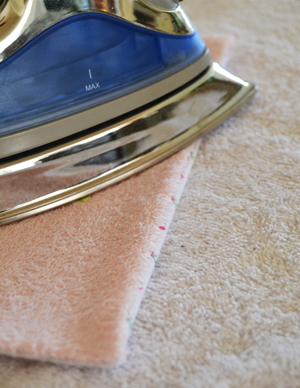 6. Now, pin the seam together like so.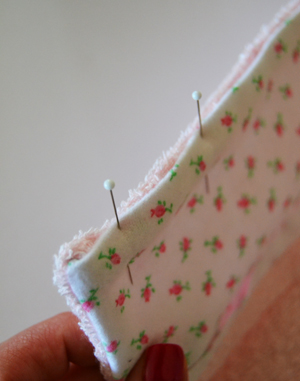 7. This is moving quickly, isn't it? You're ready to sew around the entire burp cloth and close up the open seam.
Start on the pinned open seam, 1/4″ from the opposite side, with a 1/4″ seam allowance. Make sense?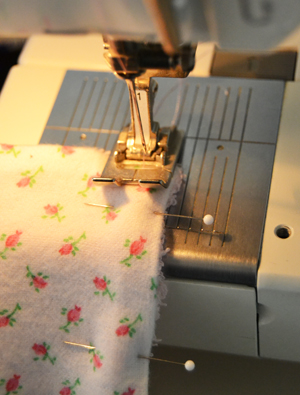 Sew down the open-seam side. Now stop 1/4″ away from the next edge. Slightly lift your presser foot and turn your work so you can head down the next side. So simple!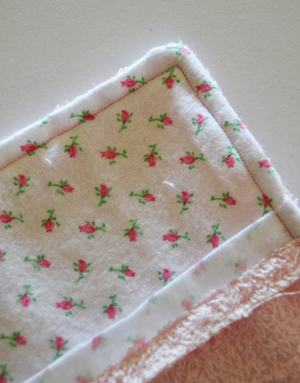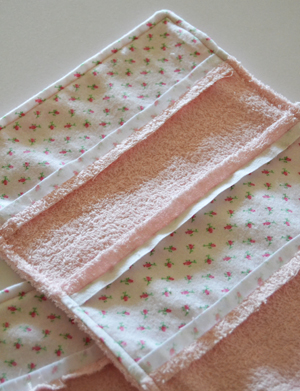 Now you're ready to "rag" your burp cloth! This is the fun part…
8. Take a small pair of sewing scissors (embroidery, applique`) and make snip all of the seams, making the snips about 1/4″ apart, and not all the way to the seam (you don't want to cut through your sewn seam!)
Snip them all the way to the edge of the burp cloth…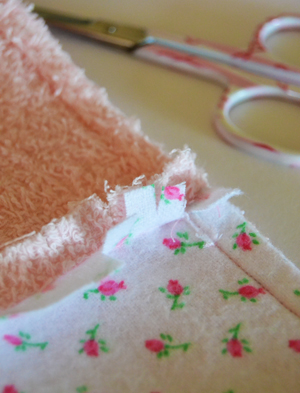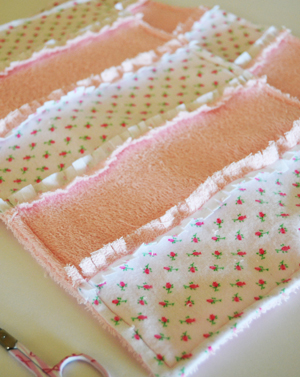 Now wash it, or soak it (all the way!) with plain water in the sink, and then ring it out. Throw it in the dryer and wait for the great unveiling!
This is what you'll have…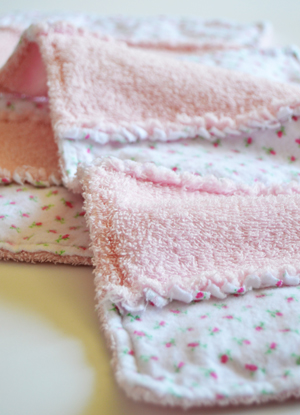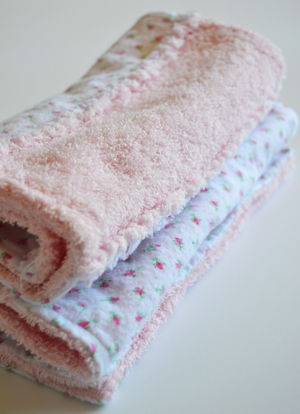 Aren't those just too adorable? Don't you want to make 100 of them? Enjoy ladies… and have a very blessed weekend.
~ Jessica ~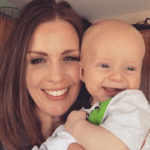 Child of God, Wife to Josh, Mommy to my four sweet children. Thankful for busy days filled with homeschooling, homemaking and loving my little family! And sneaking in sewing and pattern design whenever I can 🙂