Welcome back to Free Book Friday! The break was nice, but we are excited to get the giveaway kicked off again with these great books!
(This Giveaway is over)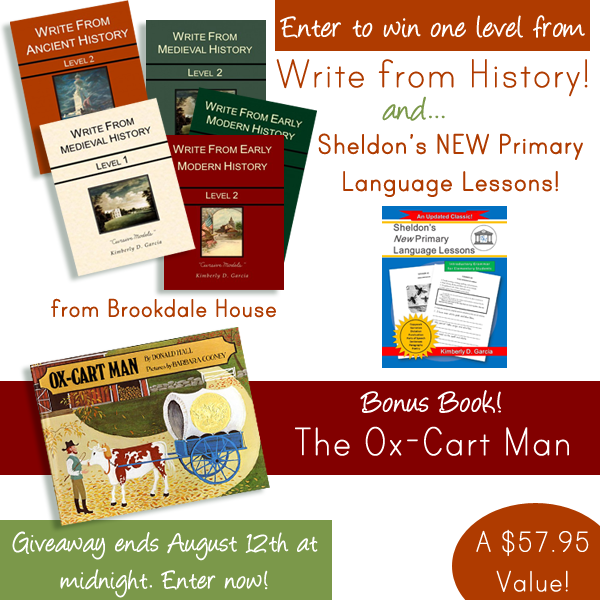 About Write from History
"The Write from History series is an elementary writing curriculum designed to teach students to write via the Charlotte Mason Method, using narration, copywork, and studied dictation. As the author of this series, I designed these books for my children, and have successfully used them with all four of them. Our experience is that these books provide children with a gentle yet effective method to study writing and learn the skill from the some of the most talented authors throughout history." Kimberly Garcia

She has some wonderful samples, you can even grab her free proofreading checklist while visiting! We have used dictation and copywork for years in our homeschool. I'm always for studied dictation, as it makes an efficient and simple way to accomplish two tasks. Dictating from studied material is much richer than dictating a paragraph from a book your child hasn't even read yet. Give it a try!

Bonus From Joyous Home!
The Ox-Cart Man by Donald Hall

This is one of our absolute favorite books as a family. It shows how one family earns their year of living in a very simple pattern. They create from their resources, they sell their lot, and start again. You might find yourself reading it again and again. This is truly our idea of leading a quiet life and working with your hands. Inspiring!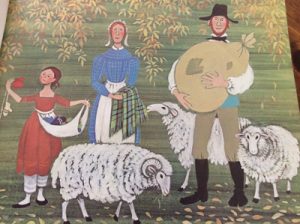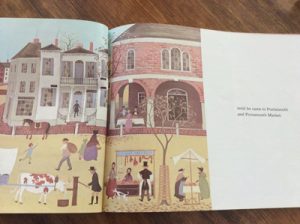 There will be one winner for the giveaway. You will be contacted by Brookdale House so you can discuss and receive your desired level of Write from History. What an opportunity!
ENTER THE GIVEAWAY!
It's easy to participate! All you need to do…
 1. Sign up for our newsletter* (if you're not signed up already). You must be on our newsletter to qualify — sign-up on the top right corner of the site!
*Note — Your email address will only be used on our mailing list or given to the sponsor of the giveaway only, we do NOT sell or give out email addresses — ever. You will not be overloaded with newsletters from Joyous Notions. We send an average of 1–2 emails per week.
 The give­away ends Tues­day, August 12th at mid­night | The win­ner will be announced here on Wednes­day, August 13th and will be con­tacted via email.
(This post contains affiliate links. This means we will receive a small commission if you purchase.)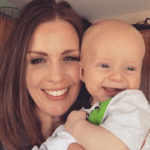 Child of God, Wife to Josh, Mommy to my four sweet children. Thankful for busy days filled with homeschooling, homemaking and loving my little family! And sneaking in sewing and pattern design whenever I can 🙂