These classic thumbprint cookies bring so many memories to my mind. My family has been making these thumbprint cookies for almost 15 years. My mom and I found a little cookie magazine many years ago in the grocery store, and it became our beloved "cookie book". I think it's probably the only cookie magazine we've ever bought and actually baked every cookie in it. Mom still has that little magazine. It's completely tattered and worn, and has been stapled back together many times. We can still read it though! I suppose we'd better do something soon to preserve it…
This is the only thumbprint cookie recipe we've ever needed, it's the best! It's almost like a brown sugar shortbread cookie. No creaming butter is necessary. Just add the ingredients to the mixer and mix until the dough comes together. So fast, and this recipe makes a lot. Use several different fillings and make up a beautiful cookie tray. The eggnog filling is our little twist from filling the cookies with jelly or chocolate.
Eggnog Thumbprint Cookies
~ Makes about 5 dozen cookies ~
You will need 2 1/2 cups finely crushed untoasted nuts to roll the cookies in. Pecans, walnuts and peanuts are all excellent! I need to try hazelnuts and macadamias too.
If you want to fill with jelly or jam (follow instructions here for eggnog cookies to fill with chocolate, after finished baking), bake cookies for 8 minutes, then remove from oven and fill cookie centers. Return cookies to the oven to bake for another 6-7 minutes.
Separate 2 large eggs. Beat the egg whites with a fork until foamy and set aside. In a mixer, combine:
1 cup butter, softened
1/2 cup brown sugar
2 reserved egg yolks
2 cups unbleached white flour
1 tsp. vanilla or almond extract
1 tsp. sea salt
Beat at low speed, scraping bowl often, until the mixture forms a dough. Shape rounded teaspoonfuls of dough into balls. Dip each ball in the beaten egg whites and then roll in crushed nuts. Place 2 inches apart on a cookie sheet lined with parchment paper. Make an indentation in the center of each cookie with your thumb. Bake at 350 degrees for 12-15 minutes, or until lightly browned.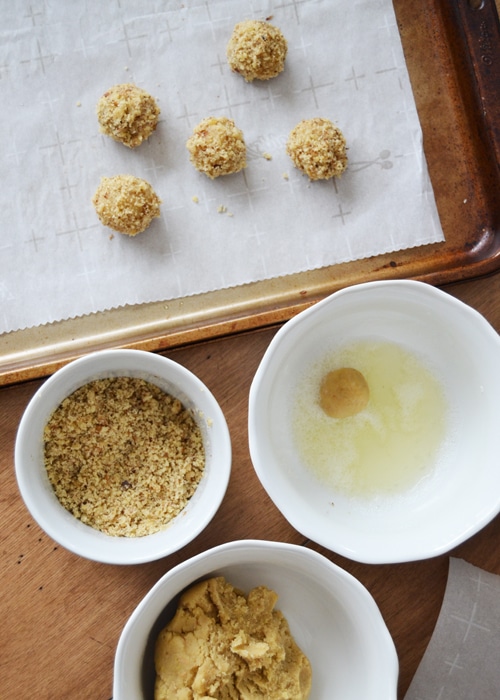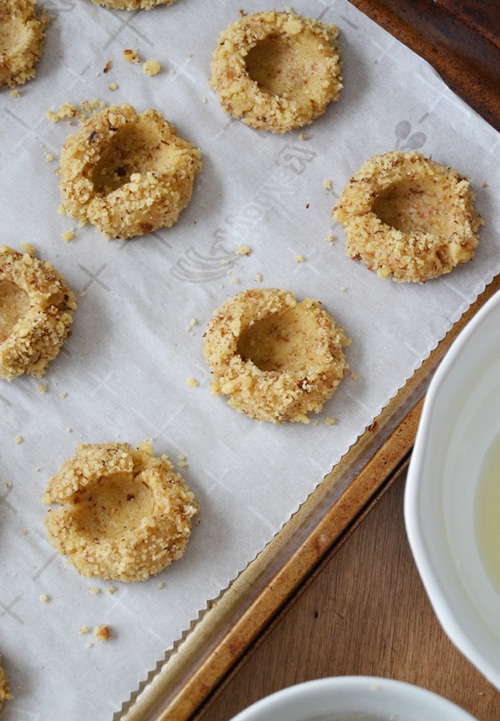 Remove cookie from cookie sheet to cool. Fill with Eggnog filling.
Eggnog Filling
In a small bowl, combine:
1/4 cup butter, softened
2 cups powdered sugar
3 tbsp. eggnog or cream
1 tbsp. rum or 1 tsp. rum extract
Beat until creamy and smooth. Fill each cookie with 1/2-1 tsp. of filling. Dust with freshly grated nutmeg.
Would you love to know another favorite filling of mine for these cookies? Oh my. I love this one. Fill the cookies with seedless raspberry jam, and after they are cool, drizzle with melted white chocolate. Love love.
Care to share what you're baking? Leave us a comment and tell us!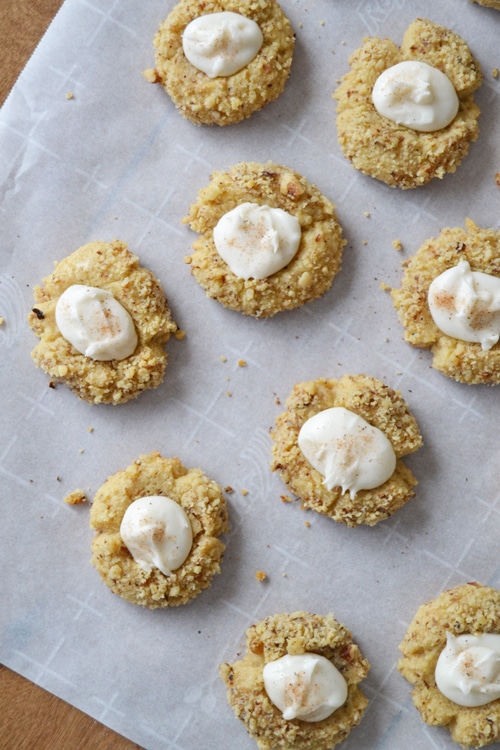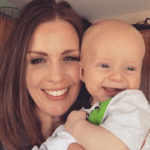 Child of God, Wife to Josh, Mommy to my four sweet children. Thankful for busy days filled with homeschooling, homemaking and loving my little family! And sneaking in sewing and pattern design whenever I can 🙂