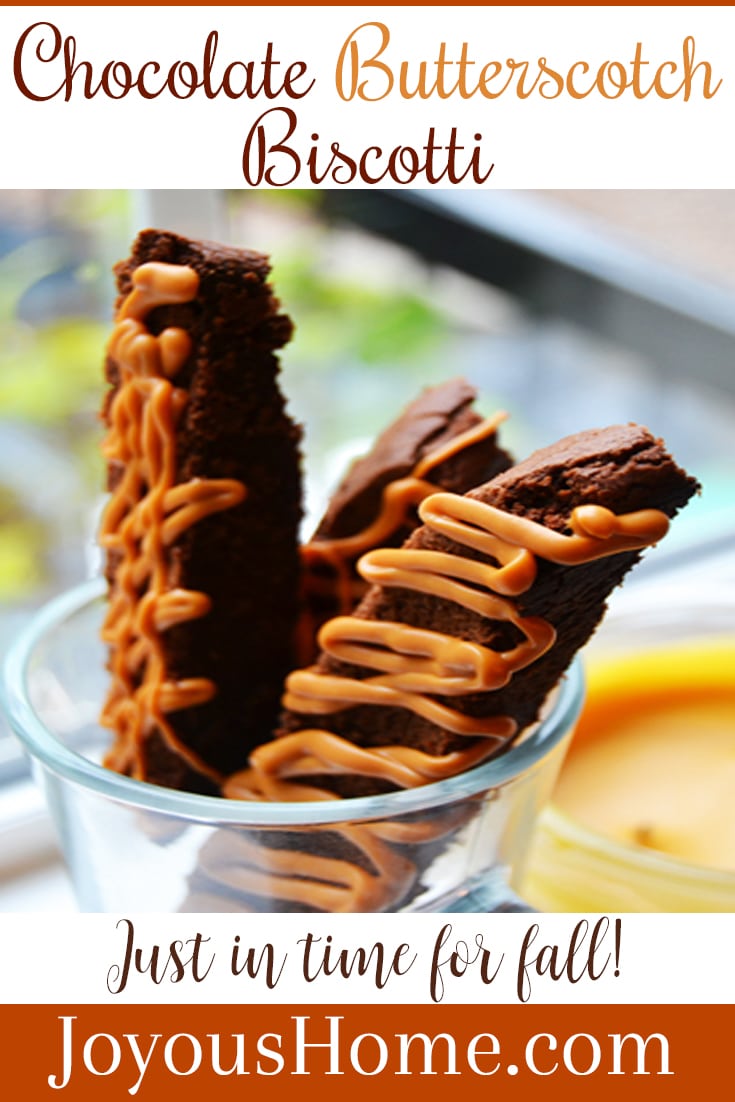 The days are looking like fall, I love it! I love the silence of cooler weather and the baking it brings with it too. The trees are finally starting to turn those pretty golden shades and the nights are cold enough that we can leave the windows shut. It makes me think of the wonderful color and taste of butterscotch, so I'm ready to make our Chocolate Butterscotch Biscotti!
Chocolate Butterscotch Biscotti
This has been our favorite biscotti recipe for years. It's made with all freshly ground whole wheat flour and it's so good, no one will guess. My aunt once said we made the best whole wheat biscotti she's ever had.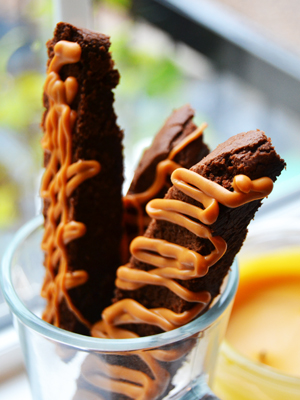 Chocolate Butterscotch Biscotti Recipe
The ingredients are simple, and this cookie comes together easily.
Butter or Oil in Biscotti?
I chose butter for my biscotti instead of oil because I love the flavor of butter. You would have to experiment with oil in biscotti – in recipes with 2 cups of flour, I've seen up to 1/2 c. of oil. (Olive or vegetable). It just didn't sound good to me.
Granulated Sugar or Brown Sugar?
I chose granulated sugar for this recipe. Brown sugar is completely fine, but it tends to add softness to a cookie. With twice baking this biscotti, brown sugar is perfectly fine to use.
Semi-Sweet or Dark Chocolate?
We used semi-sweet in this biscotti. Dark chocolate is equally delicious and will give it a bolder taste.
Pure Vanilla
Use pure vanilla in all your recipes. Vanilla flavoring has some unappetizing properties. Research vanilla!
Sea Salt
I've seen 'just a pinch' to 1/2 tsp in biscotti.
Baking Powder
Necessary for a bit of light rise.
Wheat flour or White Flour?
Freshly milled wheat flour is heavy as it contains the germ oil of the wheat. It also soaks up liquid faster than regular white flour. If you use white flour, reduce the flour by 1 c. and check the dough. If the dough seems too tacky, add 1/4 c. more until you can handle the dough. The dough should be soft, not stiff.
Remember, humidity often plays a part in baking. One recipe may vary on different days. But, we are high altitude and that seems to apply more at a higher than lower sea level.
Get your coffee ready and enjoy the biscotti!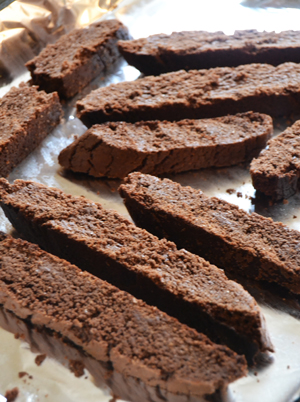 Melt 1 1/2 cups butterscotch baking chips and 2 tbsp. vegetable shortening; stir until smooth. Pour into a small zip-lock bag and snip off a small corner. Drizzle biscotti with butterscotch. Let sit until set.
Print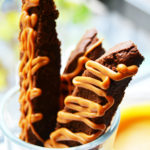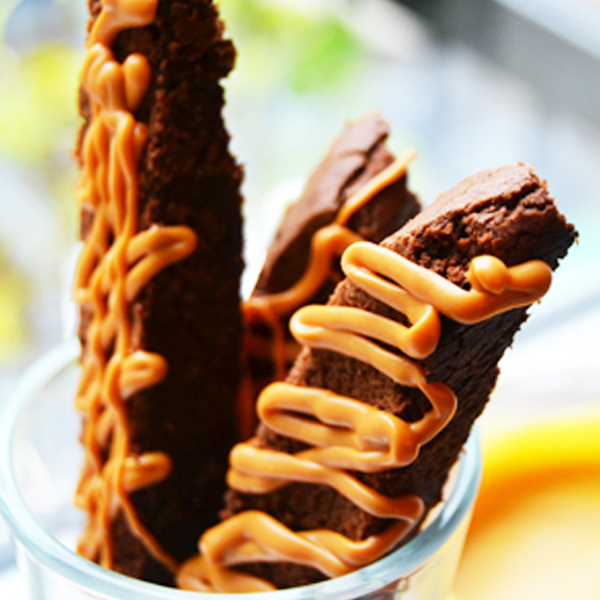 Chocolate Butterscotch Biscotti
---
Total Time:

1 hour 2 minutes

Yield:

20

–

25

Cookies

1

x
Description
Biscotti is a wonderfully easy cookie to make. The chocolate and butterscotch in this recipe go perfect with coffee!
---
10 tbsp

. softened butter

1

c

. sugar

3

large eggs

2

c

. semi-sweet chocolate chips, melted

2 1/2 tsp

. pure vanilla

1/2 tsp

. sea salt

2 1/2 tsp

. baking powder

4 1/2

c

. freshly ground soft wheat flour or 3 1/2 c. white flour
Glaze

1 1/2

cups

butterscotch baking chips

2 tbsp

. vegetable shortening, melted
---
Instructions
Preheat the oven to 350 degrees. Whisk the dry ingredients together in a bowl and set aside.
In a mixer with cookie paddles, combine the butter and sugar. Cream until very fluffy. Add eggs and beat on high speed for one minute.
Add the melted chocolate chips and vanilla. 
Beat on high speed for another minute, making sure to scrape the bottom and sides of the bowl. 
Mix until a soft dough forms. Divide the dough in half. Shape each half into a 14″ log and flatten slightly with the palm of your hand – until it's about 2″ wide. 
Place on an un-greased cookie sheet and bake for 25-28 minutes, or until it's set.
Reduce oven temperature to 300°F. 
Use a serrated knife to cut the logs diagonally into 3/4″ slices. Place slices onto a cookie sheet, cut-side down. Bake for 10 minutes. Turn slices; continue baking for 12 to 15 minutes or until dry and crisp. Cool completely.
Melt butterscotch baking chips and vegetable shortening; stir until smooth. 
Pour into a small zip-lock bag and snip off a small corner. Drizzle biscotti with butterscotch. Let sit until set.
Notes
When using white flour in replacement of wheat flour, you will use less white flour. Wheat flour, when freshly milled, will soak up more liquid than white flour. Store-bought wheat flour does not need to be adjusted. I played with the amounts in this recipe and 3 1/2 c. of white seemed perfect. I also live at a high altitude, (dry), and that may affect flour in some recipes.
Prep Time:

10 minutes

Additional Time:

25 minutes

Cook Time:

27 minutes

Category:

Cookies and Crackers

Cuisine:

Italian
Keywords: biscotti, no-nut biscotti
Enjoy with a hot cup of coffee on your wonderful fall day!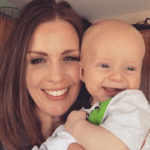 Child of God, Wife to Josh, Mommy to my four sweet children. Thankful for busy days filled with homeschooling, homemaking and loving my little family! And sneaking in sewing and pattern design whenever I can 🙂