We have been enjoying a quieter week, finishing up some projects, and starting new ones. The family is coming into town and plans need to be made for the Christmas season, it's all going to go by so fast, as usual – trying to enjoy every bit of the season as it comes!
Pumpkin (Sweet Potato) Spice Bars
The fall color change is beautiful and we have been seeing the first bits of snow, including more snow today. Yesterday was windy and cold – a baking day!
I intended to make these with pumpkin, but found I only had sweet potatoes available… so you can also make sweet potato spice bars with this recipe. Either way, these are delicious! I know what I'm having with my coffee tomorrow morning…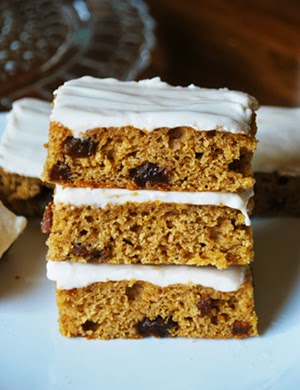 In a small bowl, soak 1 1/2 cups of raisins in hot water for 15 minutes. Drain and set aside. In a large bowl, combine:
     2 1/2 cups soft wheat flour
     1 1/2 tsp. each of baking soda and baking powder
     1 tsp. sea salt
     2 1/2 tsp. ground cinnamon
     1 tsp. pumpkin pie spice
Whisk together. In a separate bowl, combine:
     1 cup butter, melted
     1 1/2 cups brown sugar
     2 large eggs
     1 tbsp. vanilla extract
Whisk together until smooth. Add 1 1/2 cups pumpkin puree` or 1 1/2 cups of cooked, mashed sweet potato and stir until smooth. Add this mixture, drained raisins and 3/4 cup finely chopped walnuts or pecans (optional) to the dry ingredients and stir well. A little bit of rum, 2 tbsp. or so, does not hurt the batter here either! So, perhaps add some? I did.
Pour into a greased and floured 18″ x 13″ jelly roll pan. Bake at 350 degrees for 20-22 minutes, or until a toothpick inserted in the center of the cake comes out clean.
Cool for 10 minutes in the pan, and then turn out on to a rack to finish cooling, or leave in the pan to cool. Frost with Cinnamon Cream Cheese Frosting and cut into bars. Serve and store leftover bars in the refrigerator.                                                                                 ~ Makes about 32 bars
Cinnamon Cream Cheese Frosting
In a small bowl, combine:
     1/4 cup butter, softened
     1/2 cup cream cheese, softened
     1/2 tsp. ground cinnamon
     2 tsp. vanilla extract
2 tbsp. half & half
     2 1/2 cups powdered sugar