I Found this recipe and decided to give it a try, with a few changes. It looked like such a good idea, and it tastes even better. I love the smell of the bananas cooking in the butter and sugar! This recipe makes one 9″ x 5″ loaf, so double the recipe for two loaves.
I'm out of wheat flour once again; I made this with the unbleached flour I had, but if I used wheat in place of the white flour, I would have used 2 
1/2 cups. The next time we need company dessert, I might double this and bake it in a Bundt pan.
Slice 3 medium ripe bananas into 1/4″ slices. In a non-stick skillet, melt together 4 tbsp. unsalted butter and 3/4 cup packed brown sugar over medium-high heat. Add the sliced bananas and saute` for 4-5 minutes.
Scrape the banana mixture into a mixer and beat on high speed for 1 minute. Let mixture cool for 5 minutes. Now add:
2 tbsp. sunflower or vegetable oil
1/2 cup half & half
2 large eggs
2 tbsp. golden rum (optional)
1 1/2 tsp. vanilla extract
Mix again until well combined and creamy, about 30 seconds. Add:
2 1/4 cups unbleached flour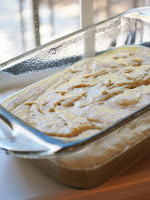 Mix just until combined and the batter is smooth. Pour into a greased 9″ x 5″ glass loaf pan and bake at 350 degrees for 1 hour, or until a toothpick inserted in the center comes out clean. Cool for 10 minutes in pan on a wire rack, then remove cake from pan to finish cooling. Top with glaze while still warm. 
In a small saucepan heat 2 tbsp. unsalted butter over medium heat. Cook butter until just until butter is beginning to brown. Watch carefully, the butter will burn quickly!