Do you love homemade crackers? We should say YES together! If you've made them, you know how easy it is to make crackers! I've found when using whole grain flour for crackers, add-ins enhance the flavor tremendously! So, I've put together a recipe that you'll love and video tutorial on how to make these Spicy Homemade Spelt Crackers with Spinach and Cheese.
Spicy Homemade Spelt Crackers with Spinach and Cheese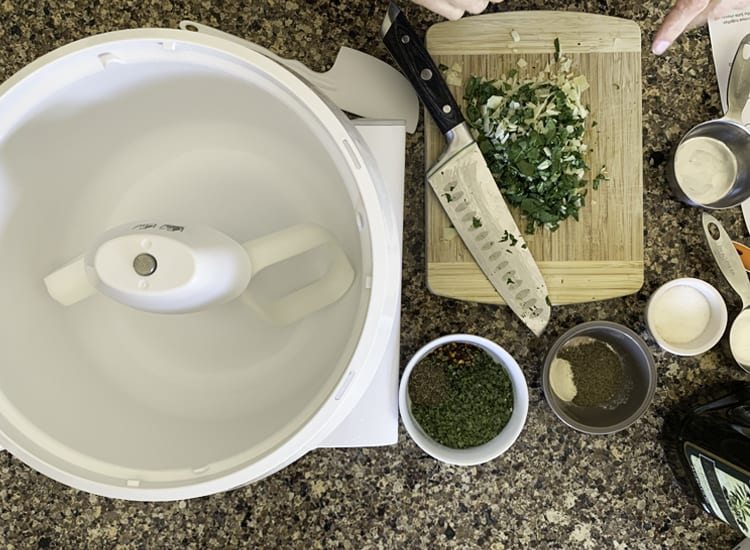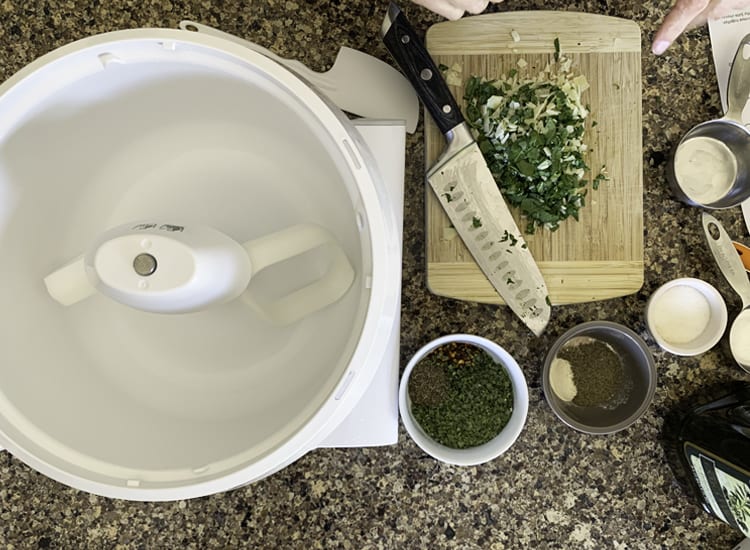 Ingredients
Spelt – Spelt is sometimes used as an alternative if you have trouble digesting wheat. It does contain gluten. Use freshly milled spelt if possible. You could exchange this for white wheat if you have it.
Olive Oil – This helps moisten the flour so it's not to dry or hard. Using too much oil will make the cracker too soft.
Half n Half or Cream – The fat in cream is greater than regular milk and will help moisten and sweeten the spelt slightly.
Sugar – Just plain granulated sugar is used. Honey or brown sugar could soften the cracker.
Salt – Do not forget this or you'll have a bland cracker. Sea salt is used.
Spices – You can go auto on spices in cracker dough. We used crushed red pepper flakes for spice, onion powder, thyme, chives. Have fun with spices!
Spinach and Cheese – Chop small. I would buy cheese whole, then shave and chop it. The cheese bakes in so crispy. Use fresh vegetables only, and chop small. You want them dry. Do not use frozen, thawed vegetables.
Loaded Cracker Dough!
The rolling begins on the cracker dough. You will love loading it with spices and fresh vegetables, herbs, cheese and spices.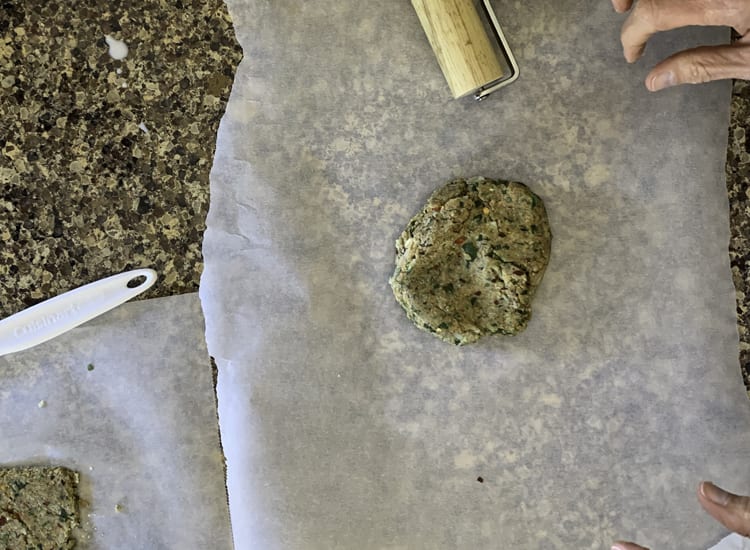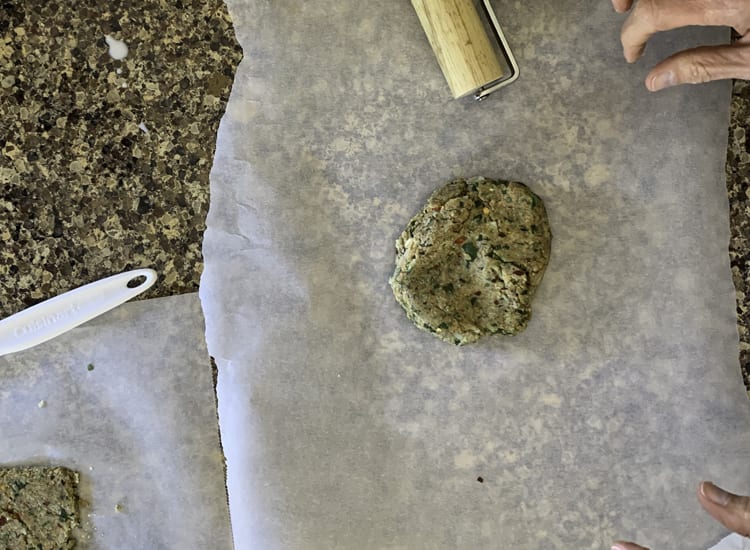 Video Tutorial!
I made a 15-minute video on how to make these crackers. I'm using a Bosch mixer, and milled my flour with a Nutrimill. Freshly milled flour is king. I love it, lots of nutrition! Feel free to post questions!
You'll love these crackers. They are the perfect food to fill you up when you want a healthy snack. Here are some additional ideas for add-ins! Enjoy!
Ideas for Cracker Ingredients!
Dried Green Onions, dried carrot pulp (or fresh diced tiny), dried diced bell peppers, mostly any cheese, fresh herbs – dill, rosemary, basil, sage or oregano, popped grains, or raw millet.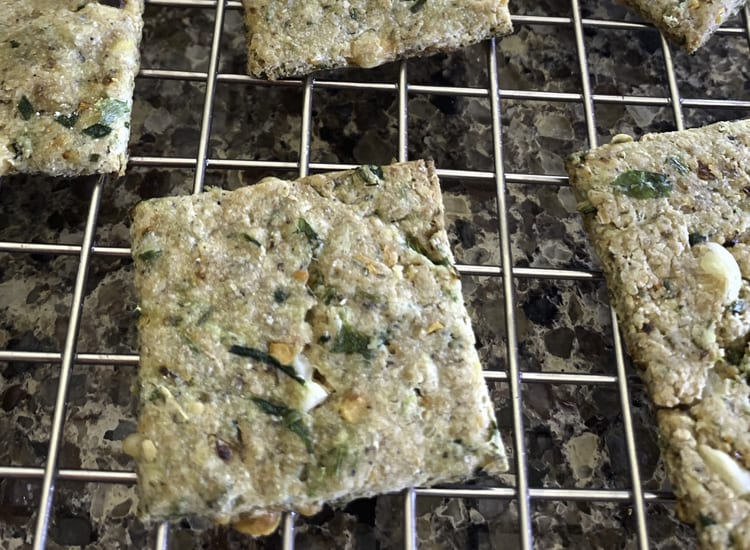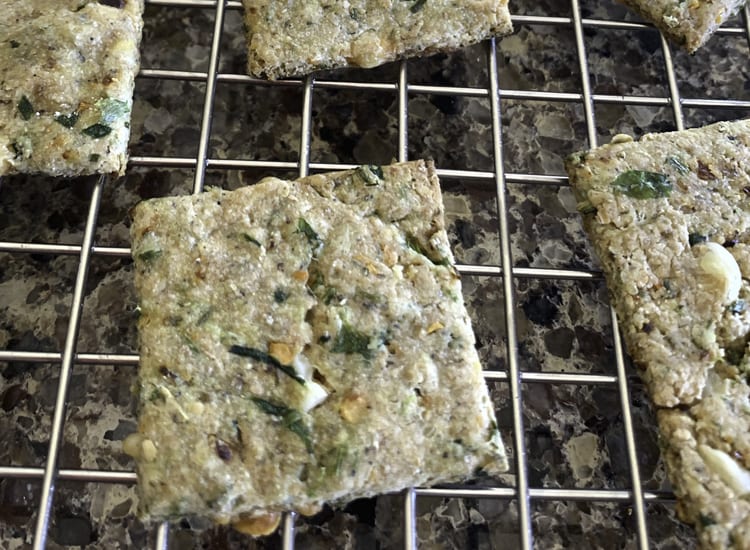 Yield: 4 Dozen
Spicy Homemade Spelt Crackers with Spinach and Cheese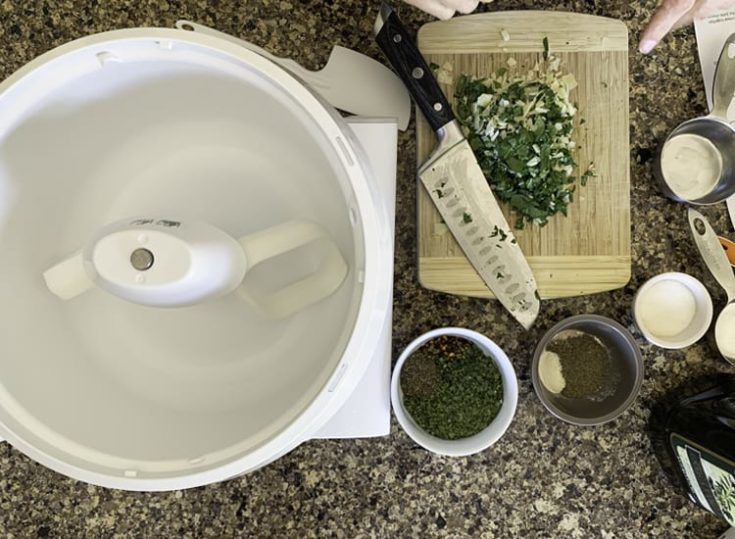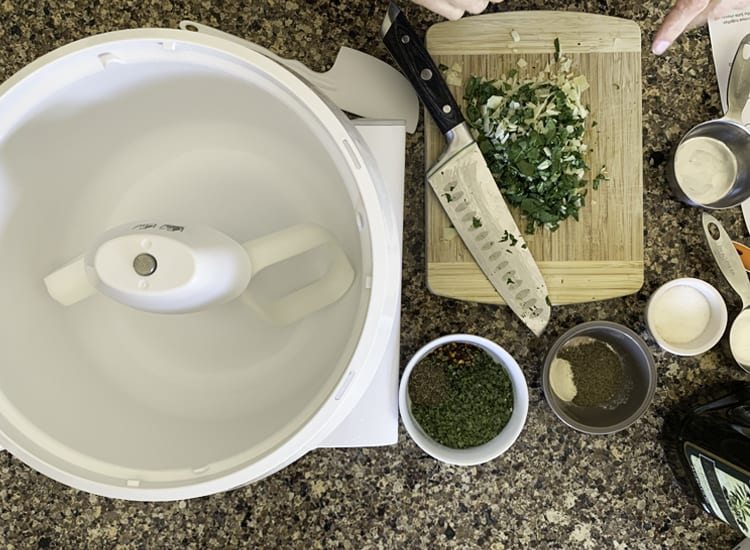 Simple. Delicious. Nutritious. It's easy to make crackers at home. The ingredients to add in are endless in creativity! Whole grain also reduces your cravings for junk food. These spicy gems are perfect for a snack.
Ingredients
2 1/2 c. Spelt flour
1 1/2 Tbsp. olive or grapeseed oil
3/4 - 1 c. half-n-half or cream
1 c. shaved cheese, chopped small
1 c. fresh spinach, chopped small
2 tsp. granulated sugar
1 1/2 tsp. onion powder
1 1/2 tsp. sea salt
3 Tbsp. chives
1 tsp. ground pepper
1 Tbsp. thyme
1 1/2 Tbsp. crushed red pepper
Instructions
Preheat oven to 350 degrees. Line a cookie sheet with parchment or silicone.
To the mixer, add the dry flour, salt, sugar, and spices. Mix quickly to combine.
Add the chopped spinach and cheese, and mix slightly again.
Add the oil, and mix slightly to coat the flour.
Add the cream slowly, mixing as you blend. You could use up to 1 cup of cream. You are watching for a coming together of the dough, but don't over mix or your cracker will be rubbery and tough.
Cut the dough in fourths, and roll either on parchment or your baking sheet, to under a 1/4". 1/8" is perfect if you can manage it.
Score into squares and bake for about 15-18 minutes. Thinner crackers will take less time so watch them, and remove them when they are brown to avoid burning.
Serve these with flavored cream cheese or yogurt dip. They are addicting! Enjoy.
Notes
In the video I say 'this is like a roux for gravy', meaning you coat the flour with oil. We don't use much oil or the crackers will be too soft.
Over mixing the dough can cause your crackers to be like rubber or tough. Be very careful with the dough, just as you would pie crust.