Who doesn't love a cookie that is a bit healthier? This cookie recipe has been tested and tried several times, being a bit different as we use whole grain flour instead of white flour. We seriously cannot tell the difference with this one. Maybe it's the peanut butter or dark chocolate chips. In any case, these big batch peanut butter chocolate chip cookies will be a keeper in your recipe box.
Big Batch Peanut Butter Chocolate Chip Cookies
We use the Nutrimill to mill whole grains. Mill a container of soft white wheat berries. We use Wheat Montana soft white wheat berries for our cookies. You can freeze what you don't use immediately.
This recipe makes a lot of peanut butter chocolate chip cookies, about 5 dozen, or more if your cookies are scooped in smaller amounts.
What's the difference between wheat and white flour?
White Pastry Wheat vs. White Flour
These cookies are made with freshly milled soft white wheat – whole-grain pastry wheat. This is lighter than regular hard white wheat, and has less gluten – so don't make bread with it, pastries only. Soft white wheat or any whole grain retains the germ of the berry. This makes whole grain flour better for you as it's unaltered. It contains germ oil and bran which has wonderful nutrients.
Note: The germ is removed from bagged, store-bought whole grain flour. Freshly milled flour needs to be stored in the freezer after a day or two.
Most white flour has been bleached with all germ and bran removed for shelf life. However, you may certainly use white flour in this recipe. See the recipe notes.
Cream up the butter, sugar, and vanilla.
Then add the flour one cup at a time. If you're using white flour, see the notes.
Stir in the dark chocolate and peanut butter chips. I really enjoy dark chocolate in cookies. I'm not fond of super sweet food, so the more bitter chocolate the better (for me).
I think they're perfect. The cookies came out soft and chewy on the inside with a slight crunch outside. And the dark chocolate chips are very delicious.
Happy Cookie Baking!
Theresa
Yield: 5 Dozen
Peanut Butter Chocolate Chip Cookies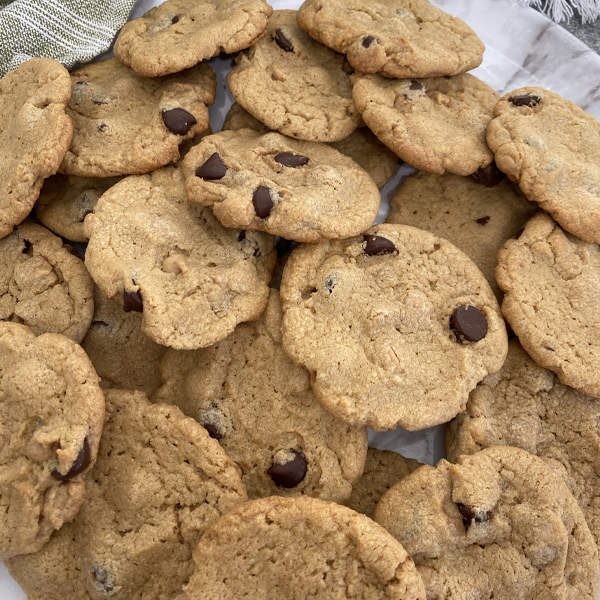 This is a large batch recipe, and it's a keeper! Dark chocolate is delicious in these cookies.
Ingredients
2 c. brown sugar
1 1/2  c. granulated sugar
2 c. unsalted butter (16 oz. or 4 sticks), softened
4 eggs
2 tsp. real vanilla extract
1 1/2 c. creamy peanut butter
7 c. soft white wheat flour - freshly milled
(or 5 1/2-6 c. unbleached white flour)
2 tsp. baking soda
1 tsp. salt
2 cups dark chocolate chips
1 1/2 c. peanut butter chips
Instructions
Set the oven for 350 degrees. Prepare a cookie sheet.
Mill 4 cups of fresh soft white wheat berries. You may substitute white flour.
Whisk the dry ingredients together in a bowl and set aside.
In a large mixer, cream the unsalted butter, vanilla, peanut butter, and sugars together.
Lightly beat the eggs and mix them into the creamed mixture.
Add 4 cups of flour at a time until all is incorporated.
Gently stir in chocolate and peanut butter chips.
Scoop 2" balls and slightly flatten with a glass bottom or fork.
Bake 10-12 minutes until light brown.
Notes
Use 1 1/4 c. of sugar if you like cookies less sweet.
If you use white flour, start with 5 1/2 cups. Do a test cookie to make sure there is enough flour. Add up to 6 cups if needed.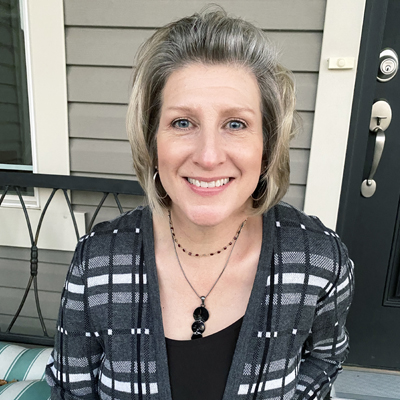 On Joyous Home, you'll find everything from food to handiwork, homeschooling to grace-filled living. Along with my daughter, Jessica, we love publishing and blogging about homemaking. We are children of Christ, and imperfect wives and homemakers. We're happy you're here!