Simple girls apron, and we all think, "Is it really simple?" It was, and my little girls are happy with them! Christmas cookie time is here, and I have two very eager little cookie bakers who are so ready to bake this year! Even though this Christmas season is going by so fast already with travel and a Christmas to-do list stacking up on me, I decided to sneak in sewing time anyway to make these little aprons for my little girls.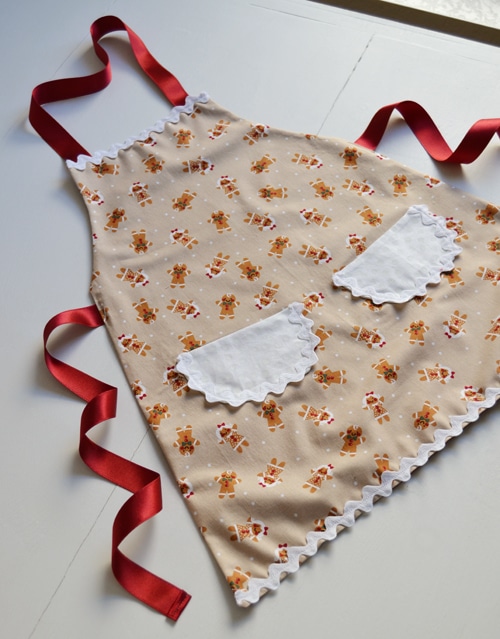 Let me encourage you that you can sneak it in too because these are indeed easy! I won't call it the one-hour apron, but I only spent about 1 1/2 hours or so total on each one. Something else that's fun for this tutorial? I'll show you how to draw your own apron pattern the exact size your little girl needs, and it takes about 5 minutes. No messing with printing the right pattern size!
Simple Girl's Apron
To make your pattern, you'll need one big piece of paper, art paper is perfect. My sheet was 18″ x 12″. If you need bigger, you can tape two pieces of paper together. Grab one of your daughter's shirts/t-shirts and lay it out on the paper, aligned with the edge as shown: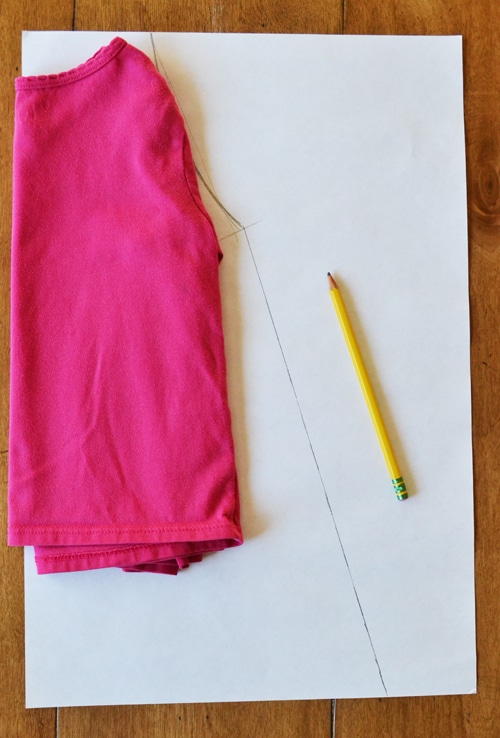 Draw a little curve where the arm sits. Don't sweat making it perfect, just a little curve, the arm on the shirt will guide you. Use a ruler to draw an angled straight line, angled-out a bit to create a flared A-line bottom for the apron (flare it out or make it as straight as you like!) Draw the line a few inches past the bottom of the shirt. The longer the line, the longer the apron. Pattern is done! Cut out your pattern.
Note on this tutorial: The pockets are little add-ons I thought were pretty, but they are optional. If you want to make the apron even faster, go for it and skip them! The pocket is a little tea-cup like the shape I drew. You can make a pocket any shape you like, the steps I give will still apply to whatever you draw.
Apron Supplies:
1 yd. apron fabric
1 yd. liner fabric
1/4 yd. pocket fabric (optional)
1 1/2 yd. ricrac (optional)
2 1/2 yd. 1″ ribbon
Cotton threads to match each fabric and ricrac
General sewing supplies, sewing machine, scissors, pins, iron, chalk/fabric marker
Iron your fabric before cutting. Align the pattern on the fold of the fabric. Cut one piece each from the apron and liner fabric.

2. (Optional pocket) I drew half of a tea-cup shape pocket and cut out four pieces on the fold of the fabric. Pin the two pairs, right sides together. Sew all the way around with a 1/4″ seam allowance, leaving a small opening on the bottom. Turn right side out, push the corners all the way out. Iron flat, tucking in the bottom opening so that's closed. You will stitch the opening closed when you sew the pocket to the apron.

Lay your pockets out on your apron front, align them as you like and then pin in place. Sew around the outside edge of the pocket. Use matching thread to stitch the ricrac on the edge of the pocket if desired. Stitch down the center of the ricrac. Trim the ends of the ricrac clean and flush with the edge of the top of the pocket.



4. Use a fabric marker/chalk to mark your opening for both of the ribbon ties starting about 3/4″ beneath the arm. Lay your ribbon on the mark as shown to mark the second line for the proper width of the opening, about an 1 1/4″ opening for 1″ ribbon.


5. Lay your apron front and liner right sides together, align all of the edges and pin together. Sew all the way around the apron, starting at the top (you are going to leave the top of the apron open), with a 1/4″ seam allowance. Remember not to sew over the tie openings!


6. After you finish sewing around the apron, use a pair of scissors to notch under the open as I did below. This will remove buckling on the seam under the arm when you turn it right side out.


Turn the apron right out, poke out all of the seams points/corners evenly. Iron flat, tucking in the seam on the tie openings and pressing to make an even edge.


7. Now to finish! The length of the ribbon ties depends on the size of your child. I cut mine for my 3T and 5T daughter about the same, 22″. Insert each ribbon tie in their opening and pin in place. Sew the opening closed using thread to match the apron front in the main spool and thread to match the liner in the bobbin (a little detail that's worth paying attention to!) Trim a clean angled edge on the end of each ribbon tie.



8. Finishing the bottom: Cut a piece of ricrac a little bit longer than the bottom of the apron. Line the ricrac along the bottom where you desire it to lay, and pin in place if it's helpful. I simply lined mine up along the bottom as I stitched. Stitch a straight line through the center of the ricrac. Remember to use a thread to match the ricrac in the main spool and thread to match the liner in the bobbin. Trim the ends of the ricrac even with the apron edge.


9. Finishing the top: Fold the top in 1/4″ and iron flat. Cut a piece of ribbon for the neck ribbon. You might need to test a length of ribbon on your child's head to find the right length, mine was 18″ long and was fairly generous. Insert in the top opening, align on each edge (make sure the ribbon isn't twisted!) and pin in place. sew around the top, about an 1/8″ from the edge. Repeat the same steps you used on the bottom of the apron to sew ricrac to the top of the apron.



Finished and ready for Christmas cookies!
Merry Christmas! ~ Jessica


More Christmas fun from Joyous Home:
Eggnog Fudge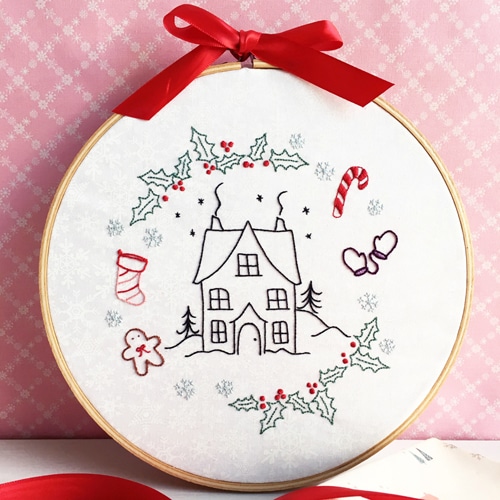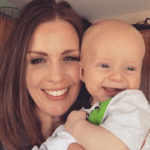 Child of God, Wife to Josh, Mommy to my four sweet children. Thankful for busy days filled with homeschooling, homemaking and loving my little family! And sneaking in sewing and pattern design whenever I can 🙂