Popcorn crispy treats are a great alternative to classic rice crispy treats and a creative and tasty way to substitute if you have a surplus of popcorn! They are just as delicious and provide a unique twist on the traditional rice crispy recipe.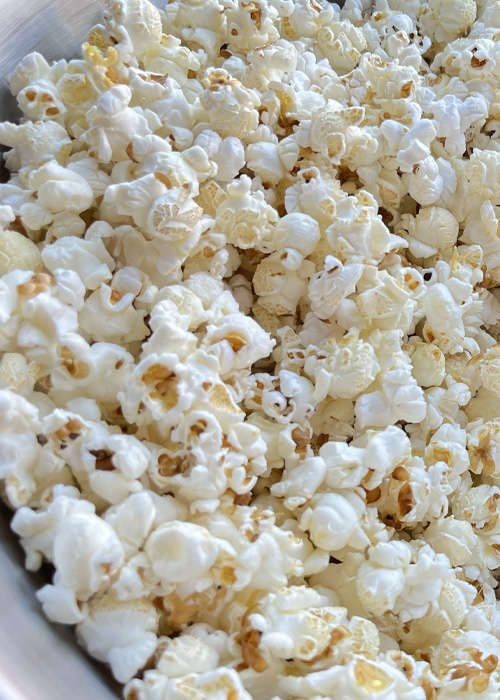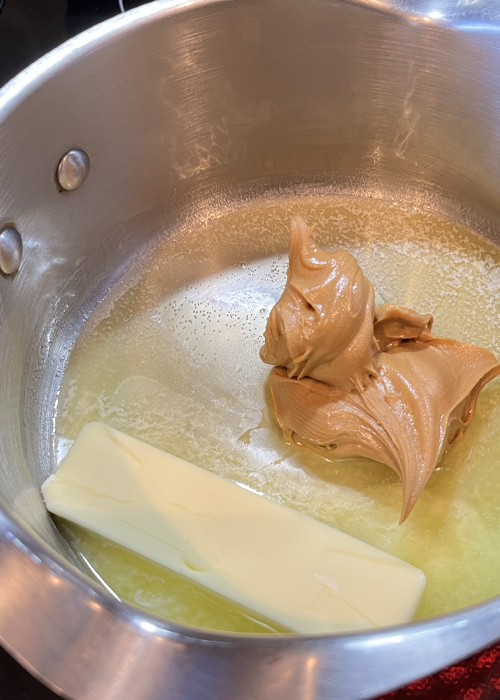 Pop your corn using olive or another favorite oil. Different oils seem to affect the texture of the popcorn or could impart a stronger flavor.
Coconut oil is an excellent choice for popping corn! It gives a slightly sweet and distinct taste that some will enjoy. Using too much oil will make the popcorn too soft. Use a minimal amount on the bottom of the pot, just enough to coat it. You'll need 20 cups of popped corn for this recipe.
Melt your butter and peanut butter together. If you don't want to add peanut butter, add 4 TBSP of extra butter.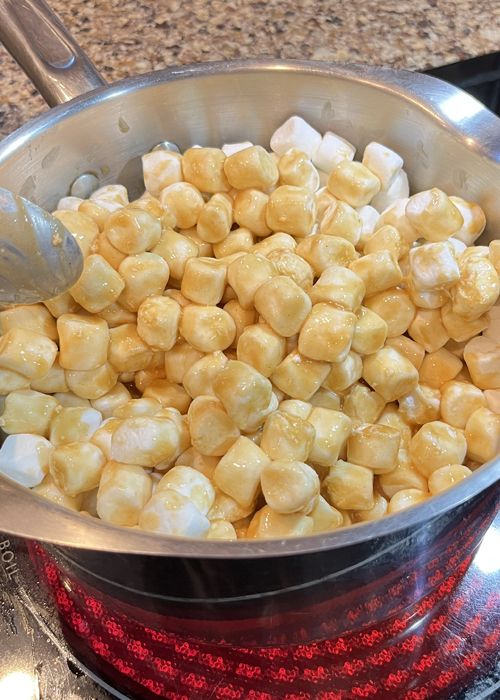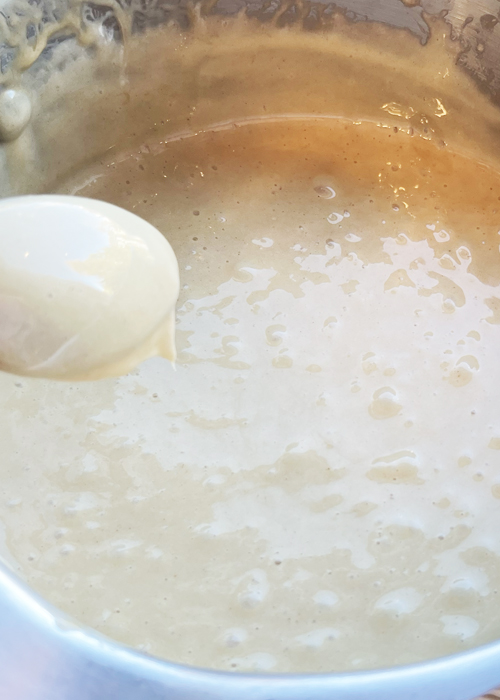 Should I melt marshmallows on the stove or in the microwave?
You can certainly melt marshmallows in the microwave but if you overheat them the popcorn balls will be rubbery. My choice is to melt them on the stovetop so I can monitor them without burning them.
To melt marshmallows without burning them, you can follow these steps:
For microwave melting:
Place your marshmallows in a microwave-safe bowl, and add a small amount of butter or cooking spray to the bowl to prevent sticking.
Microwave on a low or medium setting (around 50% power) in short intervals, usually 15-30 seconds at a time, depending on the quantity of marshmallows you're melting.
After each interval, remove the bowl from the microwave, stir the marshmallows with a spoon, and check their consistency. Continue microwaving in short intervals until they reach the desired level of meltiness. Be careful not to overheat, as this can cause the marshmallows to burn.
For stovetop melting:
Add 2 cups of marshmallows, butter, and peanut butter in a pan.
Use low to medium heat and stir continuously as the marshmallows begin to melt. Add 2 more cups and repeat until melted.
Once the marshmallows have melted to your desired consistency, remove the pan from the heat to prevent burning.
The key is to use low heat and monitor the marshmallows closely to prevent them from burning. Whether using a microwave or stovetop, keep an eye on them and stir as needed to ensure even melting.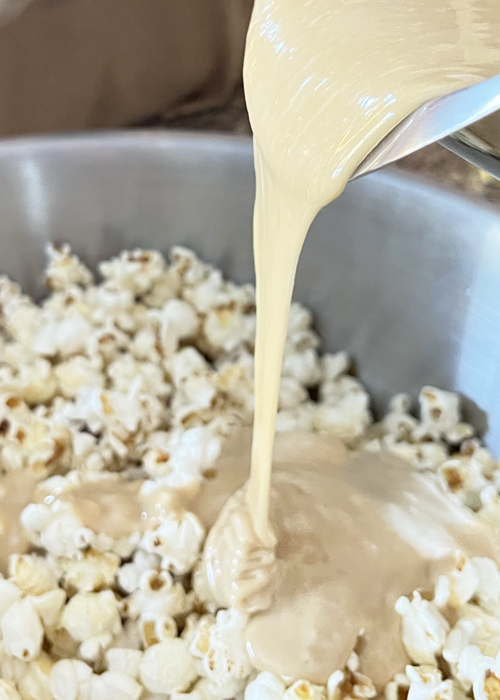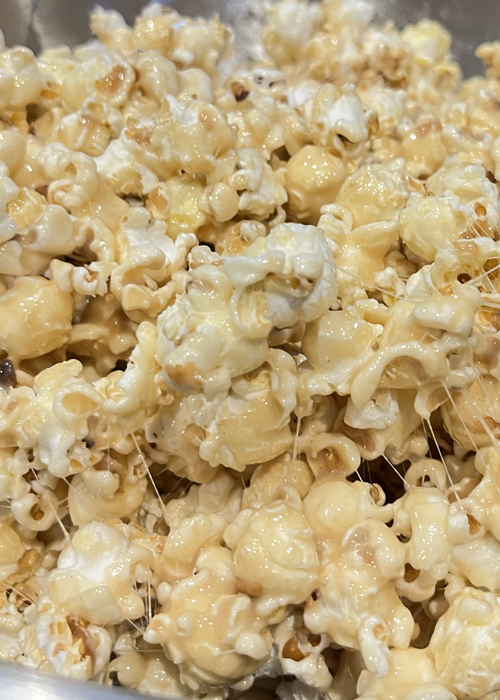 Butter a spatula and get ready to stir! At this point, you can also add salted nuts before adding the warm marshmallow mixture. Pour and stir the mixture with the buttered spatula. Two people are better than one for this step! Make sure every piece is coated.
Place on parchment paper to dry for one hour! Delicious!
Store these for up to a week in an airtight container. (If they last that long!)
Enjoy! Jessica
Print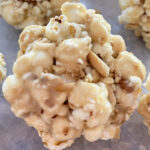 Popcorn Crispy Treats
---
Author:

Total Time:

45 minutes

Yield:

20

Popcorn Balls

1

x
Description
A twist on a classic recipe! If you like marshmallows, butter and rice cereal, you'll love these popcorn balls!
---
20

cups

popcorn

8

–

12

TBSP Butter (

12 TBSP

if not using peanut butter)

1/2

c

. peanut butter (optional)

2

10oz. bags of mini marshmallows

2

cups

salted peanuts
---
Instructions
Pop your corn and add the salted peanuts, stir and set aside.
Over medium heat, melt together butter, and peanut butter.
Add marshmallows to the butter mixture, a few cups at a time and stir until smooth. Don't boil or the popcorn will be rubbery.
Stir the warm mixture into the popcorn using a buttered spatula. Coat every piece.
Squeeze into balls and let cool completely.
Store in an airtight container.
Prep Time:

15 minutes

Additional Time:

30 minutes

Cook Time:

0 hours

Category:

Candy

Cuisine:

America
Keywords: dessert, popcorn