These Whole Grain Orange Sweet Rolls are a delicious treat! You can even try this recipe with lemon instead of orange, and perhaps a cream cheese filling. Either way, you will love them!
Whole Grain Orange Sweet Rolls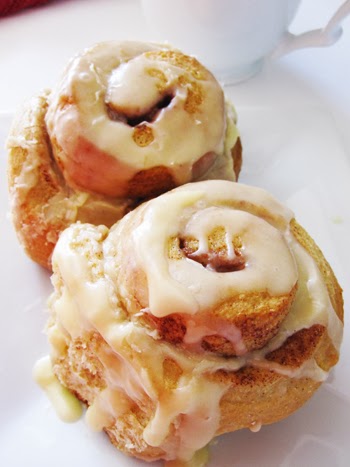 In a small saucepan, melt 2/3 cup butter over medium heat. Then add:
2/3 cup pure maple syrup or honey
3/4 cup orange juice
1 cup milk
1 tbsp. orange zest
Continue to heat, stirring constantly, until warm. In the Bosch mixer with the dough hook, combine:
warmed mixture
1 cup warm water
1 large egg
1 tbsp. vanilla extract
2 tbsp. SAF yeast
3 cups freshly ground hard wheat flour
Mix on medium speed until smooth. Cover bowl with lid and let mixture sponge for 35-40 minutes. As the mixture rises to the top of the bowl, turn on the mixer for a few seconds to jog it down. Once done sponging, add:
1 tbsp. sea salt
enough wheat flour to clean the sides of the bowl
Add flour one cup at a time, mixing a little after each addition. Stop adding flour when the dough is soft, but not too sticky, and is cleaning the sides of the bowl. Knead on medium speed for 3-4 minutes. Let dough rest for 10 minutes.
Divide dough into two portions. On a greased surface, roll out each portion into a 10″ x 20″ rectangle. Brush with 3 tbsp. melted butter and sprinkle with ground cinnamon (as much as you like!) Sprinkle generously with brown sugar.
Roll dough up lengthwise and cut into slices with either scissors or string (string works the best!). *See our cinnamon roll recipe here for step-by-step photos. 
Place slices in a greased glass baking dish. Let rise for 15 minutes in a warm place. Bake at 350 degrees for 25-28 minutes, or until the rolls are golden brown and spring back when touched.
Cool for 20 minutes before serving. Drizzle with orange glaze!
Orange Sweet Roll Glaze
In a small bowl combine:
2 1/4 cups powdered sugar
1 tsp. vanilla extract
1 tsp. finely grated orange zest
1/4 cup orange juice
Whisk together until smooth.
Enjoy the recipe!  Have a blessed day ~ Jessica