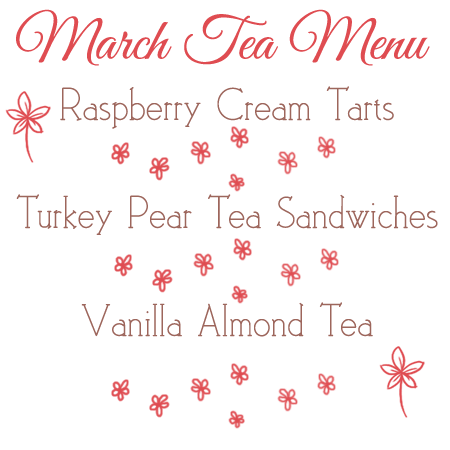 Raspberry Cream Tarts
You'll need one recipe of our favorite butter pastry dough. In a bowl combine: 
     2 1/2 cups unbleached white flour (or 2 cups soft wheat pastry flour and 1/2 cup unbleached white flour)
     2 tbsp. sugar
     1/2 tsp. sea salt
     1 cup chilled unsalted butter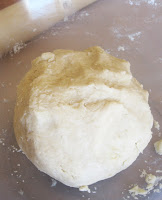 Use a pastry cutter or a fork to cut the flour and the butter together until the mixture resembles coarse crumbs. Drizzle 1/3 cup ice cold water over the crumb mixture and bring together with a fork, pressing with the fork until the mixture is moist. Add extra ice water as needed, one tbsp. at a time. Then use your fingers to finish pressing the dough together until it's one mass. Be careful not to knead or over handle the dough, it will make it tough.
Roll the pastry out in circle, 1/4″ thick. Use a 3″ ramekin dish as a guide, and cut circles with a sharp knife. Set each circle on a baking sheet lined with parchment paper. Chill until fillings are ready.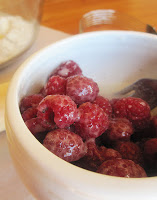 Prepare the raspberries: In a bowl combine 1/3 cup sugar with 3 tbsp. corn starch; whisk together until no lumps remain. Add 2 1/4 cups fresh raspberries washed and patted dry. Fold raspberries into sugar mixture until completely coated. Set aside while you make the cream cheese filling.
 In a bowl, combine the following: 
     1 8 oz. package cream cheese, softened
     2 tbsp. sugar
     1/2 tsp. almond extract
     1 large egg, slightly beaten
Whisk together until smooth; set aside. In the center of each pastry circle, place 1 tbsp. cream cheese filling and top with a spoonful of raspberries. Drizzle 1 1/2 tsp. of the juice from the raspberries over the fillings. Fold up the edges of the pastry dough around the filling free-form style.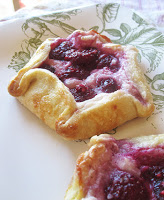 Almost done! In a small bowl, whisk together one egg white with 1 tbsp. cold water. Use a pastry brush to brush pastry of each tart and sprinkle with sugar. This will give the tarts a shiny glaze that is sweet and crunchy! 
Bake in a 375 degree oven for 20-22 minutes, until golden brown. Cool to room temperature or chill completely before serving. Store leftover tarts in the refrigerator for up 3 days.                                            ~ Makes 8-10 tarts



Turkey Pear Tea Sandwiches
Oh the simplicity of a delicious tea sandwich. Use any kind of bread you prefer; we used a bakery sourdough loaf for ours. Use deli roasted turkey, and try black pepper or maple roasted turkey. 
Cut thin slices of bread. From the slices cut either 3″ squares or use a cookie cutter to cut shapes. Butter each slice of bread and top with thin slices of pear, thin slices of turkey and a sprinkle of fresh thyme leaves.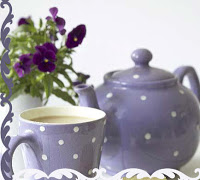 Vanilla Almond Tea
In a large pot brew 1 1/2 quarts of strong black tea, try Twinings Earl Grey. To this add:
1/4 cup fresh lemon juice, strained
1/2 cup honey or maple syrup
Stir together until all of the sugar has dissolved. Pour into a warmed tea pot and serve with cream. 
                                                                          ~ Makes about 6 servings