This is a simple ice cream pie, but it's so good you could almost skip cutting a piece and just eat it right from the pan with a spoon! You could even add a little drizzle of caramel or hot fudge on top…
For the instant coffee in the filling, I used Starbucks VIA mocha flavor instant coffee. So good! I also made this with an easy "crust" of vanilla wafers, but next time I'm going to make a chocolate graham cracker crust for it. For the topping, I broke up the extra toffee from Christmas baking. Yummy!
Frozen Tiramisu Pie
To make the crust:
Butter the sides and bottom of a 9″ springform pan well with soft butter. Line the bottom first, then the sides, with vanilla wafers as shown (one package is plenty for one pie). Crush up about 1 cup more and sprinkle them around the bottom to fill in some of the gaps. Set aside.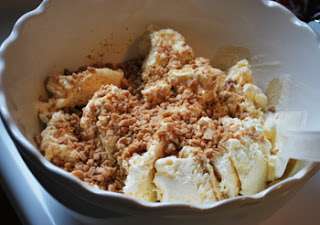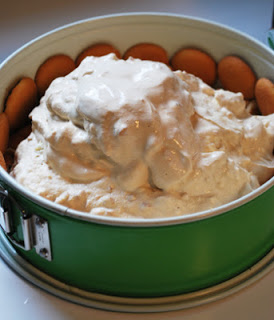 To make the filling:
In a large bowl, combine:
1.5 qt. vanilla ice cream, softened
1 tbsp. of instant mocha coffee dissolved in 1 tbsp. hot water, cooled
1/3 crushed toffee pieces
1/4 cup rum or 1 tbsp. rum extract
Stir and fold together until thoroughly combined. Work quickly because the more you mix the more it melts! Scrape mixture into prepared springform pan and smooth out evenly over cookies. Immediately place in the freezer. Freeze until firm, about 1 1/2 hours.
Top with 1 cup whipped cream and extra broken toffee pieces. Remove pie from freezer 15 minutes before serving. Enjoy!