I got pretty busy recently and decided to keep on hand a few recipes that still have a made-from-scratch feel, but are faster to prepare.  This layered enchilada casserole recipe uses something we normally make ourselves – the cream of mushroom and cream of chicken soup. In this case, using the canned soup made the best-layered casserole for a quick dinner.
Chicken, Beef or Beans in Your Layer?
I used chopped chicken with this recipe, but easily, you could use beef or beans. If you cook the meat ahead of time it will be even quicker when you have all you need on hand to turn out this layered enchilada casserole quickly. It's fast and very tasty.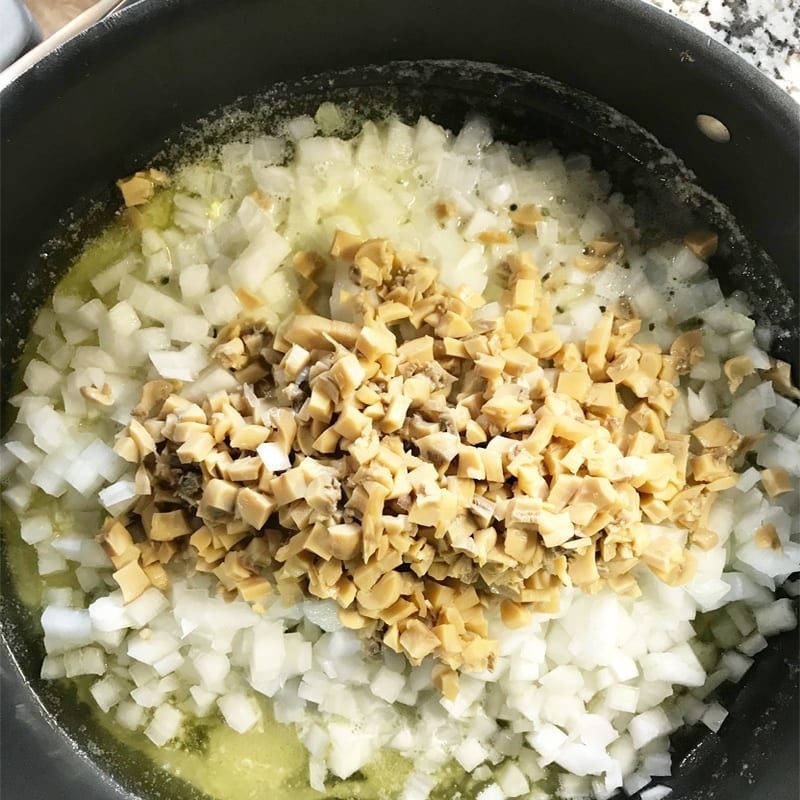 Saute the onions and mushrooms.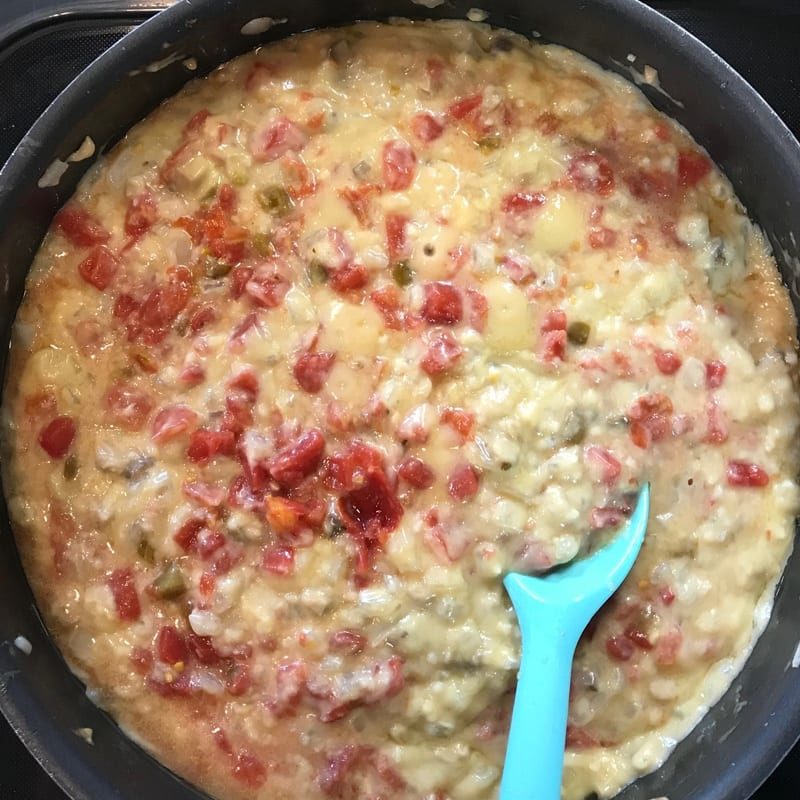 I wasn't completely sure about the soup, or Rotel. It was a good choice for fast.
How to Make the Best Layered Enchilada Casserole
If you decide to use beans, you can cook them ahead of time and freeze them. Pinto beans are easy to make in a pressure cooker and freeze nicely in portions. I would probably mash mine up with some olive oil and spices and heat them up before spreading on the layers. You could also use canned beans for a quick fix.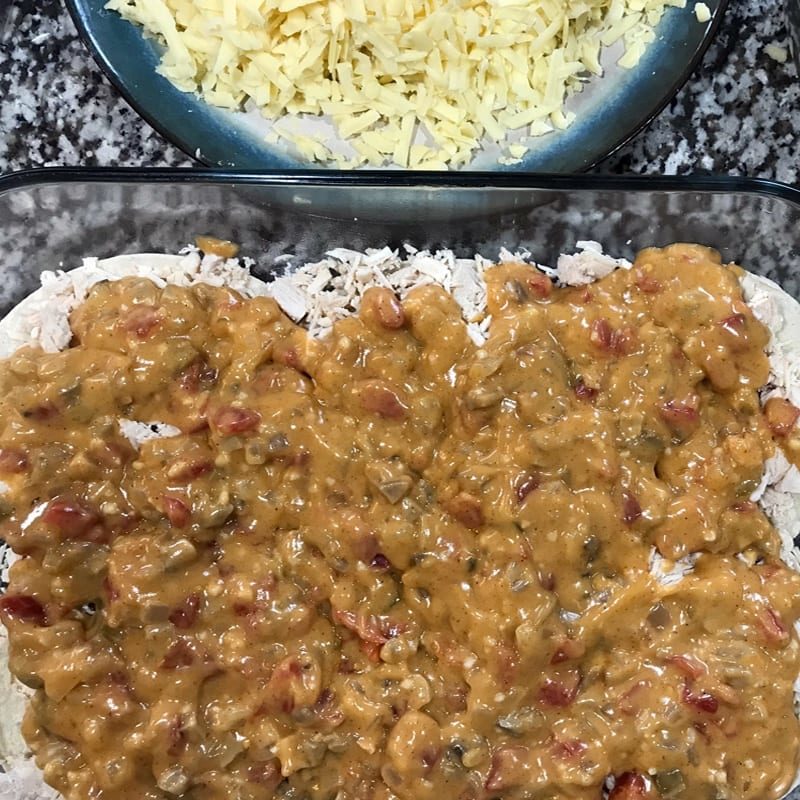 I used beans in the sauce and chicken for the meat.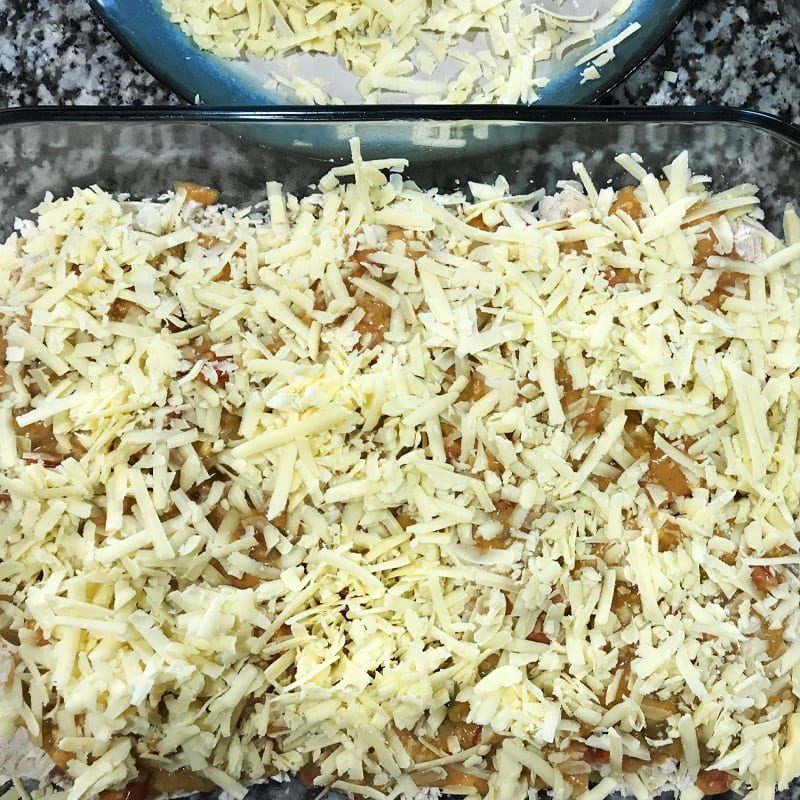 White cheddar cheese is my total favorite. For everything.
Cream Sauce From Scratch?
However, if you want to make your own cream of mushroom or cream of chicken soups, it's really not hard if you have time! You can make your own white sauce and add chopped mushrooms, and chicken bouillon powder. While it's not mentioned in our from-scratch white sauce, I do replace some broth with white wine and add 1 tsp. or so of poultry seasoning. See our enchiladas for our white sauce.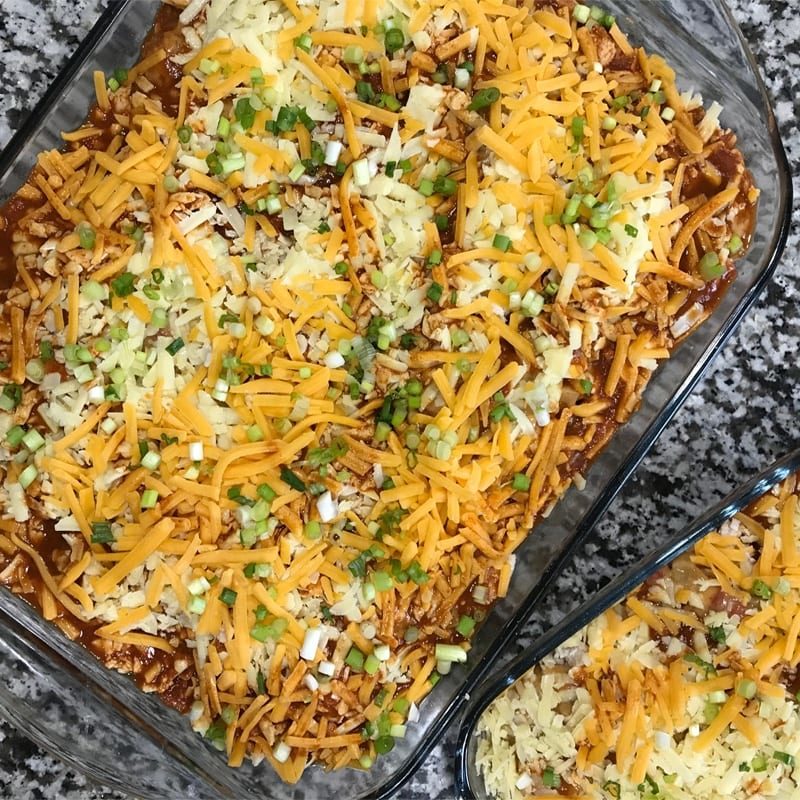 Green onion on top, so good.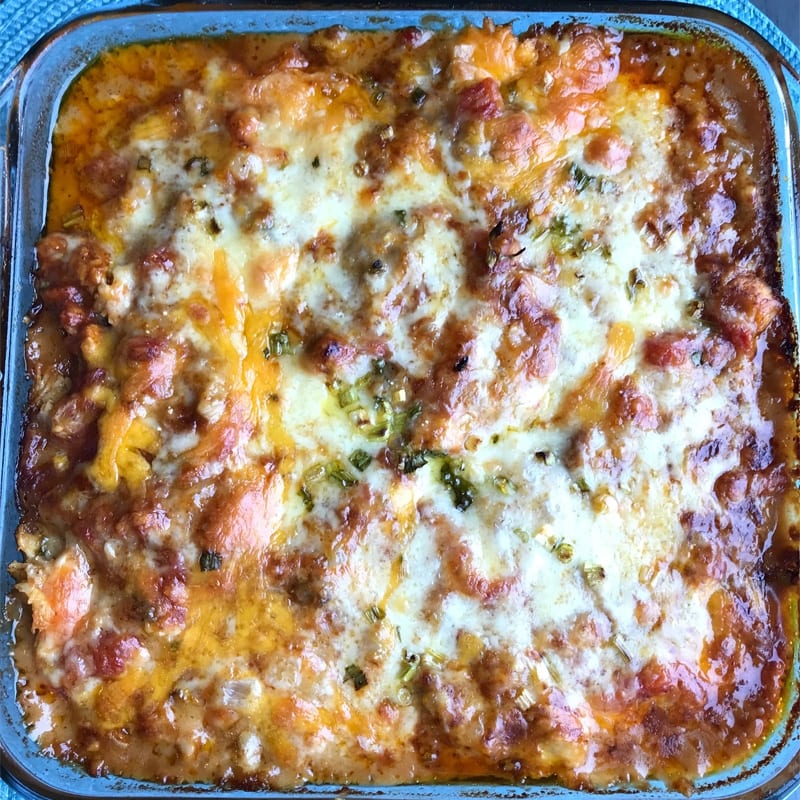 This was far better than I imagined, perfect for an easy fast dinner.
Rice and Beans for Sides?
We love brown rice as a side dish with enchiladas! Baby's First Foods, A Mother's Guide to Family Nourishment has in-depth instruction on pressure cooking beans, rice, and more with cooking and timing charts. It contains our own tried and true recipes. It's a great book that I often take out to cook from! You can grab a copy here.
Yield: 11 people
How to Make the Best Layered Enchilada Casserole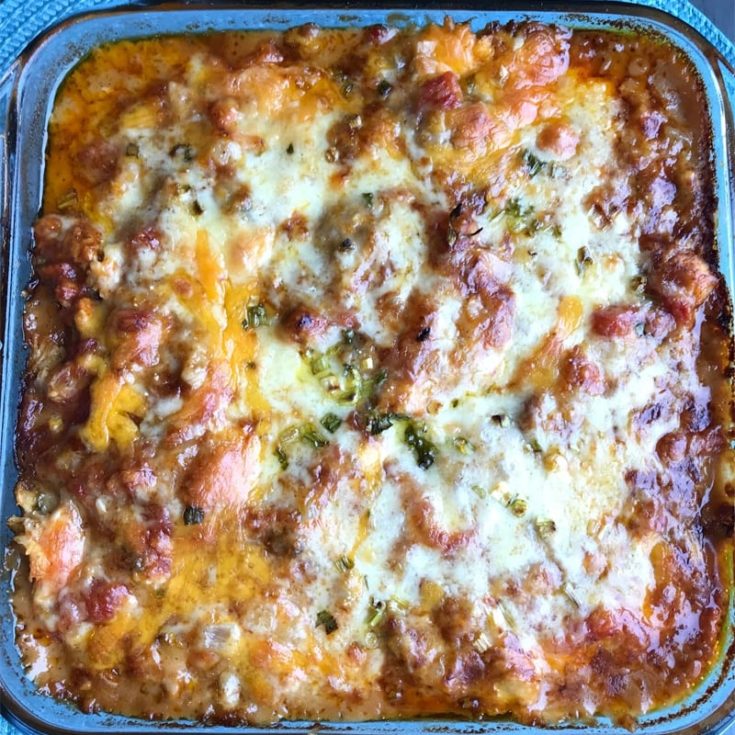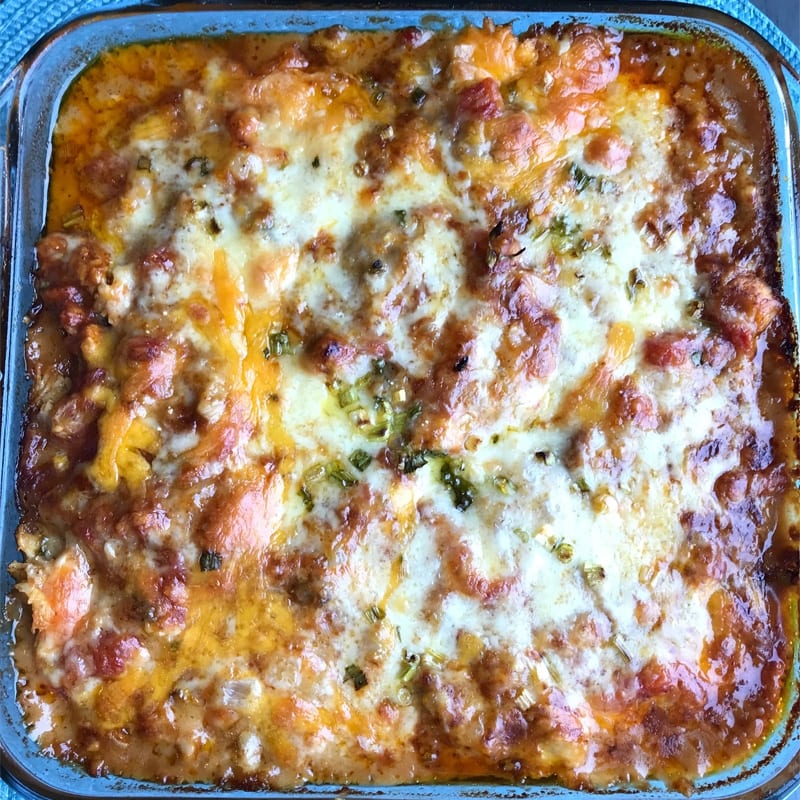 Preparing the meat or beans for this casserole ahead of time helps save time. Freeze in portions equivalent to the servings needed. This serves 11 people and used a 9x13 pan, plus an 8x8. If you want to adjust the recipe to a smaller crowd, just hover over the servings in people and slide to adjust!
Ingredients
10 cups chopped cooked chicken, ground beef, or mashed beans (Prepare ahead and freeze in portions for quick use)
2 cups diced onion (My favorite tool for chopping is the Big Mouth Chopper)
2 cups diced mushrooms (fresh or canned)
1/2 cups unsalted butter
21 1/2 oz cream of mushroom Soup (Two 10 3/4 oz cans)
21 1/2 oz cream of chicken Soup (Two 10 3/4 oz cans)
20 oz tomatoes with chiles
3 tbsp minced garlic
1 tbsp chili powder
1/2 cup chicken broth or white wine
3/4 c. heavy cream
28 oz enchilada sauce
20 6" corn tortillas
6 cups rustic white cheddar cheese (combine different cheddar cheeses if desired)
Instructions
Saute onions and chopped mushrooms with butter in a large skillet.

Add the cream of chicken and mushroom soups, tomatoes with chilis, chicken broth or wine, heavy cream, garlic, and spices. Mix up and let bubble for a few minutes.

Spray the pans with non-stick spray. Start layering your casserole. You'll be doing this twice so use half of the mixture on each layer for each pan. Cover the bottom of your pan/pans with tortillas, overlapping is fine.

Cover the tortillas with your meat or bean choice and the soup mixture.

Add cheeses and a portion of enchilada sauce. OH YUMMY! I've found that a good rustic white cheddar is the best cheese to use for this casserole.
Repeat the same layer.

With cheeses as the ending layer, add the rest of enchilada sauce and top with chopped green onions.

Bake at 375 degrees for about 40 minutes until bubbly and brown. Brown rice is a great side with this!
Notes
You'll need non-stick spray for the casserole dishes.