Chicken enchiladas have been a staple dinner with my family for the past 12 years, and Josh likes it just as much now that I'm making it for him. I remember when we first started making chicken enchiladas… those were the cream of chicken soup days. We've upgraded to homemade white sauces since then!
I had a hard time writing out measured ingredients for this recipe! I've made it so many times for my family, which was a very large batch, but Josh and I only eat a small fraction of that right now. This is what I came up with – this is a smaller recipe that makes about 4-6 servings, but if you're a large family, triple it. This is so good served with brown rice and coleslaw! 
White Chicken Enchiladas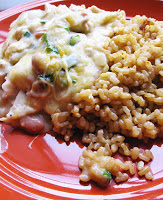 You'll need one 12 oz. can of green enchilada sauce, one 2 oz. can of diced green chilis, and 4 cups chicken broth. We use a pressure cooker to cook our dry beans, but one 15 oz. can of pinto beans will be enough for this recipe.   
In a saucepan, melt 1/4 cup butter. Add one medium chopped onion and saute` until tender, about 5 minutes. Add:
     1 tsp. ground black pepper
     1/2 tsp. chili powder
     1/2 tsp. dried thyme
     1/3 cup wheat or unbleached white flour
Whisk until smooth; cook and stir over medium heat for two minutes. Slowly pour in 2 cups of chicken broth and whisk until combined. Whisk in the remaining 2 cups of chicken broth and 1/2 cup half & half. Bring to a low boil, and cook until thick. Remove from heat.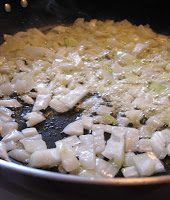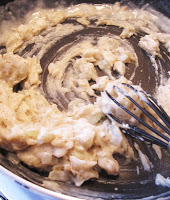 Add 3 cups cooked diced chicken breast, 1 cup cooked pinto beans, and 2 oz. can of diced green chilis. Add salt to taste. In a 2 qt. casserole dish, pour one half of the can of green enchilada sauce in the bottom of the dish. Fill 4 large flour tortilla wraps with the chicken filling, and place in the casserole dish. Pour any remaining filling on top of the wraps.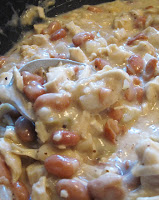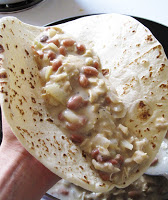 Sprinkle two cups of cheddar cheese, and 1 bunch chopped green onions over the top. Drizzle with the remaining 1/2 can of green enchilada sauce. Bake at 400 degrees for 20 minutes, or until slightly browned and bubbling.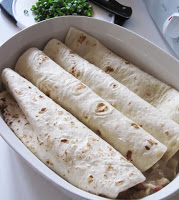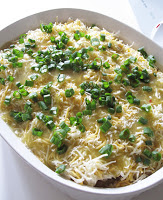 Have a blessed weekend! Jessica