We are making homemade crackers for our party, thought I would share how-to!  No one really thinks of making their own crackers but once you do, you'll never desire to buy crackers from the store.  There is just no better taste than fresh homemade crackers!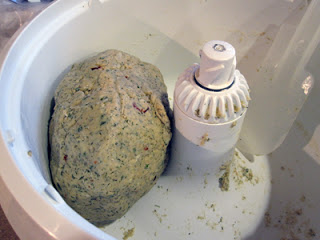 This will make several baking sheets of crackers.  How many will depend on how you cut them into squares; it's safe to say it will serve 10 or more people.
 Ingredients:
4 cups freshly ground wheat flour
1 cup shredded parmesan cheese
1 Tbsp. dill
1 Tbsp. dried red pepper
1/2 Tbsp. thyme
2 tsp. sea salt
2 tsp. sugar
4 Tbsp. olive oil
2 c. half n half or enough to make a soft dough – start by adding 1/2 c. at a time.
Combine the first seven ingredients in a large mixer.  Be careful not to use fragile whips, something like cookie paddles for the Bosch mixer will work.  If you have a large food processor with a paddle, you can use that.  If you over-do mixing the cracker dough, your crackers are going to be tough and rubbery.  If you combine just until mixed, they will be crisp.
Now add the olive oil and start adding half-n-half until a soft dough forms.  Just jog the mixer with each addition.  Stop and scrape the sides to combine if you can.  This will prevent over-doing the dough.  Let sit in the refrigerator overnight.
This recipe can be broken into about 8 portions.  Take one portion and roll a thin 1/8″ rectangle on a silicone mat.  Score into squares and bake at 375 degrees until brown.  You can cut off the outer squares and continue to bake if they bake unevenly.  Serve with herb cream cheese!  Enjoy!