I love making little appetizers with puff pastry. Puff pastry can be made with very few ingredients, and it's delicious! I've always used the store-bought puff pastry sheets, but making it is very easy! This easy homemade puff pastry can be made beforehand which is super convenient for your next party.
Only Four Ingredients for Puff Pastry

The great thing about making puff pastry is the few ingredients needed.
Very COLD Butter – Do not use margarine. I use unsalted butter. The butter must be very cold. Cube and keep in the refrigerator until ready to add to the flour.
Flour – I always use fresh, unbleached white flour.
Salt – I use sea salt.
Cold Water – I put ice in water and let it sit while I put the ingredients together.

Puff Pastry Tips I've Found Helpful
Keeping everything cold is the most important step when making puff pastry. Very cold butter, very cold water, and chilling the dough will help the pastry be puffy. Folding the dough over itself will help it be flaky.
Evenly distributing the butter is another important tip in making puff pastry. There should be bits of butter, cold, and well distributed throughout the dough. We add one half of the butter to the flour in the food processor, then the other half.
Yield: 1 recipe
Easy Homemade Puff Pastry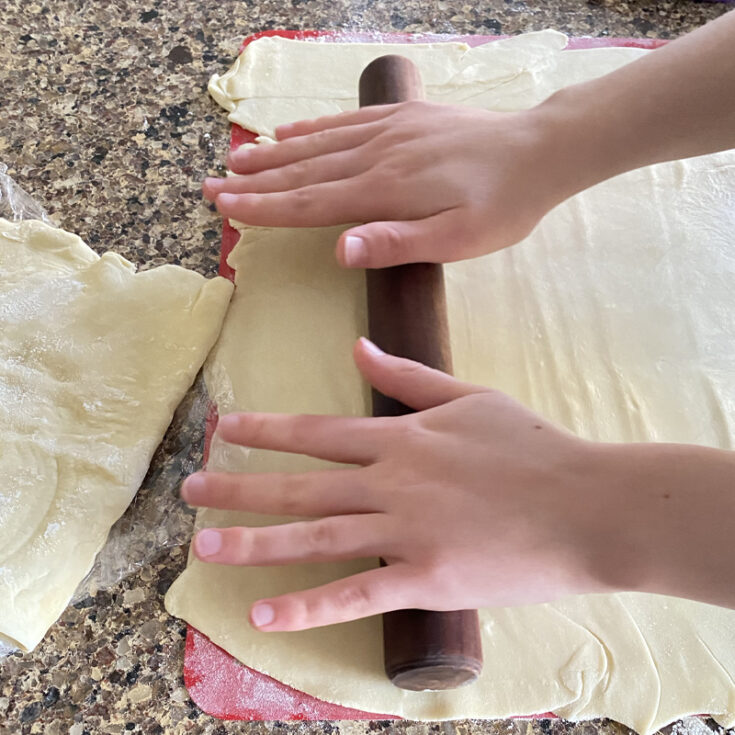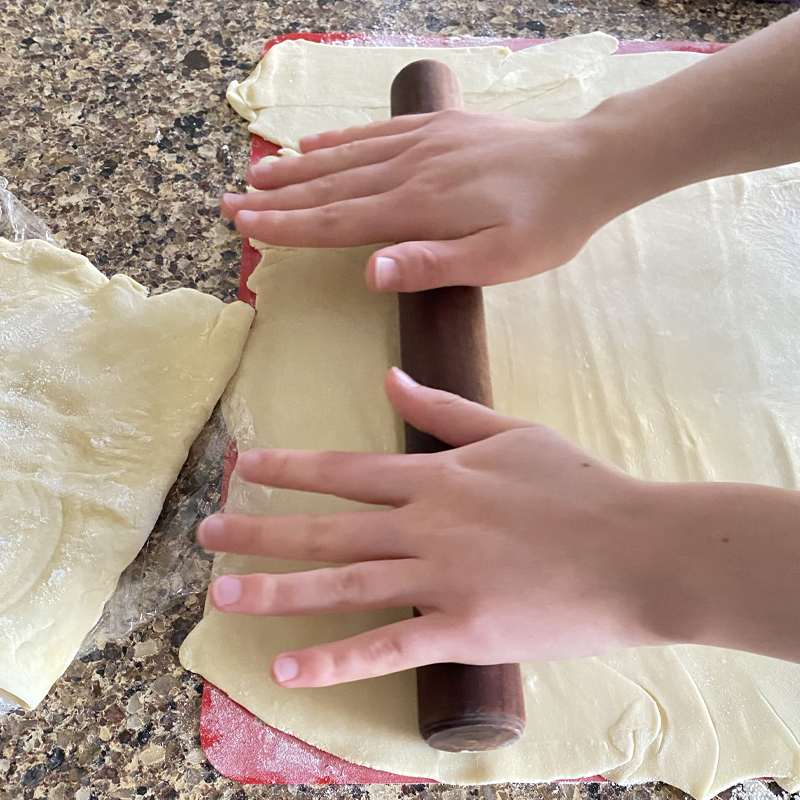 Only four ingredients and super quick to make, excluding the chill time!
Total Time
1 hour
15 minutes
Ingredients
1 1/4 c. cold, cubed, unsalted butter
2 c. unbleached white flour
1/2 c. ice cold water
3/4 tsp. salt
Instructions
Add the 2 cups of flour to a food processor.
Add 1/2 of the butter, cold and cubed, pulse until the butter blends, just a few pulses.
Add the remaining cubed butter and pulse again.
Add the cold water, slowly, pulsing a few times until the dough comes together.
Dump onto a floured surface. Using your hands, combine the dough and flatten it into a rectangle.
Roll into a 10" x 15" rectangle and fold the sides in, and then fold again.
Chill for at least an hour. Use this dough as you would any frozen puff pastry.
It's ready to roll out and fill with your favorite fillings!
Notes
Keep everything cold, especially the butter!
I'll be making some fun treats with this dough. I hope you give it a try also!
Happy doughmaking! Theresa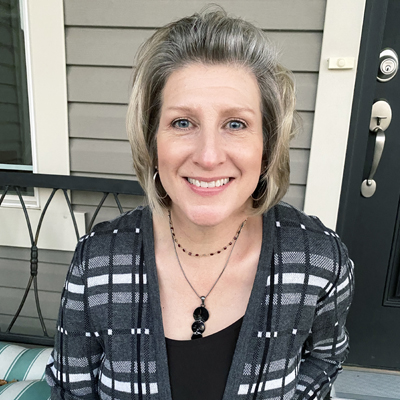 On Joyous Home, you'll find everything from food to handiwork, homeschooling to grace-filled living. Along with my daughter, Jessica, we love publishing and blogging about homemaking. We are children of Christ, and imperfect wives and homemakers. We're happy you're here!