Cheesy Sausage Pesto Pull-Apart Bread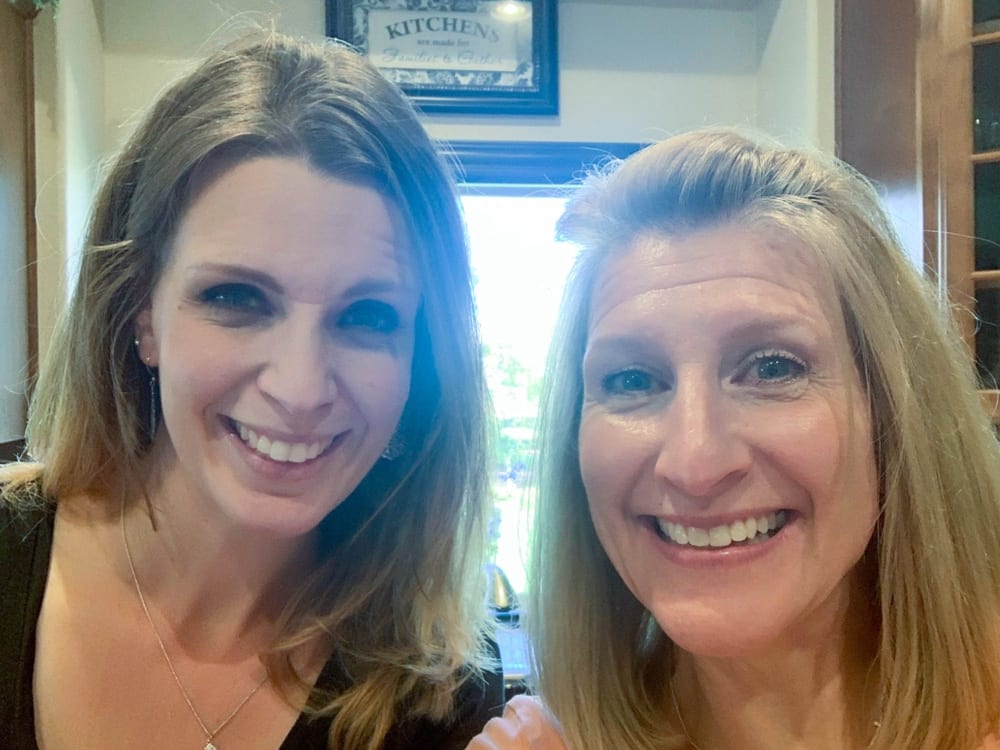 Her phone call will start with, "Mother, what do you think you're doing?"
I love my cooking days with the co-founder of Joyous Home, my beautiful daughter, Jessica. We were looking through recipes and decided to combine ingredients from a few different recipes and make this delicious Chessy Sausage Pesto Pull-Apart Bread.
We have a lot of fun cooking together, often getting sidetracked wondering what happened to our day. Isn't that the best?! I'm going to get a phone call for posting this picture.
After some laughing and shopping, we came up with this yummy dough, and used the fresh basil from my garden to make a pesto type oil dressing.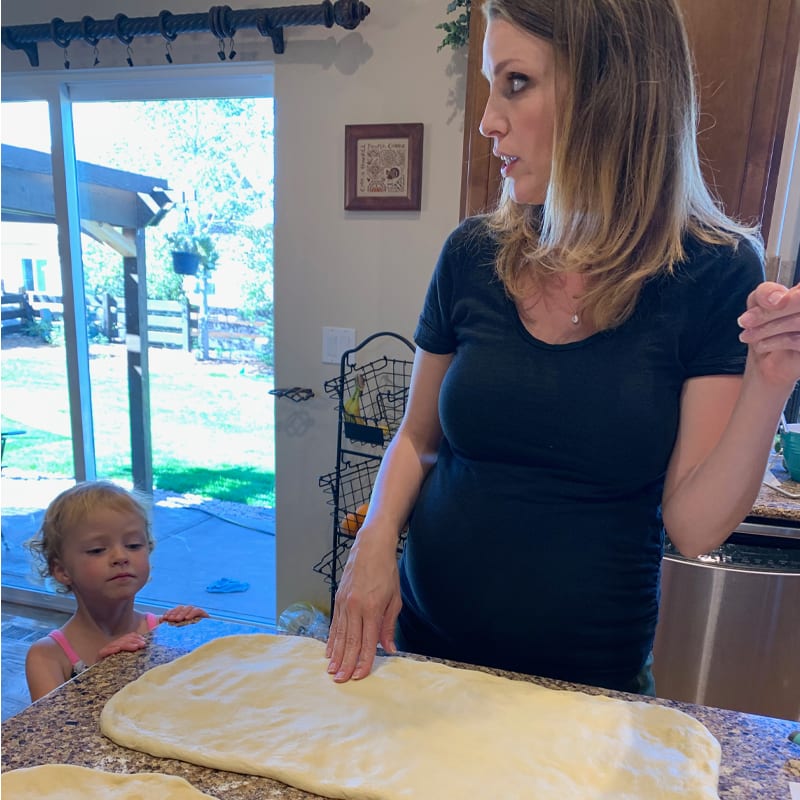 We have a little helper! This one loves to be in the kitchen helping, isn't she the sweetest!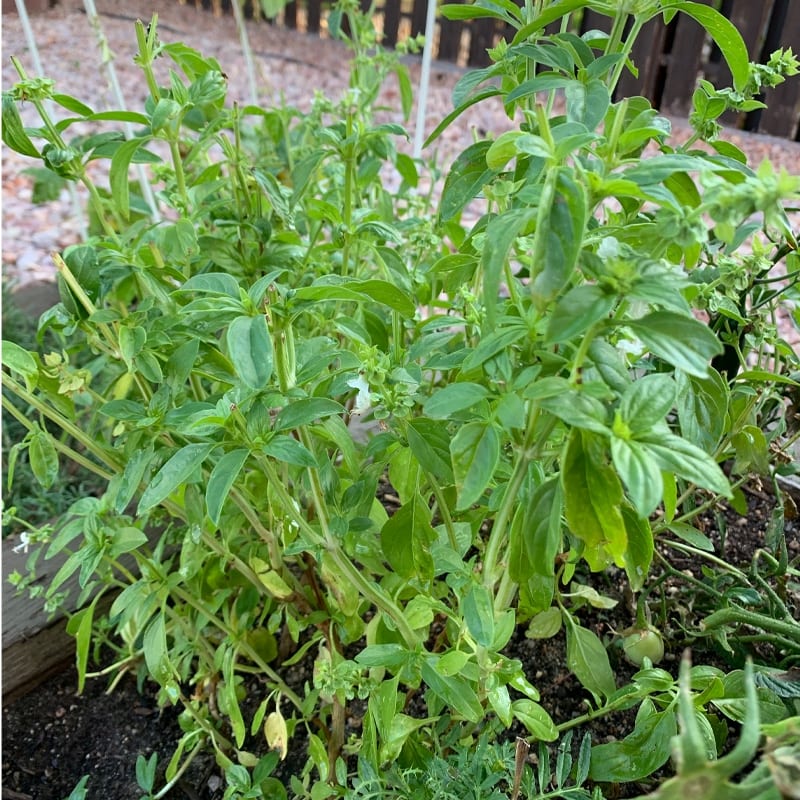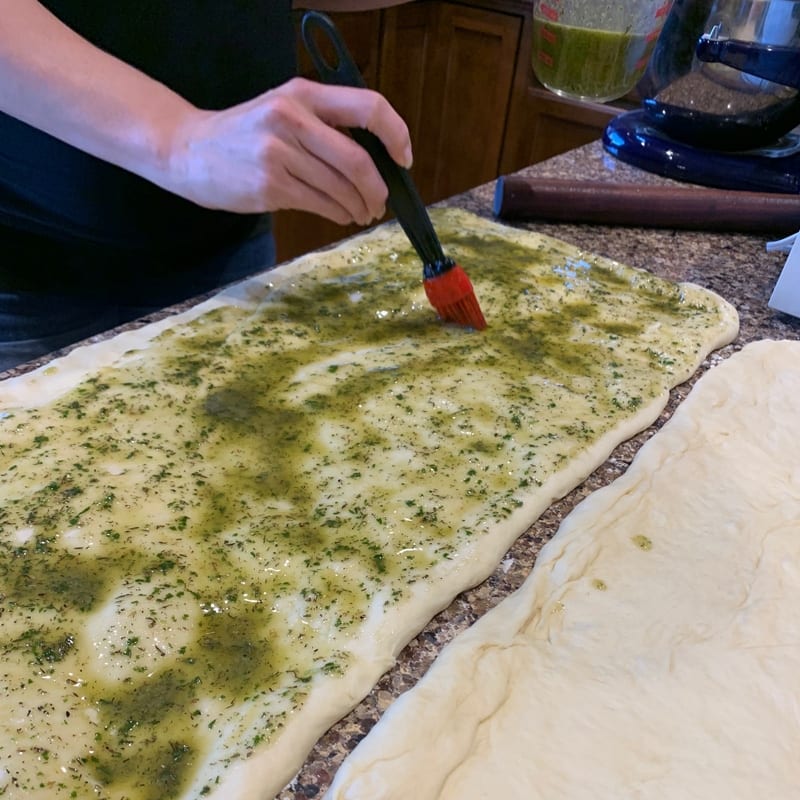 One recipe for the dough included cornmeal, 1/2 cup. I wasn't too sure about that. It sounded too corny. 🙂 I replaced it with flour, but you could try the cornmeal, I think the texture would be interesting.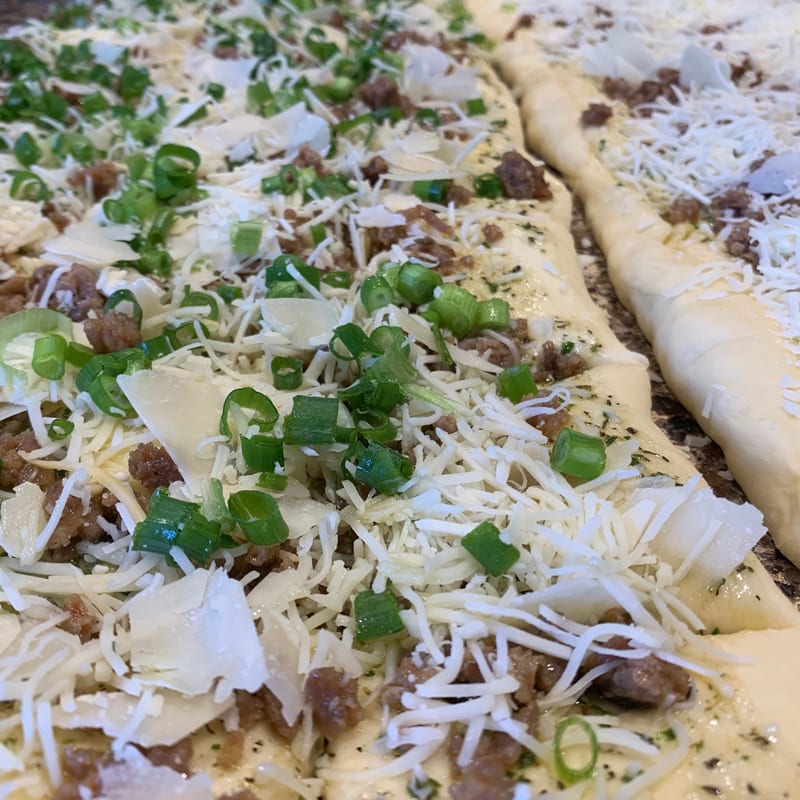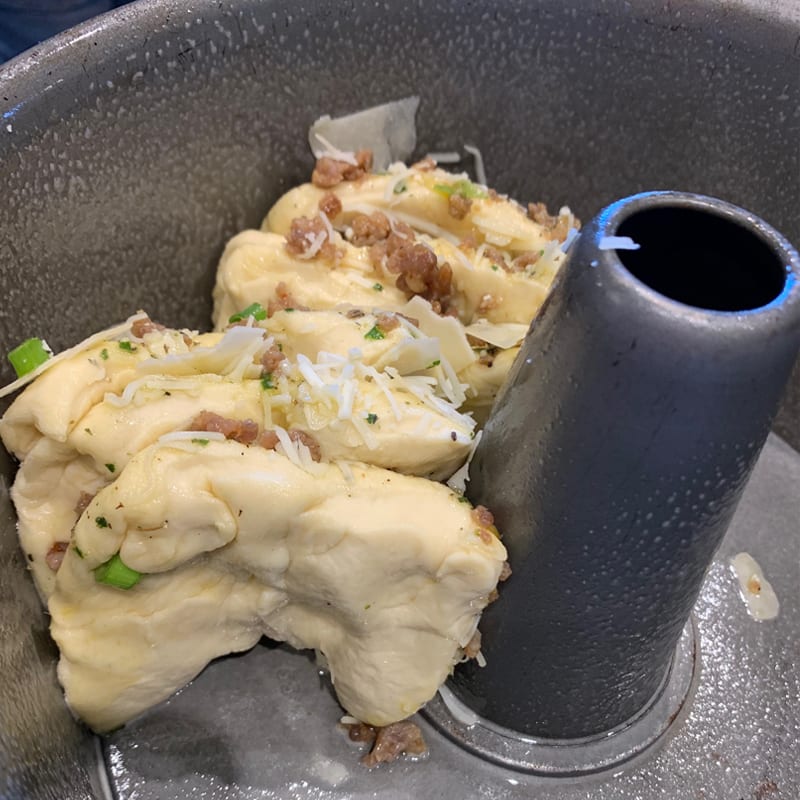 I put mine in a casserole dish and Jessica used a bundt pan. Either will work, but don't use a bundt pan with a removable bottom, lesson learned. The dough is topped and then cut into even squares, and then stacked in your dish.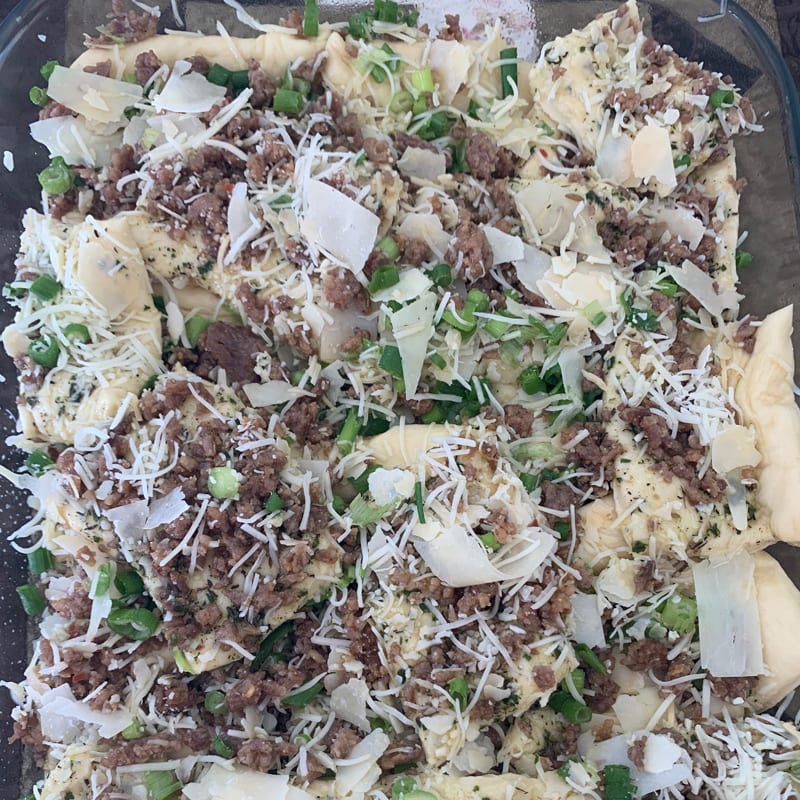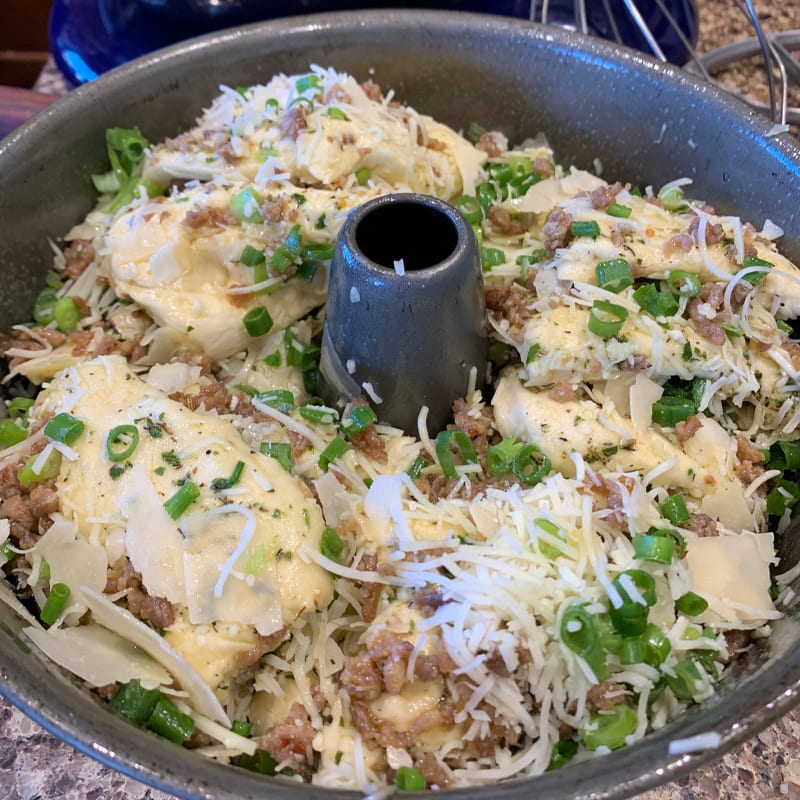 A lot of pull-apart breads tend to be dry. This crust had a lot of moisture and it was truly delightful and crisp with meat, oil and cheese. We used shredded parmesan and asiago cheeses. For the meat, I might try pepperoni the next time or even Jimmy Dean Turkey Crumbles.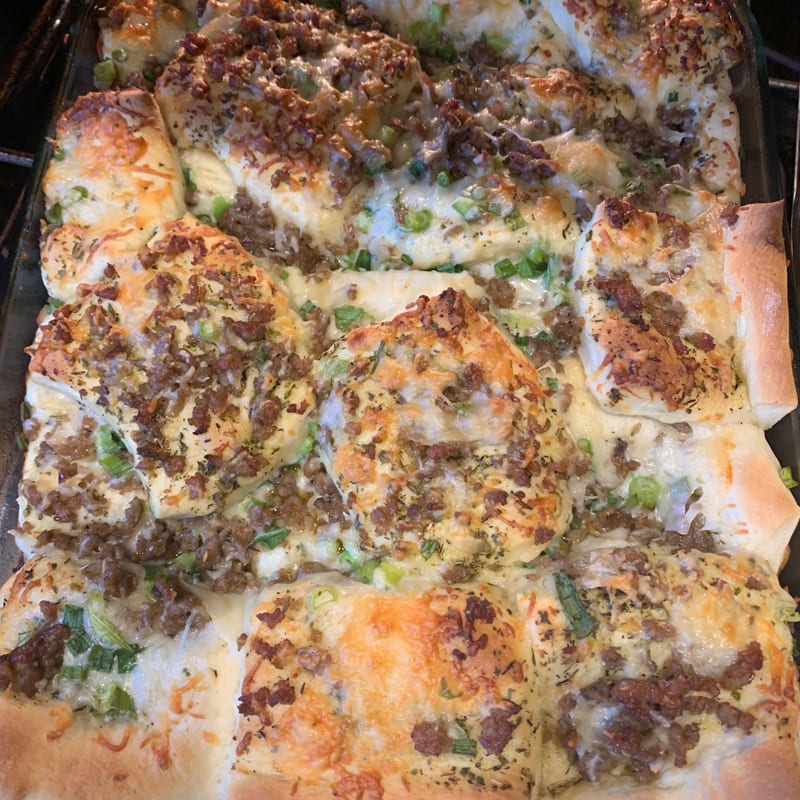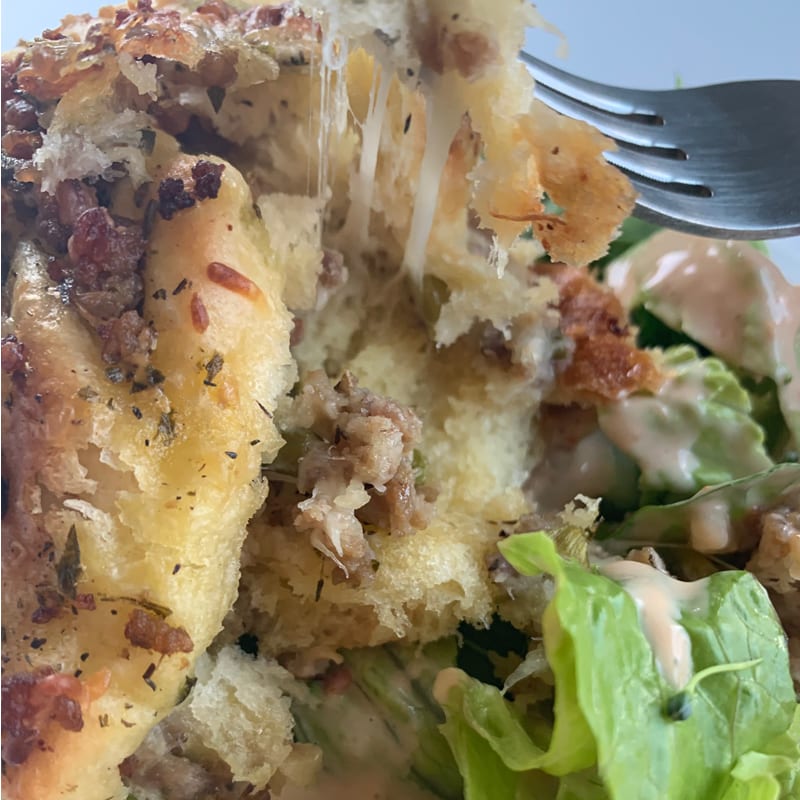 The crust had a nice texture, not dry at all. We dipped ours in dressing next to our salad.
Enjoy! Jessica and Theresa
Yield: 8 servings
Cheesy Sausage Pesto Pull Apart Bread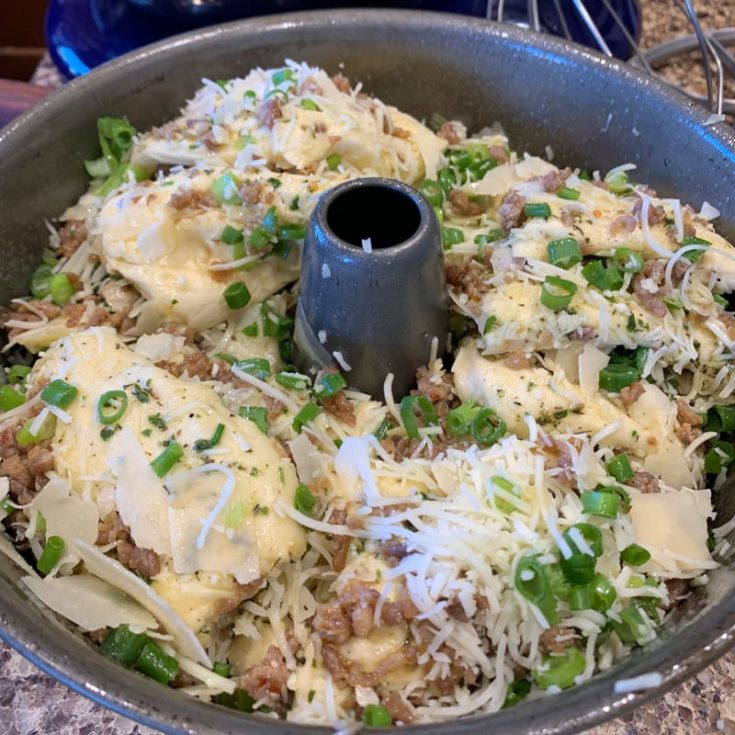 Add a big salad to this cheesy, pesto, meaty pull apart bread for a complete meal!
Ingredients
Dough
1 c. milk
1/4 c. sugar
1/4 c. butter
1 tsp. salt
1 Tbsp. active yeast
1 egg lightly beaten
4 c. unbleached flour
1/4 c. warm water (for yeast)
Filling and Topping
3/4 c. olive oil
1/2 tsp. salt
1/2 tsp. thyme
1/2 c. fresh basil
1/2 tsp. pepper
any other spices you want to add or adjust
Green onion
Sausage, pepperoni or turkey sausage
2 cups of Italian blended shredded cheese
Instructions
Heat your oven to 375 degrees. Spray your pans.
Mix your oil combination and set aside.
Heat the milk, sugar and butter, just until the butter melts. Dissolve the yeast in the warm water. Pour both into your mixer. Add the beaten egg, and the salt.
Add the flour, one cup at a time, mixing until the bowl cleans. I normally let the dough rise once in the bowl. It won't take very long for it to rise if you are using a mixer like the Bosch mixer.
Spread out the dough into a large rectangle and brush with your oil mixture.
Spread cheese, and toppings over the dough.
Cut the dough into squares and stack into your dish.
Bake for 25 minutes or until done. Serve with salad.
Notes
Do not use a removable bottom bundt pan. The oil will leak out.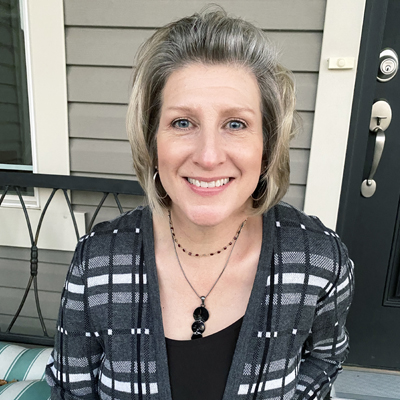 On Joyous Home, you'll find everything from food to handiwork, homeschooling to grace-filled living. Along with my daughter, Jessica, we love publishing and blogging about homemaking. We are children of Christ, and imperfect wives and homemakers. We're happy you're here!