First, some projects I have been working on for the last couple of weeks…
A quilt for an upcoming quilt class…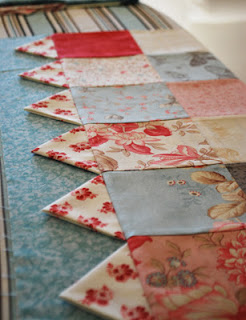 My embroidery design for the upcoming Seasons At Home magazine. We will have more pictures of these later! I love the new embroidery designs we've been working on.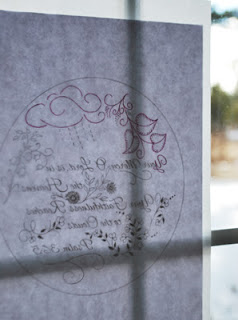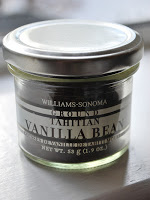 Now for some ice cream. Recently, I bought something at Williams-Sonoma that I liked as soon as I saw it – ground vanilla bean. Almost all recipes that call for whole vanilla bean require all of the extra steps of steeping the vanilla bean in milk and then scraping the seeds out. This was a perfect easy substitute and far less expensive than whole vanilla beans.
I love simple ice cream recipes, and almost never make a custard base. Cream and sugar recipes always come out so well, there's no need to make a custard. I love this combination of almond milk and half & half! The almond milk gives the ice cream an almost buttery taste (yummy), and it's so easy.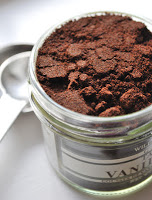 Simple Vanilla Bean Ice Cream
(with almond milk!)
Combine the following in a large glass measuring bowl:
2/3 cup sugar
3/4 tsp. ground vanilla bean (or 1 tbsp. pure vanilla extract)
3 1/2 cups Silk Original almond milk
Whisk together until the sugar is dissolved. Whisk in 2 1/2 cups half & half. Freeze in ice cream machine according to the manufacturer's directions (I use the Cuisinart ice cream maker).
 Hmm, where's a spoon?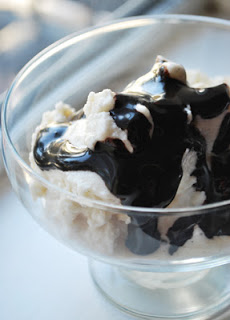 My Hot Fudge Recipe
In a small pan combine:
1/3 cup sugar
1/3 cup half & half
1/3 cup dark corn syrup
1 cup semi-sweet, dark or bittersweet chocolate chips
Heat over medium-high heat, stirring constantly until the chocolate chips are melted. Bring to a gentle boil, and boil for 2 minutes. Remove from heat and cool for 5 minutes. Stir in 1 1/2 tsp. vanilla extract and 3 tbsp. unsalted butter, chopped into small pieces. Stir until butter melts completely, and fudge is smooth. Use immediately and store leftovers in the refrigerator for up to 10 days. Reheat before using. You can add 1/2 tsp. of peppermint extract along with the vanilla to make peppermint hot fudge.
We ate this while we waited for a blizzard to come in…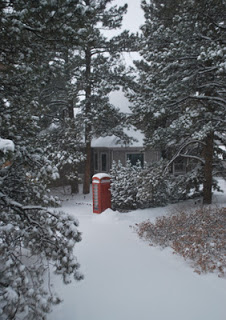 Many blessings! Jessica