The beautiful tulips my husband brought me today… makes me happy to think about the Spring season coming!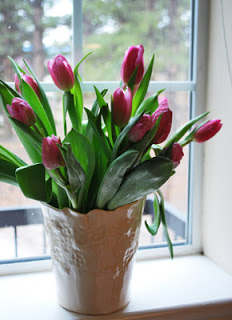 Saturdays will always seem like a good day to make a coffee cake to me, and this morning I had been thinking about how good a moist, streusel-topped apple cake sounded. 
I had used the rest of my wheat flour pizza crust last night, so I had to go with white flour today. I've included both white and wheat flour measurements though, as I do prefer wheat flour! If you use wheat flour, I recommend letting the batter sit for 30 minutes to 1 hour before baking. I've found that this gives the grain a chance to absorb some of the moisture in the batter and helps prevent the cake from falling the center. You can even make this the night before and refrigerate until ready to pop in the oven the next morning! 
This recipe is for an 8″ x 8″ pan, which is good size for just us two, but if you double the recipe, you will have a beautifully high 9″ x 13″ cake. This recipe came out so good!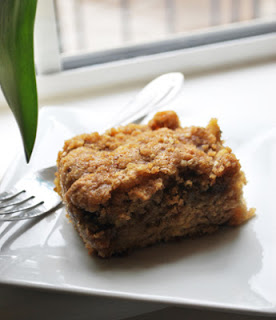 Peel and finely chop 3 medium-size, sweet apples, or enough for 2 cups of chopped apples. Set aside. In a large bowl, whisk together:
    1 1/2 cups unbleached white flour, or 2 cups soft wheat flour
    1/2 cup sugar
    1/4 cup brown sugar
    2 1/2 tsp. baking powder
    3/4 tsp. sea salt
    1 1/2 tsp. ground cinnamon
Make a well in the center of the mixture and add:
    1 large egg
    3/4 cup milk
    1/4 cup melted butter
    3/4 tsp. almond extract
    1 1/2 tsp. vanilla extract
Mix until almost combined, then add the chopped apples. Finish mixing just until moist. Scrape batter into a greased 8″ x 8″ baking pan and top with streusel.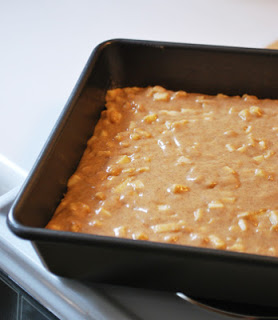 Streusel

T

opping:
In a small bowl combine:
    3 1/2 tbsp. soft butter
    2/3 cup brown sugar
    1/4 cup + 2 tbsp. unbleached white flour or wheat flour
    1 tsp. ground cinnamon 
 1/2 tsp. sea salt
Mix with a fork, until the mixture resembles coarse crumbs. Sprinkle evenly over cake batter. Bake at 350 degrees for 25-28 minutes, or until a toothpick inserted in the center comes out clean. Cool for 15-20 minutes before serving. This cake makes a delicious dessert too with a scoop of vanilla ice cream!
Have a blessed weekend! ~ Jessica