This Lemon Roulade Jelly Roll is delicious! I was updating some of our Tea Times Newsletters (digital) and thought I would share this with our readers. A great tea treat, it will certainly be a welcome dish at your table.
The lemon curd and jelly roll cake is made from scratch. Lemon curd is so delicious when you make it yourself. It's very easy and you'll be surprised and delighted with the taste. Don't let it scare you! Just take your time preparing.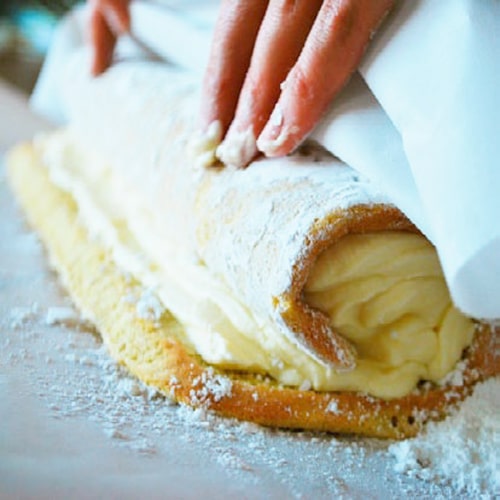 Rolling the lemon curd with the cake is challenging. It's fun to stretch and learn a new skill! The cake is beautiful when finished.
Make sure to use fresh lemons for the lemon curd. Also, unbleached white flour is fine for the jelly roll cake if you don't want to try whole wheat.
Download your Lemon Roulade Jelly Roll Cake lesson below. If you have any trouble post on the forums, or here! I'd love to see a picture also and would love for you to share! ​The Tea Times Features include:
Learning specific homemaking skills with your daughterSewing-Baking/Cooking-Gardening-Using Resources Wisely & MoreGrowing a Godly young ladyTea time recipes for fellowship and more
See all of our Tea Times in our shop! The print issue below contains the Lemon Roulade Jelly Roll Cake, along with Embroidery Part I, Sampler Template, Sugars & Sweeteners, Making Muffins, Cooking Dry Beans and Grains, Drying Herbs, Sewing Buttons and Buttonholes plus more.