Homemade Onion Straws
We don't fry food very often, but when we do, it's wonderful. Do you know those yummy little fried onions you can get at restaurants? You can make them, and they are so good!
I made a bunch of these last night, more than we needed! I've written the recipe to serve about 6. You can double or triple this recipe according to your family size.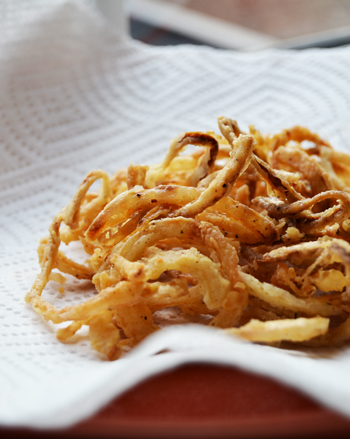 The Recipe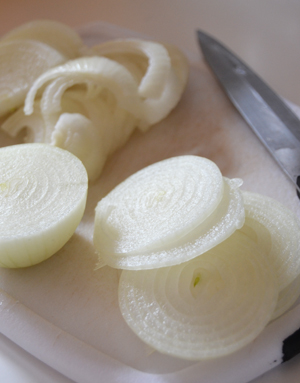 Combine in a large bowl:
      3 large onions, sliced into very thin rings
      4 cups buttermilk
1 1/2 tsp. sea salt
Stir until the onions are coated well. Press the onions down into the buttermilk with a spoon until covered. Chill for one hour, stirring occasionally.
In another bowl, combine:
2 cups unbleached white flour
1 1/2 tsp. sea salt
1 1/2 tsp. chili powder
1 tsp. onion powder
1 1/2 tsp. black pepper
Whisk until combined. In a heavy-bottomed pot, heat 1″ of vegetable oil over medium-high heat to about 360 degrees. You may have to turn the heat down a little, depending on your stove, if the oil is overheating.
Always make a very small test batch first when you fry anything! This will be the true test of the oil being just right – Use a fork to scoop out a small amount of the soaked onions, cover with the flour mixture and shake off the excess. Drop the onions into the hot oil. The onions should start to turn golden brown in about 2 minutes. If the oil is getting to hot, then the onions will be almost burnt within a few seconds of frying. Turn the heat down.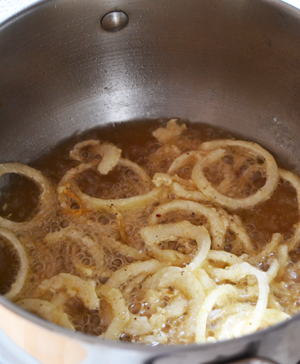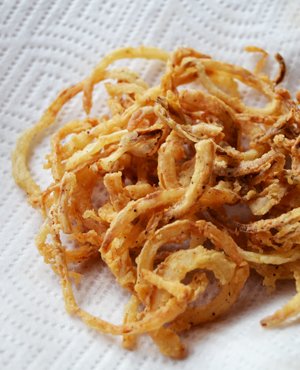 Once you have tested the oil and made any adjustments to the heat, fry the onions 1-1 1/2 cups at a time. Fry until golden, using a fork to turn and move the onions around in the oil until done – again this is about 2-3 minutes. Drain on a paper towel and serve hot!
These make a yummy appetizer, dinner side or topper for baked potatoes (or any kind of potato dish) and salads. We put ours on top of steak salad. Enjoy!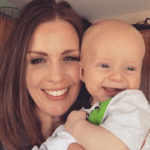 Child of God, Wife to Josh, Mommy to my four sweet children. Thankful for busy days filled with homeschooling, homemaking and loving my little family! And sneaking in sewing and pattern design whenever I can 🙂