Funnel cakes always make me think of summer. We used to buy them whenever we went to Busch Gardens when we lived in Virginia. Somehow adding strawberries and powdered sugar makes me think of July 4th. What a fun idea and these came out wonderful! Everyone needs to fry something now and then, so we tried Funnel Cakes for the 4th of July!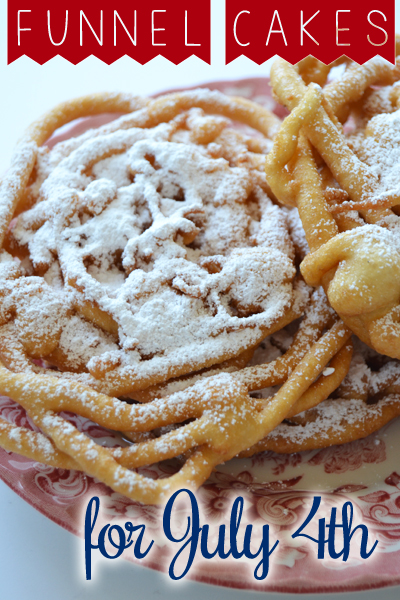 These are far from hard. The batter can be made in a few minutes, and it's about as simple as pancake batter. My thermometer broke, so I proved that you don't need that either for the oil. On top of not having a thermometer, I ran out of eggs, of all things. I have never seen a recipe for funnel cake that didn't call for eggs, but I decided I didn't feel like driving to the store. I have now created for you an egg-less funnel cake recipe and it came out perfect!
Ever wonder why these are called funnel cakes? It's because the batter was poured through a funnel into the hot oil to create little funnel "nests". You can use a small cooking funnel for these, or you can use what I used, an empty pancake syrup bottle.
Homemade Funnel Cakes
You can prepare the batter a day in advance, so all you have to do is heat the oil when you're ready to have your treat. The cakes fry up very quickly, so don't worry about having people standing around waiting forever for dessert!
Gather your ingredients and prepare your work area for some frying! Lay out a plate or two covered with 2-3 paper towels. I also laid a couple of paper towels on the counter close the oven to lay utensils on while cooking.
large shallow pot for frying
tongs
1-quart vegetable oil
clean empty ketchup or pancake syrup bottle
small mesh strainer (to dust cakes with powdered sugar)
In a large bowl combine:
2 1/2 cups unbleached white flour
1 1/2 tsp. baking powder
1 tsp. sea salt
1/3 cup white sugar
Whisk together. Make a well in the center of the flour, now add:
1 12 oz. can evaporated milk
1/2 cup milk
2 tsp. vanilla extract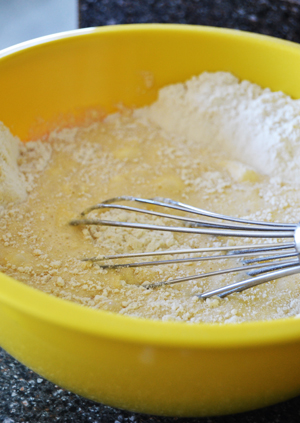 Whisk again until batter is completely smooth. Carefully pour batter into your empty bottle. I managed to do it without making a mess! No pictures. 😉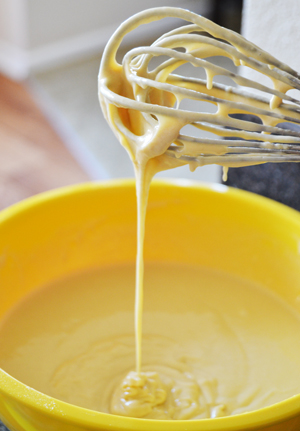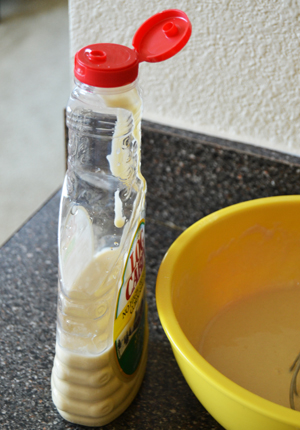 Pour your vegetable oil into the pot and start to heat over medium-high heat. If you do have a thermometer, the oil needs to heat to about 370 degrees. If you don't, then you can test to see if the oil is ready by dropping a little bit of batter into the hot oil. If the oil is ready, the batter will bubble and rise immediately to the surface and will be brown in about 15 seconds.
Ready? Here we go!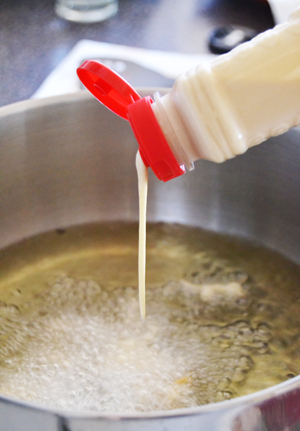 It's hard to tell in the picture, but I'm sure you've guess already that you need to squeeze and pour in a circular motion. Squeeze and pour quickly in a circular motion for a few seconds, it can be hard to tell how long you should go with the oil bubbling up so quickly, but I found that pouring for about 4-5 seconds was perfect.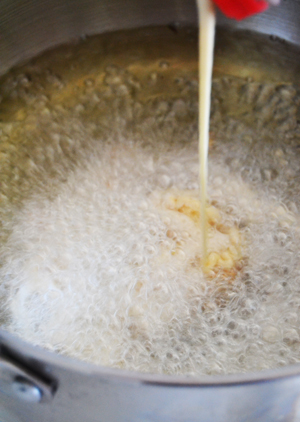 I recommend doing one cake a time. They will get all tangled up in the pan otherwise.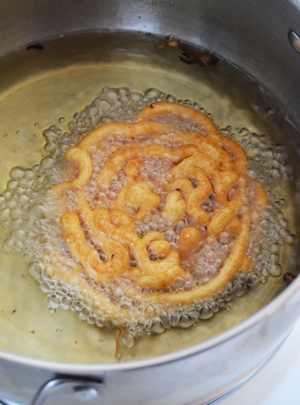 The funnel cake will brown up quickly withing about 30 seconds. Use the tongs to flip the cake over and fry for another 10-15 seconds on the other side.
When a pretty golden brown, use the tongs to remove from the hot oil. Place on a paper towel to drain and cool for a minute or two.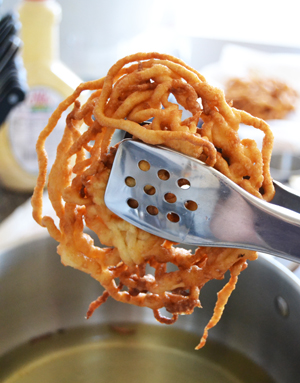 Use the small mesh strainer to dust with powdered sugar. Oh my oh my. I was out of strawberries and blueberries, so I stuck with the powdered sugar. Whipped cream is quite tasty too. A drizzle of pure maple syrup will probably become a popular option as well. 😉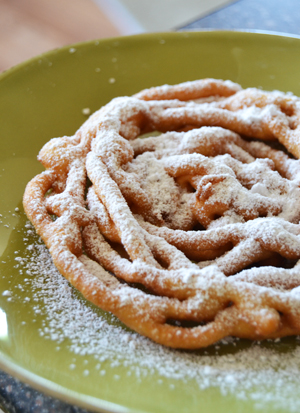 Doesn't that look yummy? I wish I had all that yummy red and blue stuff to add to it… but you can take care of that. Or eat it plain like we did. It's awfully tasty!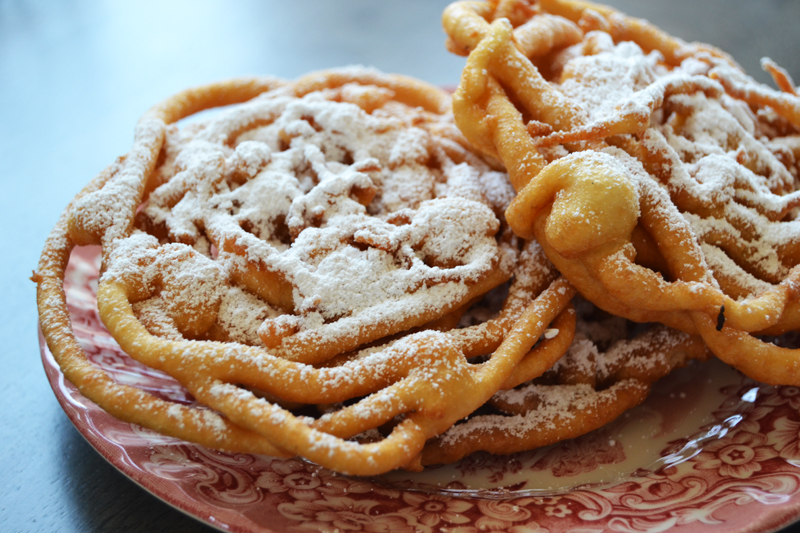 Happy July 4th readers! ~ Jessica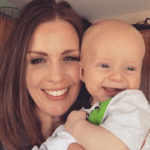 Child of God, Wife to Josh, Mommy to my four sweet children. Thankful for busy days filled with homeschooling, homemaking and loving my little family! And sneaking in sewing and pattern design whenever I can 🙂