Good morning!
We are doing some baking today! Eggnog is in seasonal abundance right now and this cake is a wonderful treat for breakfast in the morning or even tea in the afternoon. I don't care for drinking the store-bought eggnog, but I will bake with it. Enjoy this very buttery tasting tea cake!
Eggnog Tea Cake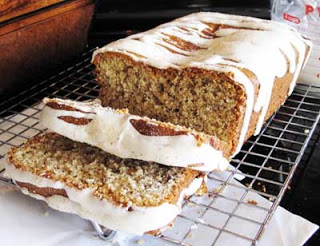 With a mixer, cream together:
3/4 cup soft butter
1 1/2 cups sugar
4 large eggs
1 1/2 tsp. vanilla extract
Beat for about 2 minutes, until very light and fluffy. Like a pound cake, beating the cream mixture adds volume to the cake. Slowly mix in 2 cups eggnog. Mix until blended. Add:
2 Tbsp. baking powder
2 tsp. sea salt
1/2 tsp. ground nutmeg
1 cup unbleached natural white flour
3 1/2 cups freshly ground soft wheat flour
1 cup crushed walnuts
*If you prefer to skip the nuts, add an additional 1/2 cup soft wheat flour. Blend until all of the flour is incorporated. Preheat the oven to 350 degrees. Divide the batter between two greased 8″ x 5″ loaf pans. Bake for 40-45 minutes or until a toothpick inserted in the center comes out clean. Top cakes with Butter Frosting!
Butter Frosting
In a bowl combine:
1/4 cup melted butter
1 tsp. vanilla
3 Tbsp. milk
2 1/2 cups powdered sugar
Whisk together until smooth. Once the cake has been cooled, spoon the frosting over the cake and grate fresh nutmeg over the top. Delicious!
~~~~~~~~~~~~~~~~~~~~~~~~~~~~~~~~~~~~~~~~~~~~~~~~~~~~~~~~~~~~

Have a blessed weekend ~ Theresa and Jessica