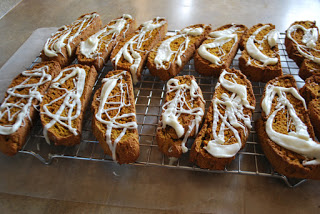 Since we make so much food on Thanksgiving Day, this biscotti is perfect for breakfast. We love biscotti on Thanksgiving morning! Have yogurt and of course coffee with it while you prepare your bigger meal!
The pumpkin will make this cookie in the middle, so cut the slices thin for the second baking and they will be crisper. Add more spices for a spicier cookie! YUM!
We milled our flour fresh, using the Nutrimill.
3 cups soft white wheat flour
3/4 c. sugar
1 tsp. baking powder
1/2 tsp. baking soda
1 tsp. allspice
1 tsp. cinnamon
1 tsp. rum extract
1 tsp. pure vanilla
2 eggs
1 cups pumpkin puree
1 c. white chocolate chips (or nuts) (optional)
Preheat oven to 350 degrees.
We used the Bosch mixer with the cookie paddles. Mix together all the dry ingredients. Make sure you are using level scoops of your warm flour!
 Add wet ingredients and mix well. I let the mixture sit for about 10 minutes. We used this yummy organic pumpkin! Be careful to use only a cup, unless you want a softer biscotti. This is the time to add white chocolate chips, nuts – such as Macadamia or Pistachio!
Spread into a loaf shape onto a pan lined with a baking liner or parchment paper.
  Bake 20-30 minutes until golden.
Cut into slices and place on baking sheet. Bake 20 minutes, or until crisp on one side, turn and bake the other side until crisp.
Melt a cup of white chocolate chips and over the tops. The trick to melting these in the microwave is not adding too many to your glass cup and only heat for 10 seconds at a time! As you stir from the bottom they will melt quickly if you keep stirring. Burned chocolate is yukky! Enjoy!