Homemade Caramel Cookie Ice Cream
I make ice cream all the time, usually just something simple like chocolate or vanilla – but today I had some extra cookies, and what goes better with that than homemade caramel?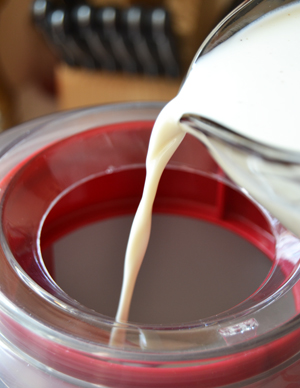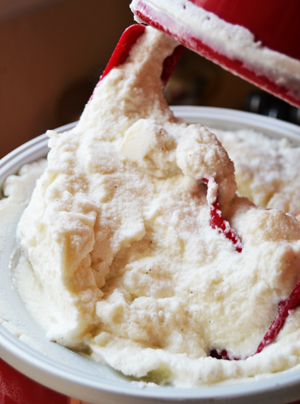 The caramel is really an easy mock caramel recipe, but came out so good! Make the caramel a few hours in advance so it has time to chill. You can use any kind of cookie, homemade or store bought. Cream filled sandwich cookies or yummy homemade chocolate chip cookies… I used vanilla sandwich cookies.
In a 1 qt. glass measuring cup, combine:
1/2 cup sugar
1 1/2 tsp. vanilla extract
1/2 tsp. ground vanilla bean (I love adding this to ice cream, but it is optional)
2 1/2 cups milk
Whisk until the sugar has dissolved. Add 2 1/2 cups of half & half and stir to combine. Freeze according to your ice cream machine's user instructions. (I have a 2 qt. Cuisinart Ice Cream machine) Transfer frozen ice cream to a freezer safe container and freeze for 30 minutes before continuing. In the meantime, crush or chop 15 vanilla sandwich cookies.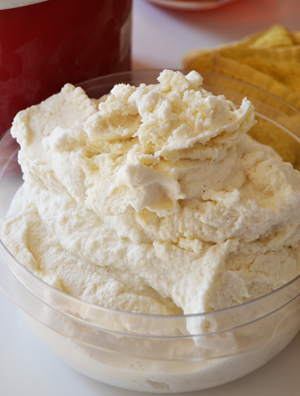 Simple Hot Caramel Sauce

In a small saccepan, melt 1/4 cup butter over medium heat. Add:
1/4 cup half & half or heavy whipping cream
1/2 cup brown sugar
Bring to a boil over medium-high heat, stirring constantly. Cook for 2 minutes. Remove from heat and transfer to a glass bowl. Chill.
Finish the ice cream
Whenever I add a lot of extra things to ice cream, I prefer to layer it. The add-ins are already partially distributed and the ice cream won't become soupy from being over mixed. Layer the ingredients here in thirds.
Scoop 1/3 of the vanilla ice cream into another freezer-safe container. Drizzle with 1/3 of the caramel. Top with 1/3 of the crushed/chopped cookies.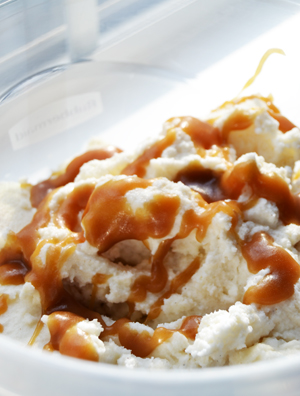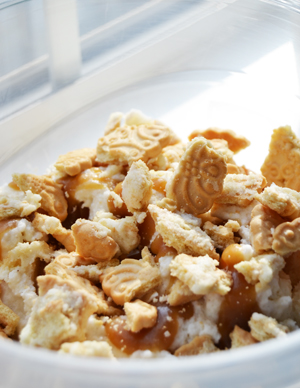 Layer all of the remaining ingredients. Stir only slightly, to blend the layers a little. Freeze for 2 hours before serving. ~Makes about 1 1/2 quarts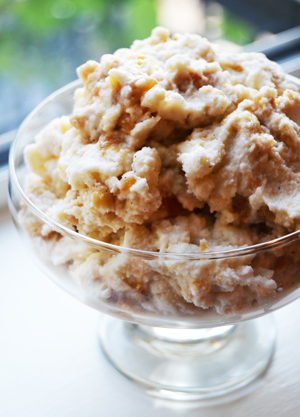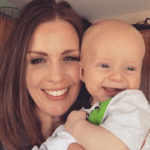 Child of God, Wife to Josh, Mommy to my four sweet children. Thankful for busy days filled with homeschooling, homemaking and loving my little family! And sneaking in sewing and pattern design whenever I can 🙂