Here is a chewy cookie made with all the yummy flavors of comfort. Chocolate, caramel, pretzel kitchen sink cookies are a great cookie to make this season.
Chocolate Caramel Pretzel Kitchen Sink Cookies
Cream together the butter and sugar. Making sure you mix the butter and sugar until light and creamy is very important. My cookies came out much better once I ensured all was mixed, light and fluffy. I now just turn on the mixer and let it run for 5-6 minutes. Don't stand and watch it, it takes longer.
Add the dry ingredients and mix. Then add your peanut butter, caramel, chocolate chips and pretzels – mix only until incorporated. I jog the mix at this point.
Bake!
Some ideas: add cocoa powder and mint chips, with pretzels, instead of peanut butter chips and chocolate chips.
I would decrease flour by 1/4 cup if you use a 1/4 cup of cocoa powder. If you try this, comment and let me know! I haven't tried it, so no promises, but it sounded good!
Yield: 24 cookies
Chocolate Caramel Pretzel Kitchen Sink Cookies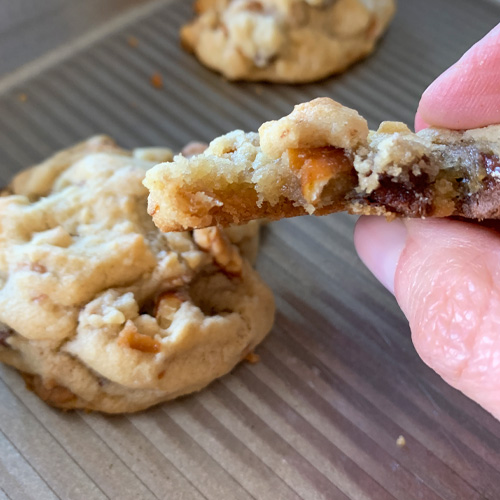 Total indulgence in cookie batter! Chocolate chips, peanut butter chips, pretzels, and caramel are all in this great cookie. You only need one. The pretzels are our nut alternative for crunch.
Ingredients
2 c. butter, softened
1 1/2 c. brown sugar
1/4. c. granulated sugar
1 1/2 tsp. vanilla
2 eggs
4 1/2 c. flour
1 1/2 tsp. baking soda
1 tsp. salt
1 1/2 c. chocolate chips
1 1/2 c. peanut butter chips
1 1/2 c. chopped pretzels
11 oz. caramel bits
Instructions
Preheat oven to 375 degrees. Line cookie sheets with parchment or baking liner.
Combine the flour, salt, and baking soda and set aside.
Cream together the butter, sugar, and vanilla until light and fluffy.
Add eggs and mix for another minute.
Add flour a cup at a time, mixing gently after each addition.
Add the chips, caramel, and pretzels. Mix just until combined.
Drop by ice cream scoop onto lined sheets.
Bake 8 minutes. Let the cookies sit on the baking sheet for an additional 3 minutes.
Store in an airtight container.
Notes
Caramel will start to burn after 8 minutes. Let them sit on the baking sheet several more minutes to finish baking and then cool just slightly.
Enjoy our Chocolate Caramel Pretzel Kitchen Sink Cookies!