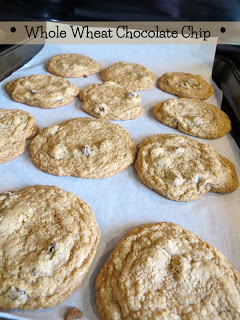 One of the tricky things with whole wheat is how to exchange white flour out. This recipe works great – you can use hard white wheat such as Prairie Gold with this, or soft white wheat. NO white flour! We use freshly milled flour.
 Preheat oven to 375 degrees
In a large mixer:
1 1/2 c. butter (3 sticks) – softened
2 1/2 c. brown sugar
3 lg eggs
1/4 c. milk
1 Tbsp. vanilla
Cream together until well blended and fluffy.
Add: 1 1/2 tsp. baking soda
2 tsp. sea salt
5 c. soft wheat flour
1 c. finely chopped almonds
Mix until blended and stir in: 
2 c. semi-sweet chocolate chips
Drop by rounded spoons onto parchment paper. Baking time is 8-10 minutes. Check after 8 minutes. These are great with vanilla ice cream!