Since Christmas everything is up for wild sales right now… today is a good day to give you some fast, last-minute ornaments you can make with all of the cheap bounty that is currently available. I love making snowglobe ornaments! Empty glass ornaments and lots of little bits of sparkly things and you can have oodles of fun little homemade ornaments on your tree.
While we are talking about last-minute Christmas crafting… if anyone above the age of 25 is reading this, I have a question for you. Do you feel like Christmas blows by faster and faster every year? At the rate I'm having to push projects out for "next year" every year, I'll have plenty of inspiration, ideas and plans until I'm a little old lady. Anyone else? One of these days, I'm going to catch up with my ideas. And my house will be lovely.
One of my catch up projects is making a mitten ornament for baby Norah like I made for Jerusha two years ago.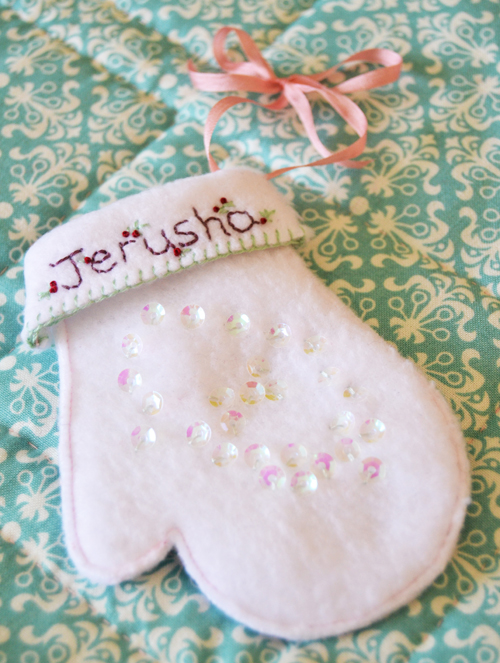 Since baby girl #3 is on her way though, I might just cover Norah and her both, ahem, next year. 😉 I already have so many things I'm working on before Christmas right now, and so much sewing I want to do in the next few months. Anyway… back to snowglobe ornaments.
Snowglobe Ornaments
I'm not super happy with some of my photos here. It was snowing, that makes everything rather gray. But you can't complain about Christmas snow while you're making ornaments for the tree, can you?
I'm giving only a little instruction here, because really, there isn't much to explain. You fill glass ornaments (which come in SO many beautiful shapes now!) with lots of Christmas bits and glittery things, tiny bells and sparkly snow… and you're done. I want to do more, but here is a few of the ones I did make.
This is a favorite.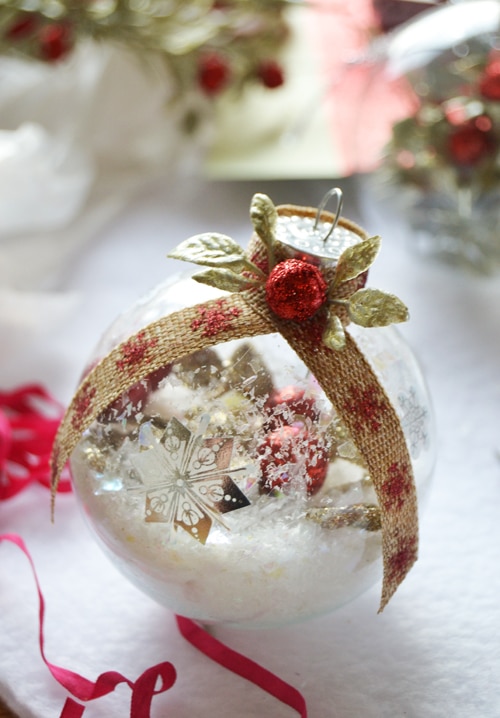 I filled it with that fun fake glittery snow and little sparkly red berries. Use a hot glue gun to glue ribbon around the top and finish with one last berry and leaf.
Scrapbook stickers are so much fun, and good for little hands that want to make an ornament too.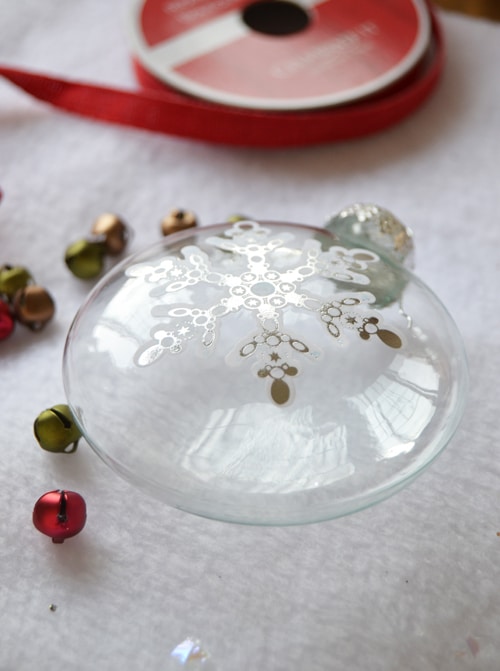 Make a quick funnel out of rolled up paper to fill ornaments with snow…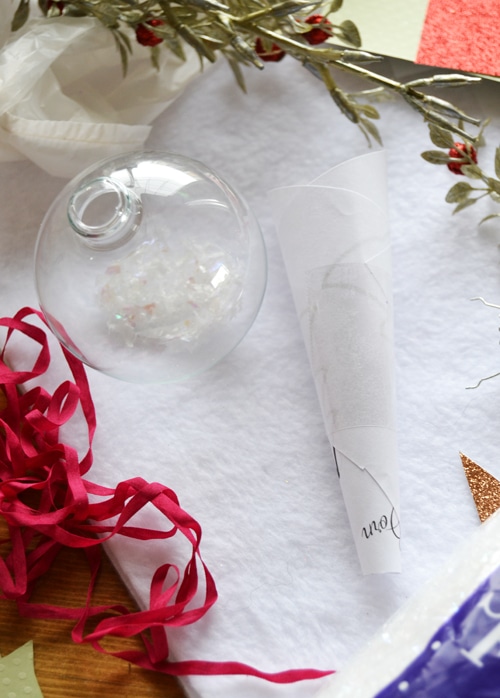 I love making personalized ornaments for my babies. I used hot glue to glue together jewelry beads, and then just added some pretty snow and bit of glittery purple. Hot glue is essential, especially for gluing ribbon, etc. to the outside of the snowglobe ornament.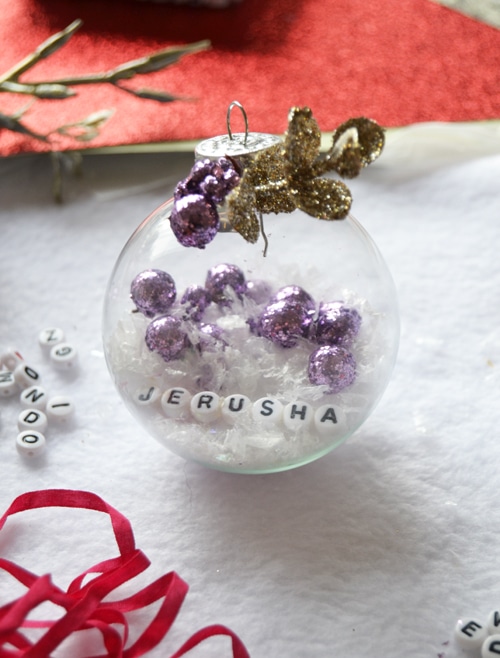 Isn't that just too much fun? Just a few ideas to get you started.
Pretty Paper Christmas Star
Here is another quick little ornament. I don't scrapbook, but I love some of the papers I often see, so this is a great little project for those of us who want to buy pretty papers.
I just found a free vector star shape online and printed it out. There's usually an abundance of free shapes available if you just search for free star vector shapes. Cut out two large stars, a front piece and a back piece. Then cut out the same shape, but a bit smaller that will be attached to the middle.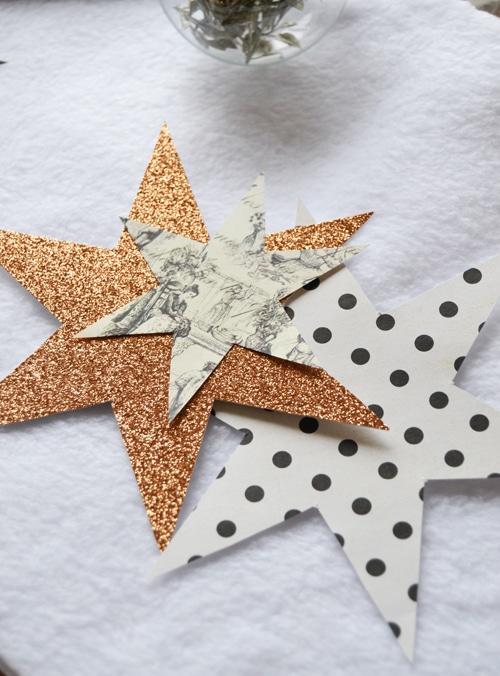 Glue dots are the fastest way to connect the pieces. Stick the two large stars, wrong sides together. Attach the small to the middle.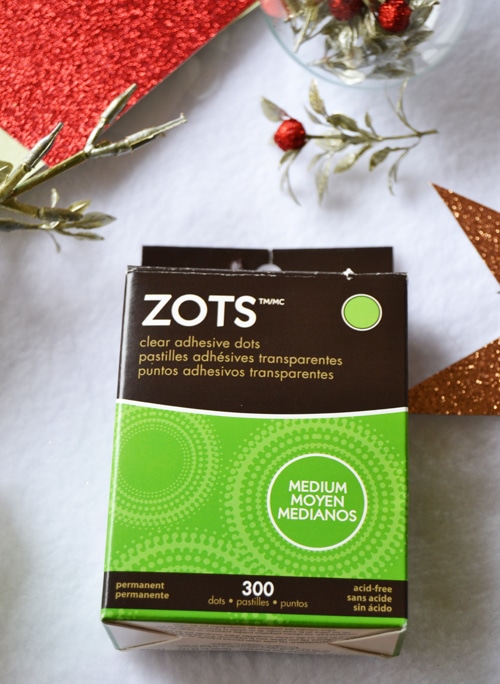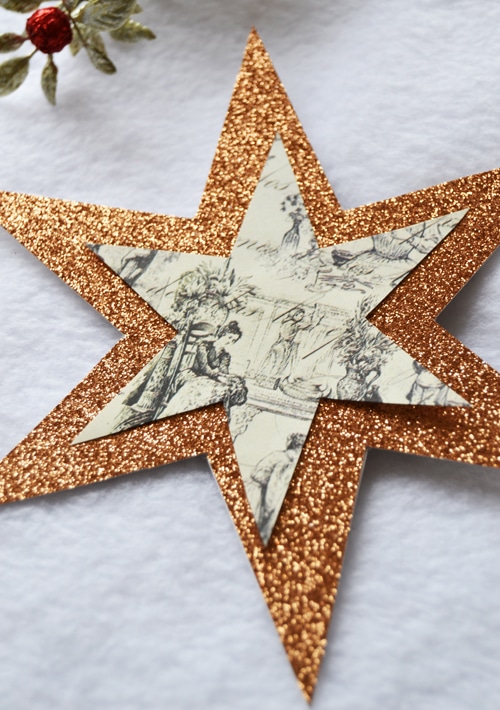 Use a large needle to poke a hole in the top of the star. Thread with a bit of pretty ribbon and tie. Make a tiny ribbon bow for the center too. Attach with a teeny tiny dot of hot glue.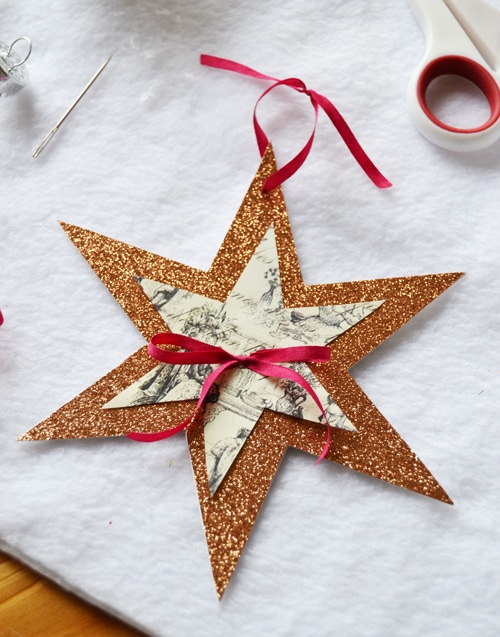 So sweet, sparkly and simple. After Christmas is over and all the pretty ornaments need to come down, I always have a small shoe box layered with tissue paper that I can keep special fragile ornaments like these in.
Need some cookies while you craft?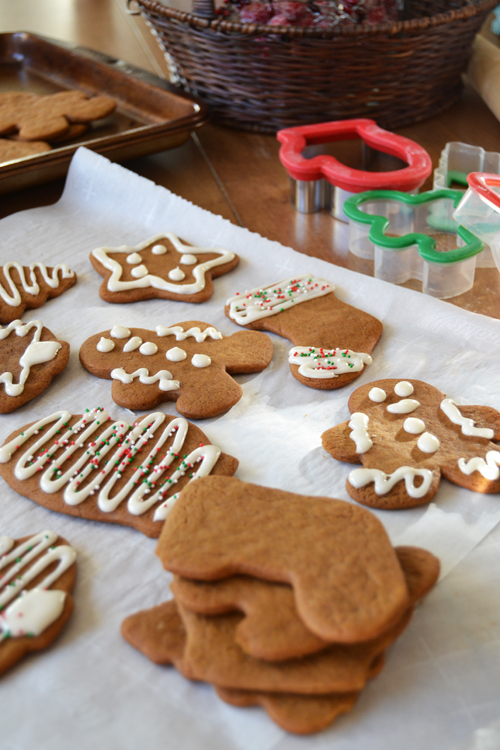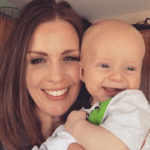 Child of God, Wife to Josh, Mommy to my four sweet children. Thankful for busy days filled with homeschooling, homemaking and loving my little family! And sneaking in sewing and pattern design whenever I can 🙂