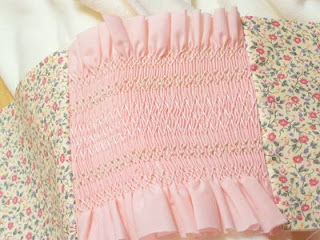 Here's a smocking preview of a project for Seasons at Home Magazine, and our favorite Spelt bread recipe.
Isn't smocking pretty? I love hand sewing. It only took me a couple days to do the smocking, and that's with a lot of children! This project will be in the spring issue of Seasons at Home Magazine. This is a cute little sewing organizer.
Our newsletter is always the first to hear about current projects, and even get free patterns when we share them.
Join today!
Our Favorite Spelt Bread
Melt 1 stick of butter with 1 cup of milk, just until warm, don't boil this.
Add to your large mixer. At least a 6Qt capacity is needed. We use both the Kitchen Aid and Bosch mixers. In this recipe, I used the Bosch mixer.
Add:
5 cups of warm water
3 Tbsp. dough enhancer
3/4 cup honey
1 egg, beaten
5 cups freshly ground Spelt
3 Tbsp. instant yeast (we use SAF) (put on top of warm flour)
Let this
sponge
(see our video clip) for 30 minutes at least; you can sponge longer, it gives the bread a nice fermented or sourdough taste.
Now add 2 1/2 Tbsp. sea salt, and enough flour to clean the bowl. This maybe about 8 cups more.
(Tip: My mix gets a 'chunky' sort of look when I'm just about at the total flour, and from that point, it is usually 2 more cups that make the total amount of flour I need to add to the dough.)
Use speed 4 on the Universal plus or 3 with the older model and knead for 5 minutes. You are using the dough hook in the Universal. Gluten is developed when a nice stretch will produce an opaque window, and the dough doesn't tear. (Tearing could mean over kneaded or under, over kneaded dough cannot be repaired and won't rise.)
Separate into loaves, (4-5 depending on pan size), or make, cinnamon rolls, make pizza or Fococcia. This whole grain dough is very flexible and delicious!
Divide dough into four greased loaf pans. Let rise until doubled in size. Bake for 25-28 minutes until golden brown, and spring back when touched.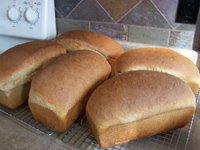 Blessings in bread making, Theresa