Snickerdoodles were part of my childhood, and my absolute favorite cookie. These comfort cookies, of course, have cream cheese, which makes them a little richer than the original snickerdoodle, and very soft and chewy.
Cream Cheese Snickerdoodle Cookies
Ingredients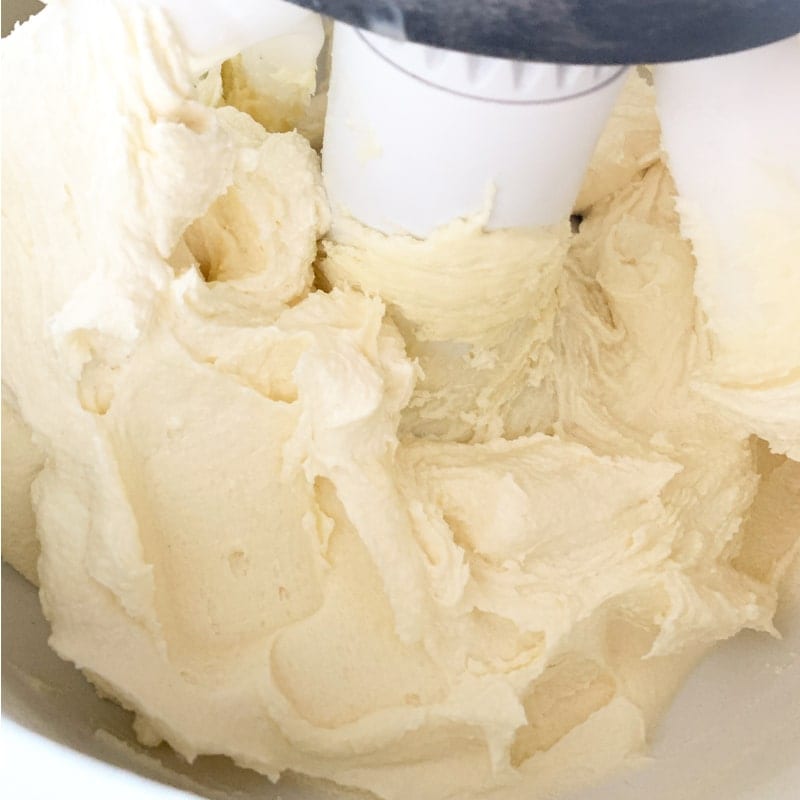 I love how fluffy the snickerdoodle batter gets!
Butter and Cream Cheese – The combination of butter and cream cheese make these cookies rich in taste. You can use 6 oz. of cream cheese to reduce the richness just a little.
Granulated and Brown Sugar – I did a combination as I like a little bit of molasses in everything, plus the brown sugar keeps a nice softness.
Eggs – I used both the yolk and the whites. If I were to double this recipe I would probably only add one more egg, totaling 3 eggs for a double batch.
Extract – I used a cream cheese flavoring along with vanilla. This does add a bit more of a rich taste, so use all vanilla if you don't want the extra boost.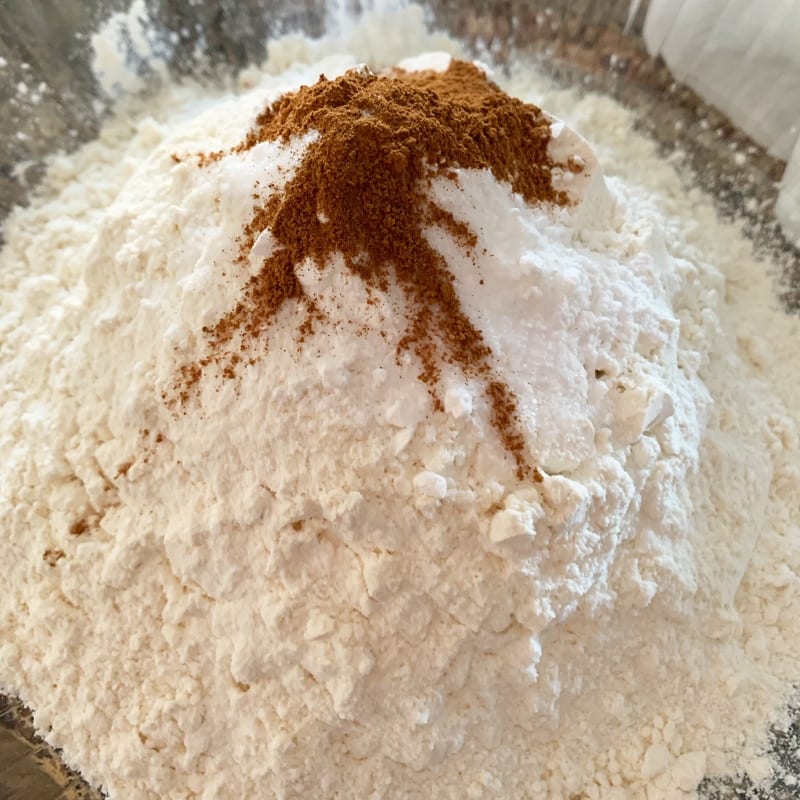 Flour – I used about 3 1/2 cups for 2 sticks of butter. If you double this recipe, try 3 sticks of butter to 5 1/2 c flour. You'll need to play with this combination, you don't want flat and dry cookies.
Cornstarch, Tarter and Soda – Cornstarch adds some tenderness, cream of tarter gives some tang and the baking soda will give the rise to your cookie.
Cinnamon – Any good cinnamon. Add a good amount of cinnamon to the sanding sugar to roll in!
Sanding or Granulated Sugar – For rolling the dough in before baking, I prefer sanding sugar as it's finer than granulated.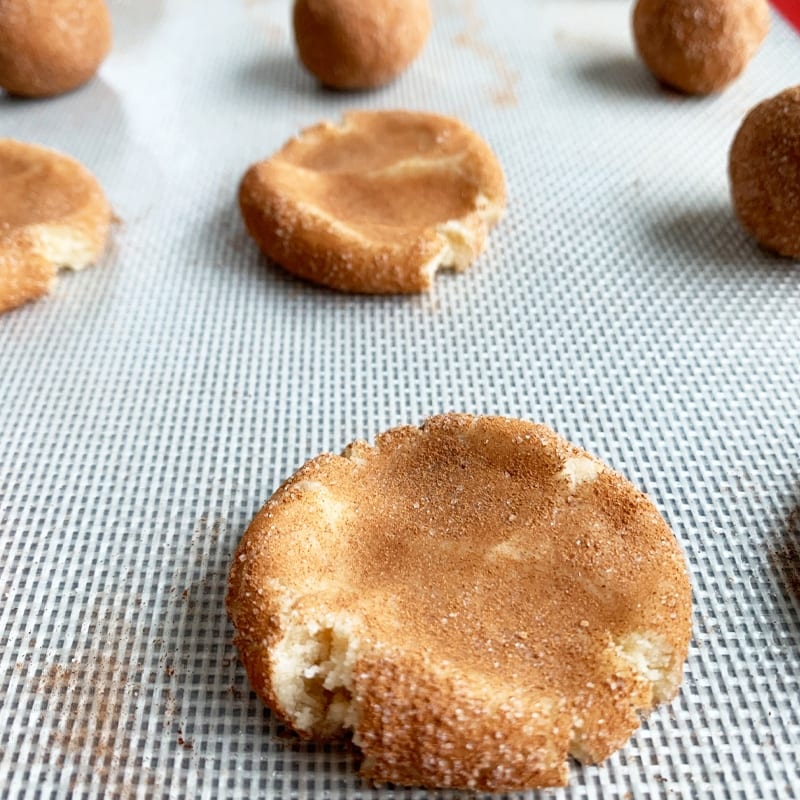 Shape a pinch of dough into a ball about 1 1/2″, roll in cinnamon and sugar, and give a nice press down.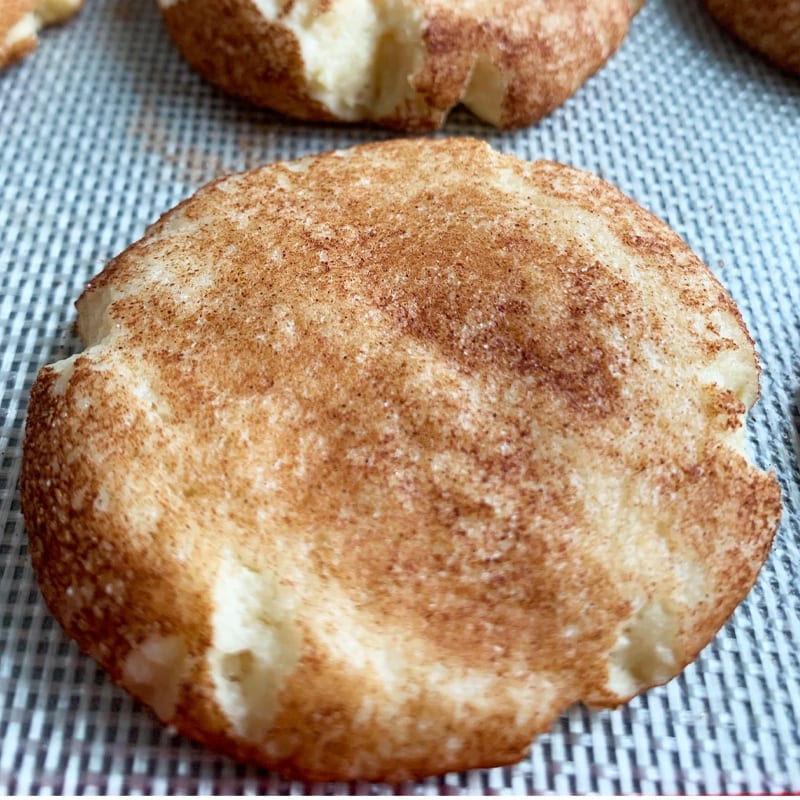 Bake them up! If you like snickerdoodles more sweet and crunchy, I would reduce the cream cheese slightly, and use all vanilla. Either way, these cookies are creamy and delicious with a hot drink.
Yield: 4 dozen
Cream Cheese Snickerdoodle Cookies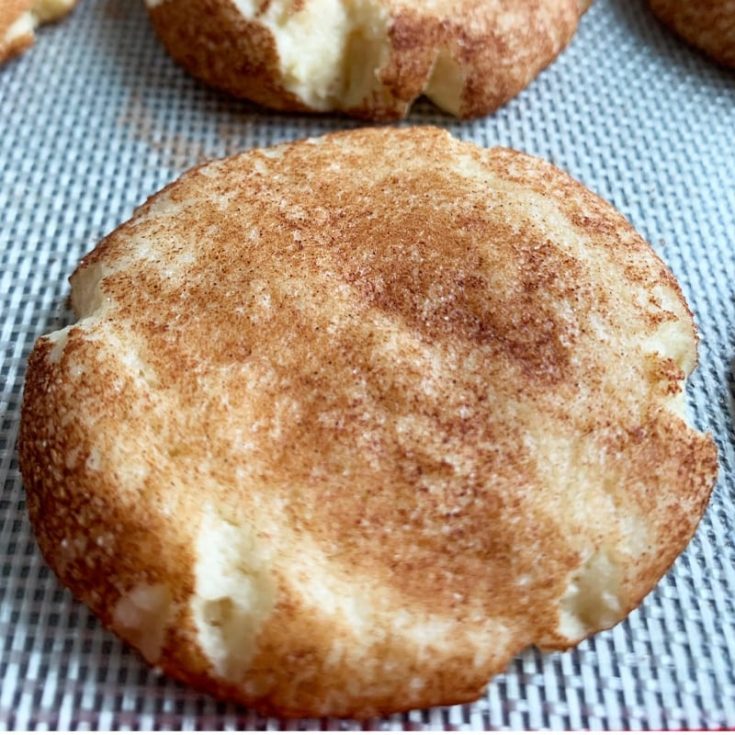 What is better than cream cheese in a traditional cinnamon snickerdoodle? You'll love these easy to make, soft cookies.
Ingredients
2 sticks butter, softened
6-8 oz. cream cheese, softened
1 1/2 c. granulated sugar
1/2 c. brown sugar
2 large eggs
1 tsp. cream cheese extract
1 tsp. vanilla extract
3 1/2 c. unbleached all purpose flour
1 1/2 tsp. cornstarch
1 1/2 tsp. cream of tartar
1 tsp. baking soda
1 tsp. salt
1 tsp. cinnamon
1/3 c. sparkling sugar
1/2 - 1 Tbsp. cinnamon
Instructions
Preheat oven to 350 degrees.
Whisk together in a separate bowl - flour, spices, salt, cornstarch, cream of tarter and baking soda. Set aside.
Mix butter, cream cheese, and granulated sugar with a stand mixer or beaters until very fluffy.
Add eggs and extract, and mix again.
Add flour gradually, mixing after each addition, just until combined.
Chill.
Line a baking sheet with parchment or use a silicone liner.
Mix together the sparkling sugar and cinnamon. Roll a ball about 1 1/2 TBSP., and then roll in sugar.
Place on cookie sheet and bake for 10 minutes and check. Cookie should be soft in the center, but not jiggle. Once it feels springy, take out and allow it to finish baking on the cookie sheet.