Something quick and easy you can try the next time you make cinnamon rolls. This is fun to make, and you can serve it like a coffee cake. I failed to get finished photos of this, but you get the idea. 🙂 Drizzle with Cream Cheese Icing and serve warm!
Cinnamon Roll Twist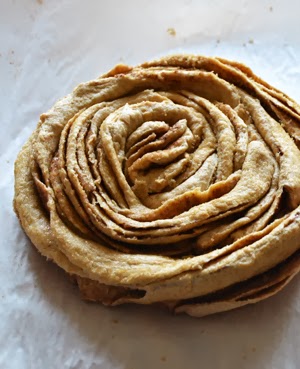 Use your favorite whole grain sweet dough recipe (sweet breads are featured in the new Winter issue of Seasons at Home). Roll out a rectangle of dough, 20″ x 10″ and about 3/8″ thick.
Spread with 1/4 cup melted butter, and sprinkle generously with ground cinnamon and brown sugar. Roll up cinnamon roll-style.
Use kitchen scissors to cut the roll down the middle.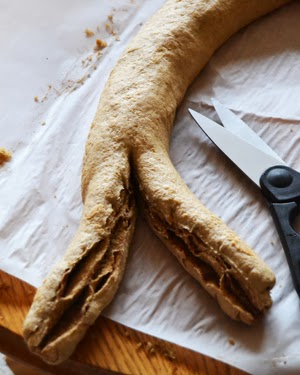 Let the ropes fall open a bit, and take pieces of them and begin wrapping in a circle. Continue until all of the pieces are used up. You can make this large or small, however you like! Add a little more if you would like a coffee cake for a crowd. Don't make it too large, or it won't bake properly.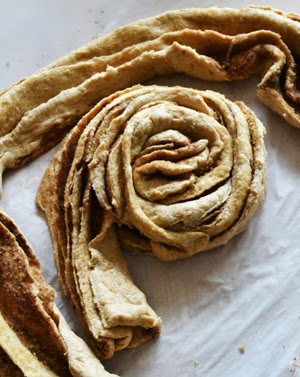 Bake at 350 degrees for 25-30 minutes, until golden brown. Cool for 15 minutes. Drizzle with this cream cheese icing.
Cream Cheese Icing
In a small bowl, combine: 
3 tbsp. butter, softened
3 oz. cream cheese, softened
1 tsp. vanilla extract
2 tbsp. half & half
2 1/2 cups powdered sugar
Whisk together until very smooth. Add a little more half & half if you would like a thinner icing. 
~ Makes about 2 cups ~