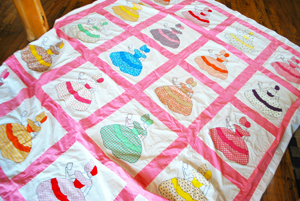 I received a wonderful gift from my mother-in-law. An unfinished Southern Belle quilt, plus a stack of already cut and basted Belles, made by my husband's great aunt. Not a great picture here, I took it right from the box without ironing!
The ideas are swirling. The quilt is queen-sized and needs batting, backing, and binding. I've thought about picking it out and making 2 quilts instead of the huge queen, which will not fit on any bed we have right now.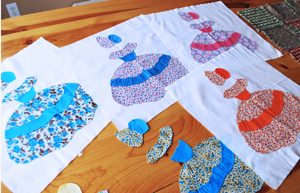 There are 4 blocks with basted Belles, and I've decided to make a pillow for each of my girls.  My friend, Kristi, saw there was 'one block for each girl', I didn't even think of it!
Then, I have a stack of about 13 or 14 Belles ready to put on some fabric. I'd love to hear suggestions of colors to use with them, I plan on making another quilt. I'll make the pillows match whatever I do since it will be in the girl's room.
The fabric is 50's and 60's, maybe 70's. It's been sitting for probably longer than 20 years. I love all the red, orange, pink, and yellow in the vintage fabrics she chose. What fun!
It's so much fun to take old things and redo them or make them new. The girls love all the ladies with puffy dresses. We'll update when I have a project in swing with them!