Logic of English is a great experience!
For the past several weeks our children have been working through Essentials 2nd Edition from Logic of English.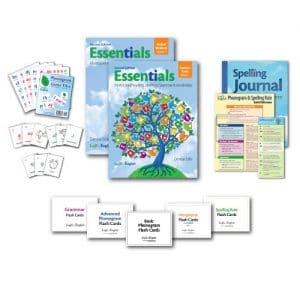 Upon opening the box, I was delighted to see the quality of all the materials, but I wasn't exactly sure if this was going to be a fit for our family. The amount of material looked overwhelming and very busy. However, I was intrigued when I started to read through the teacher's guide. I started to see a wonderful pattern of how to teach spelling, and while the materials intimidated me, the guide was quite easy to understand.
With the Essentials program you'll get:
I want to press that this is not a program you can have a child independently work at alone. This requires parental involvement and planning ahead. That shouldn't scare you. Once I started, I understood the plan I needed to make, the lessons, and the extras involved, and it became fairly straightforward. Page 39, Creating Your Schedule is actually where I started because I wanted to know how I would accomplish using the materials.
Each lesson page sidebar has a clear plan with what you should have handy for each lesson, tips and general info for the lesson. The lessons are broken up into 3 levels – A, B and C. At the beginning of the guide you'll do a pre-test to see where each child should start. I love that you can use this program with more than one child at a time. Just make sure to purchase a workbook and spelling journal for each child.
What makes this program even better is the abundant amount of FREE resources she has available on her site. For instance, if you can't really get the sound (even with a flashcard), no worries. She has a pronunciation page where you can hear every phonogram sound. She has training videos, extra spelling lists, (I LOVE the lists by phonogram!) and even spelling lists for Advanced Essentials. You are not going to be without support or help using this program.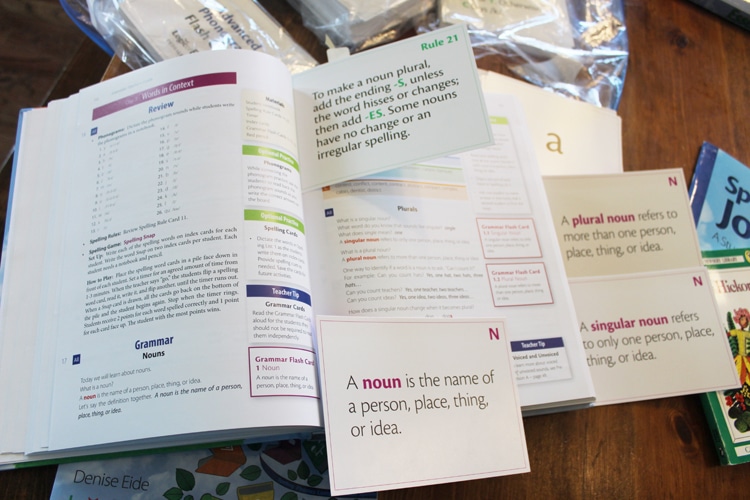 My children have learned a great deal about spelling and grammar from this program. It is very systematical and thorough, and worth the time it takes to teach. The resources available are tremendous. If you hate jumping from one English and spelling program to another, trying to find something that works great together, try Logic of English. It's all in one and is working very well to accomplish an understanding of teaching spelling and grammar together.
Happy Homeschooling,
Theresa
Please see my disclosure for information about reviews on the site.