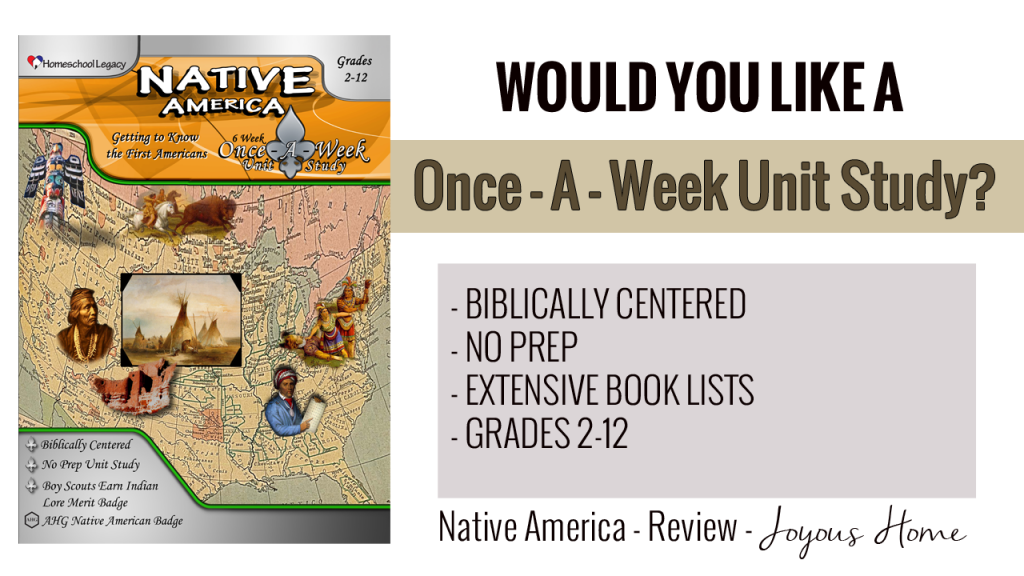 I love unit studies. I'm not great at them. I need my hand held through most of it. I need the book lists, activities, vocabulary ideas, per subject inclusion and more. I don't want to spend 5 months on one unit study, or neglect my current schoolbooks to incorporate one. I don't want to have to think through all the hard details, I just want to study the subject, find resources easily, and relax while teaching and learning.
Native America – Unit Study Review
This week I found Homeschool Legacy, and the Once-A-Week Unit Study! Sharon Gibson has done a wonderful job of selecting interesting subjects, and putting together her studies in an easy format. This is my short review, and when we finish this study, I'll be posting an update. I'm so excited to have found her!
The first thing I noticed was the great selection of unit study topics, biblically based. I love her Character Traits section, which is first in the study.
This study includes all directional notes and ideas at the beginning and end to help you understand how to use it. (See her video below.)
NOTE: This study enables either Boy Scouts, or American Heritage Girls, to earn merit badges. While not exclusively for them, the resources and extra content is there. While our family doesn't participate in either, the material included looks very organized and allows them to participate in the study while completing the requirements. Excellent idea!
How I'm Going to Start
The first thing your child will do is build a notebook timeline. SIMPLE. Even if you have a regular timeline book, I can see the benefit of this simple step to enhance the visual timeframe in the study.
Since this is a weekly study, my family will do a library trip for 2 weeks study at a time. Remember, the name means exactly Once-A-Week, so I want to be prepared for 2 weeks. She gives an idea on how you can arrange your schedule, but not drop current curriculum to do the study. She does suggest picking one day for unit studies only.
The layout is extremely easy to understand. She starts by listing the read-alouds for non-readers. All of the reading lists include alphabetically and numerically arranged Dewey Decimal numbers!
YES. I love it! How long have you spent looking up reference numbers before going to the library? Done.
Weekly Arrangement
Let's go over how a week is arranged.
First is the book/video list to correspond with the study. These lists are excellent and abundant.
Following:
Supplies (for any projects listed)
Daily Activities – Independent Reading/Read-Aloud
Once a Week Activities

Family Devotional: Character Trait to be discussed
History
Language –

My Notes: Some of my children are not strong writers. I would replace some of the writing assignments with dictation from our read aloud, or write a paragraph from independent reading.

Music – Links for listening
Geography – Maps included!
Anthropology
Life Skills (RECIPES!), Documentary, Family Night, Field Trips
I love the ease of her study, the exhaustive list of books/videos, and the simple way to incorporate the study into your weekly learning. Well done.
I'd love for you to meet Sharon Gibson as she shares how to use her Once-A-Week Unit Studies!
---
Happy Homeschooling!