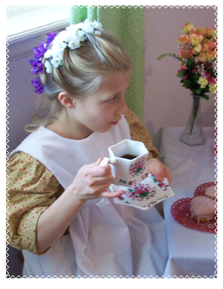 Making dresses! Sometimes things are obvious, and sometimes patterns just assume you know a lot. This tutorial may be useful for someone who is having trouble putting a band on a sleeve where the directions don't really tell you how to. This is usually done when you gather the bottom of the sleeve, and you don't want to use elastic, which sits directly on the skin. The band on a gathered sleeve is adorable.
!NOTE! On the first picture, I was using the band to measure how much I needed to pull my gathering stitches on the bottom to fit the band. You do not sew the wrong side of the band to the right side of the sleeve! It was turned right sides together.
1. Your sleeve at the bottom will be twice the size of the top (which in my picture is also gathered). First, run gathering stitches on the bottom of the sleeve. You can do this by hand or by machine. Most machines have a 'basting' stitch or long stitch. Leave plenty of thread at the beginning of the stitch and plenty of thread when you end. You do this by pulling 12″ or so of thread as a tail before stitching, and the same before you cut the thread after stitching.
Picture one – Place the band RIGHT SIDES TOGETHER with the sleeve, after running basting stitches through the middle of the sleeve. (not the entire sleeve because I only want it gathered in the middle part) I've pulled the threads to gather the fabric to fit the sleeve, and pinned in place. So you will just pull a little on each side, to make even little gathers in the middle. Take your time.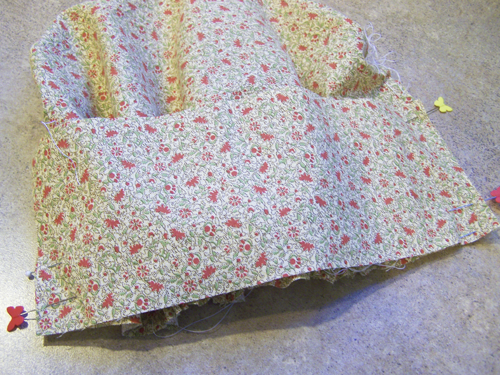 You can see it's not quite gathered yet. It takes a little time, and you might think you are doing something wrong because it's taking that much time. Slow and steady makes nice little gathers. Tie the threads on each side when you have it smooth and fitted. Now turn over to pin.
2. I gathered with from the front side so my band wouldn't have any tucks. I then pinned everything securely in place. If you want it to stay neat, it has to be pinned well.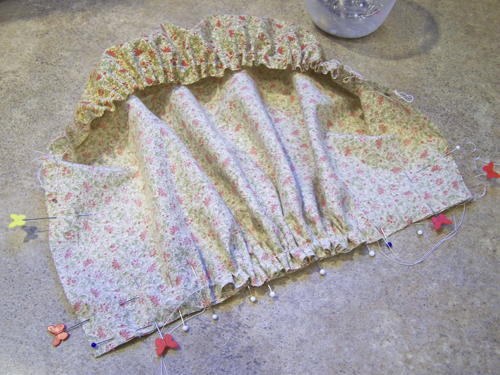 3. Sew the seam, pulling the pins out as you come to them.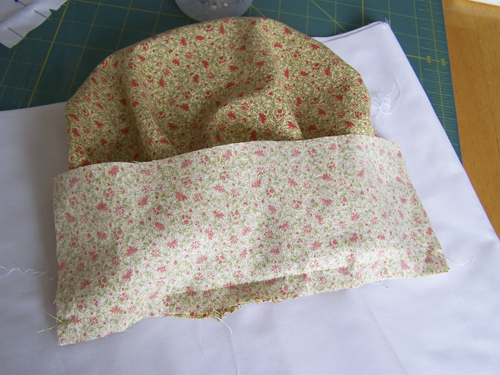 4. Flip down and iron. You can finish the seams with a zig-zag or serger.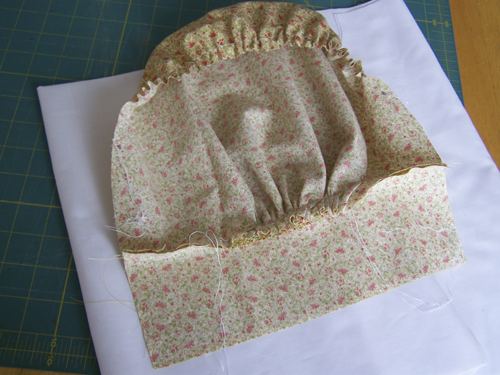 Finished! Now maybe a tutorial on inserting a sleeve? Happy dress making!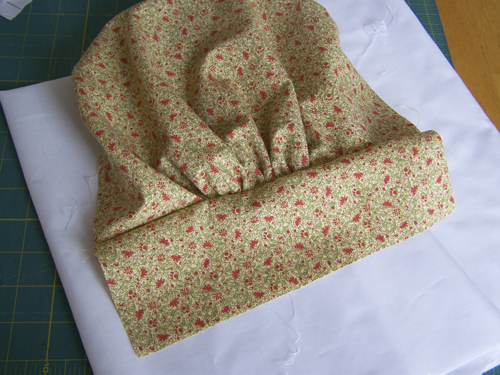 This is one of our favorite springtime features! We published a series of short home economic lessons for mothers and daughters in 2012, and put the first three lessons into a print magazine. This is currently one of our best sellers!