Welcome to our All Things Spring Link Up!
Easy Spring Wreath
This is truly an easy wreath to make. It is also inexpensive if you get the florals on sale, and use coupons. We have a JoAnn store here, and they have the best deals. If you are a homeschool teacher, make sure you have your teacher's card for an extra discount. With the coupons and sales, I paid less than $13.00 to make this. Pre-made wreaths are anywhere from $25-$50.
This wreath is made from real sticks, so it's fragile. I liked the swayed look so I got it. In the floral section find one bold flower bunch, and a bunch of tiny white ones. I used one large bunch of bold flowers, and two bunches of tiny white. I then went into the ceramic sign isle and found the little plaque. So easy. Additionally, you'll need wire cutters, craft wire and a glue gun.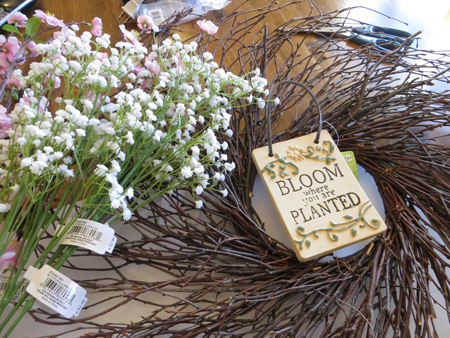 1. I started by wiring the plaque in place from the back. I didn't want the glue to interfere with getting the wire wrapped around the middle section. If your plaque is touching the circle, you can put a tiny bit of glue on the edges to keep it from moving.
Wire in place. I just twisted around the hanger and through the thickest part of the wreath. My plaque touches the wood, so I put a bit of glue there too.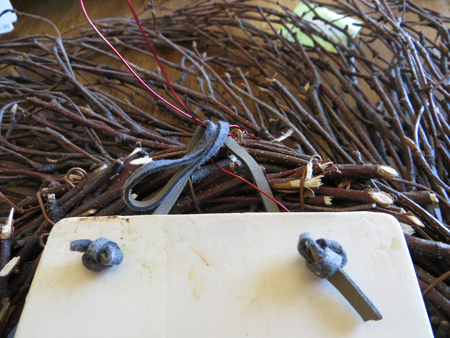 2. Start in the middle with the bold flowers. Cut your flowers from the stems and move in a circle, covering the inside area. Don't go too far into the middle as this is where you will glue your little white flowers.  The best part about the flowers and wreath is the stems are the same color. It was easy to hide them inside. I found it the easiest to put some glue, then stick the flower stem in. You can hide glue with other flowers.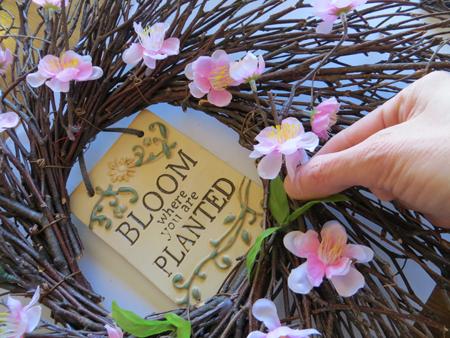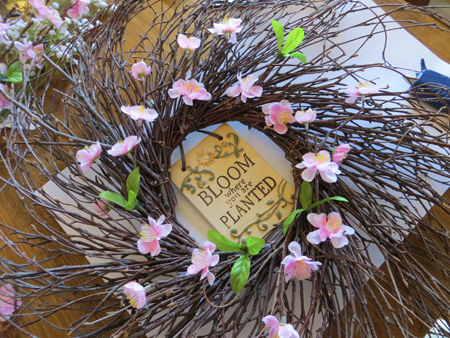 Finished inside!
3. Now do an outside circle the exact same way. This doesn't have to be thick with flowers. Less is more since the wreath carries it's own beauty. Leave some stems longer to push some flowers more near the edge.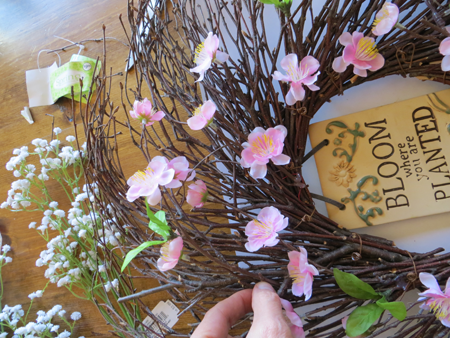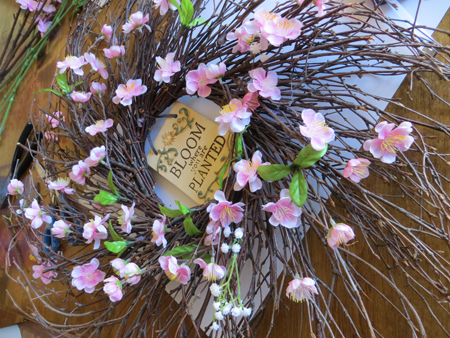 4. Now glue all the tiny flowers on the inside circle. It's that easy! This takes about an hour and 15 minutes. I would love for you to share some of the wreaths you create!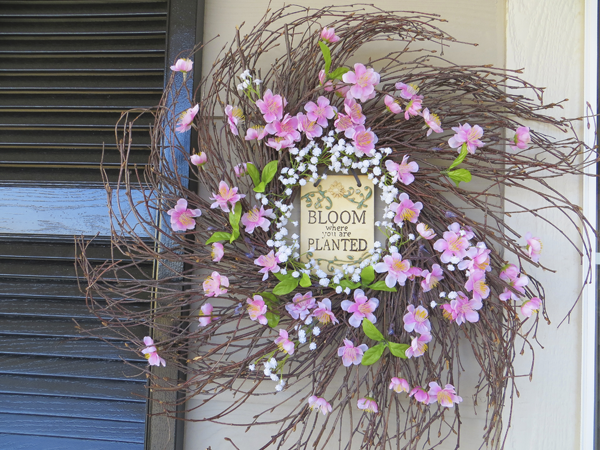 We're thrilled to be co-hosting this link up with 5 other amazing bloggers! This means that any posts you link up here will also be seen on 5 other blogs!
We hope you'll link up all of your spring crafts, recipes, printables, unit studies, etc. This link up will be live through Mar. 20th, so feel free to stop back by and link up any new spring posts you have!
Introducing All Things Spring Link Up Hosts!