Ornament sharing is one of the best traditions we have started in our family. All kinds of handmade ornaments can lend to comfort and blessed conversation in later years. One of the pretty ornaments Jessica made was with ribbon. Here's how to make Christmas Ribbon Tree Ornaments.
Supplies for Christmas Ribbon Trees
Makes One
16″ silk embroidery ribbon
Size 8 embroidery needle, or a needle-thin enough to fit through a seed bead   
19″ of 3/4″ wide crafting ribbon      
11 pearly beads
2 seed beads or another very petite bead (found in the embroidery section of the craft store)
To Start: On one side of the 19″ piece of ribbon (the wrong side of the ribbon if not double-sided), make a single dot in the center of the ribbon 3″ from the end. Make another dot 2 3/4″ away from this dot. Continue, spacing each dot after at these points (specified below), stopping at 1″.  2 1/2″, 2 1/4″, 2″, 1 3/4″, 1 1/2″, 1 1/4″, 1″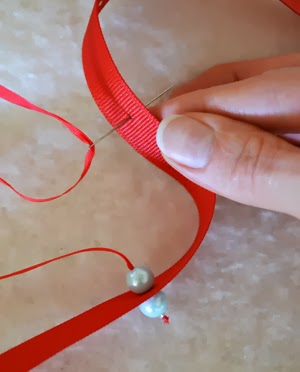 1. Thread the embroidery needle with the silk ribbon and knot the end with a single tight knot. Slide one seed bead over the needle and pull to the end of the ribbon so that sits on the knot.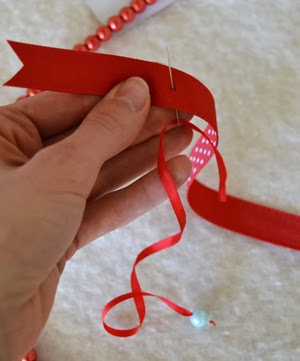 2. Start with one pearly bead. Slide down to meet the other seed bead. With the wrong side of the ribbon facing you, bring the needle up through the first marked dot, from the right side of the ribbon, pull through.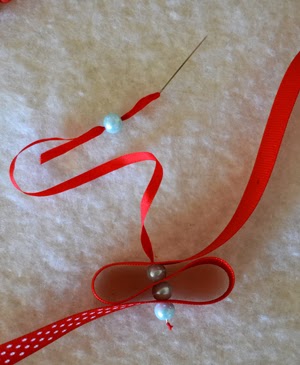 3. Add another pearly bead. Insert the needle through the next dot as shown, pull through, and then add another bead…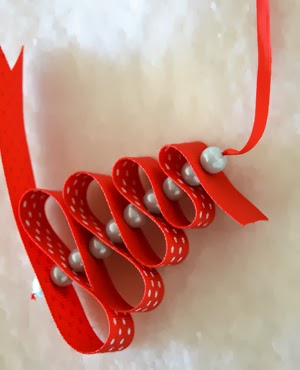 4. Continue the pattern until you finish with the last dot; top with one last pearly bead and the last seed bead on top of this.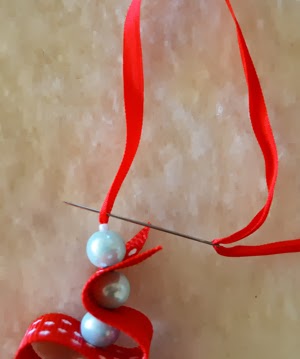 To make the ribbon loop and finish off – run the needle through the ribbon at the top of the bead as shown. Pull through until loop forms, stop when it's the right size.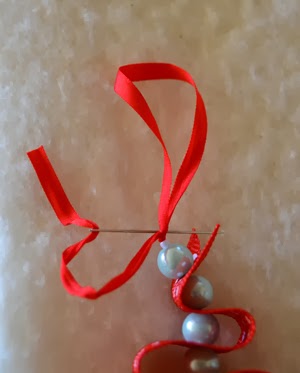 Run the needle back through from the opposite side; pull through, but stop right before the loop closes, and pass the needle through the loop, then pull until tight and snug. This will complete a knot. Clip the ribbon.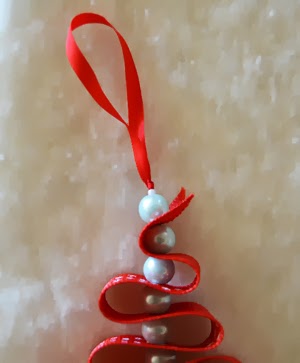 Trim the ribbon on the top and bottom of the tree.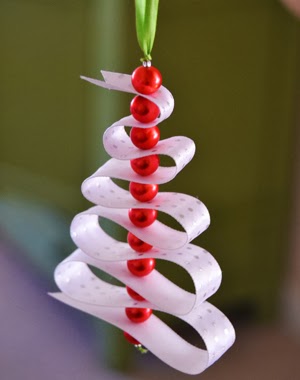 Finish the ornament off with a triangular cut into the ribbon end. Your Christmas Ribbon Tree is finished!
If you like the idea of working on ornaments to make memories, be sure to see our Ornament Traditions for more ideas!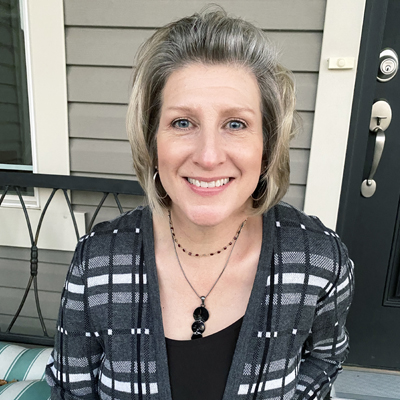 On Joyous Home, you'll find everything from food to handiwork, homeschooling to grace-filled living. Along with my daughter, Jessica, we love publishing and blogging about homemaking. We are children of Christ, and imperfect wives and homemakers. We're happy you're here!