"The crab is quick to get cross. Are you? He likes to fight. In that he is like a bad boy." CL Nature Reader Book 2, Lesson 5, What the Crab Does.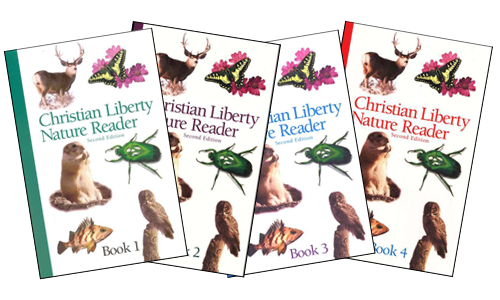 It's that time again! Our Free Book Friday giveaway is featuring the Christian Liberty Nature Readers, books 1-4.
That is one of my very favorite lines. My reader is over 10 years old and I remember my now 18-year-old being very fond of the crab stories. I wonder why…
The readers are intended for the use of beginners in reading. So the books naturally progress in difficulty.  The illustrations are mainly line sketches, very nice. You don't need many pictures to keep the attention of your children. We have well used our readers and still have over 10 years to go!
Book 1 – This book develops better reading skills by reinforcing phonics principles through stories that pique young minds—stories about insects, spiders, birds, and other animals. Beginning vocabulary skills are also learned as students are exposed to new words (a glossary is located in the back of the reader). This would be considered an advanced 1st grade reader.
Book 2 – This book entices young readers with stories about crabs, wasps, bees, spiders, shellfish, and worms to increase their knowledge of God's wonderful creation. Review questions are found at the end of each chapter.
Book 3 – This book exposes students to the daily routines of many creatures within God's creation: ants, flies, beetles, barnacles, jellyfish, sea stars, and dragonflies. Review questions are found at the end of each chapter.
Book 4 – This reader further examines the wonders of God's creation through stories about birds, insects, moths, turtles, snakes, and more. Review questions are found at the end of each chapter.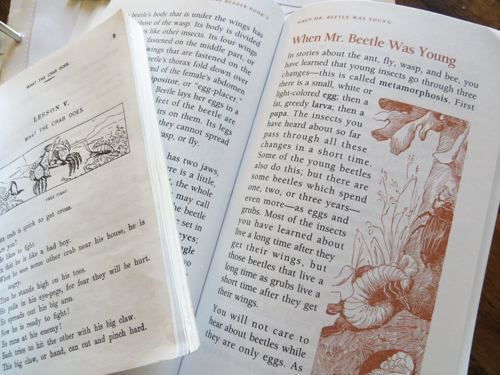 Nature Study Links – LOTS of printables and freebies from our friends! Enjoy!
Charlotte Mason articles, public domain nature e-books and more!
Spring Themed Nature Studies
The Easter Story: A Nature Walk
Homeschool Nature Walks
Butterfly Alphabet Matching Cards
Free Leaf Identification Cards – (Wonderful post!)
Spring Flower Identification Cards
 Giveaway has ended but enjoy our links!