Flourless Fudge Brownies, who knew I could do it. Every now and then for hospitality purposes, I have to come up with a "gluten-free" dessert. Without making too many comments about the subject of gluten, ahem… sometimes I discover something that's really yummy, outside of the consideration that it's gluten-free – this is one of those recipes. 🙂
Flourless Fudge Brownies
[clickToTweet tweet="These brownies came out so good. They're fudgy and soft, but firm and don't fall apart…" quote="These brownies came out so good. We loved them. We'll make them again. They're fudgy and soft, but firm and don't fall apart… and have the best 'soft' crunchy top." theme="style1″] They are also extra tasty with a scoop of ice cream. And they are so easy to make, and wow, flourless!
Some extra tweaks were needed for the recipe and I'll share them as soon. Dark chocolate is a favorite over milk chocolate, which is too sweet for me. I used semi-sweet chocolate because that's what I had on hand, but I'm going to switch to bittersweet the next time. I might use a little less than 3/4 cup sugar as well. Butter is a health food, so we'll leave that alone. 😉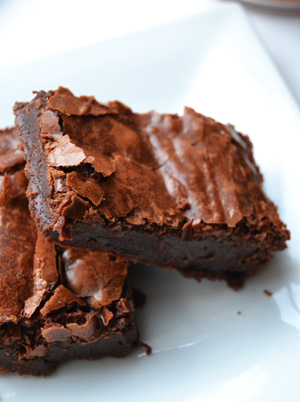 This recipe made an 8″ x 8″ pan – double it for an 9″ x 13″. They are as yummy as they look.
The Ingredients:
6 tbsp. unsalted butter
3/4 cup sugar
8 oz. (1 cup) of semisweet or bittersweet chocolate – if you aren't using chips, then I recommend chopping the chocolate
2 large eggs
1 tsp. vanilla
2 tbsp. unsweetened cocoa powder
3 tbsp. corn starch
1/2 tsp. sea salt
In a saucepan, melt the butter over medium-low heat. Stir in sugar and 8 oz. semisweet or bittersweet chocolate. Melt and stir until smooth. Remove from heat and cool for 15 minutes. Whisk in 2 large eggs, one at a time. Add the vanilla and whisk for 1 full minute after both have been added.
In a small bowl, whisk together the cocoa powder, cornstarch and sea salt. Whisk until no lumps remain. Add this mixture to the chocolate mixture. Whisk vigorously for a full 2 minutes.
Pour into a greased 8″ x 8″ pan. Bake at 350 degrees for 20-25 minutes. The edges will be set, and a toothpick poked in the center will still have some very moist crumbs on it. I baked mine for 22  minutes. Let cool completely before cutting. Serve with ice cream or whipped cream mixed with a little brandy. Yummy!
I would love to know what you think if you're gluten free. We aren't, but would like to hear from those who need to bake this way.
~ Jessica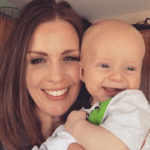 Child of God, Wife to Josh, Mommy to my four sweet children. Thankful for busy days filled with homeschooling, homemaking and loving my little family! And sneaking in sewing and pattern design whenever I can 🙂