I wasn't sure how often I was going to use my crockpot when I got it, but now I'm so glad I got that for Christmas! I love using it. Even though there is only two of us to cook for right now, I love being able to start dinner early and add things in here and there over the afternoon.
I'm currently looking for more good crockpot recipes, if anyone has recipes they would like to share, please do! I made chicken and dumplings on Saturday, thought I'd share the recipe…
Chicken and Dumplings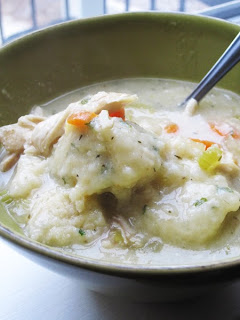 It's been strange planning meals and making up recipes for only two people. It took a while for me to start seeing things in little portions and sizes. I've cooked for years with several pounds of meat for a big family, not one chicken breast in the pot for two of us! I'm sure I'll laugh one day thinking back on when dinner was one piece of chicken…
This recipe makes about 6-8 servings. I always plan about 1 lb. of chicken per meal for us, and this made plenty. Double or triple this recipe according to the size of your family. A doubled recipe would still fit in the crockpot, but if tripled I would use a big stockpot, over low heat.
Turn on the crockpot to high, and add 1/4 cup butter and 1- 1 1/2 lb. of chicken breast. Heat just until the butter is melted and the pot is hot. Add:
     1 tsp. dried thyme
     1-1 1/2 tsp. ground black pepper (I love extra pepper!)
     1/2 tsp. crushed rosemary
     1 tsp. dried Italian seasoning
     1 tbsp. minced garlic
     2 1/2 tsp. sea salt
     3 c. water
Cover and cook on high in the crockpot (medium heat for stovetop) for 2 hours. Then add:
     1 large onion, chopped
     2 cups carrots, thickly sliced
     1 1/2 cups celery, thickly sliced
     1/4 cup chopped celery leaves
     3 cups of water, or chicken broth (I added 1 tbsp. of chicken bouillon and 3 cups of water)
     1/3 cup white wine or sherry (optional)
Cook for another 2 hours on high, until vegetables are tender.
Remove the chicken breast and shred it into large pieces. Add the chicken back into the crockpot. Taste the broth and add any extra salt or spices needed. Ready to make the dumplings!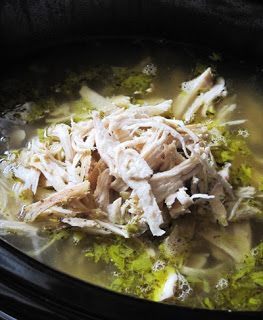 The Dumplings
In a bowl add:
     1 1/4 cups soft wheat flour
     1 cup unbleached white flour (I love the King Arthur brand of unbleached flour!)
     1 tbsp. baking powder
     1 tsp. sea salt
     2 tbsp. fresh or dried chopped parsley
Whisk together, and make a well in the center of the mixture. In the center add:
     1/3 cup melted butter
     1/2 cup half & half
     1/4 cup water or milk
     1 large egg
Mix with a fork just until combined. I started this in the crockpot, but moved it to a stockpot on the stove to cook the dumplings. I had figured that the dumplings would take about 1-hour minimum to cook in the crockpot, and we wanted to eat sooner. I'll start this a little bit earlier next time! Dumplings only take about 20 minutes in a pot on the stove.
For crockpot: add the dumpling batter by 1/4 cup scoops into the pot, one scoop next to the other, not on top of each other. Cover and cook for 1 hour, or until a toothpick inserted into a center dumpling comes out clean.
For stovetop: bring chicken soup to a low boil over medium-high heat, then add the dumpling batter by 1/4 cup scoops, just like the crockpot instructions. Lower heat to medium-low, just high enough to keep the mixture bubbling. Cover and cook for 20-25 minutes, or until a toothpick inserted into a center dumpling comes out clean.
Dinner is ready… Enjoy the recipe! Jessica