This apple spice cake is easy to make and comes out soft and spicey! Our spice cake recipe seemed too dense, Jessica recreated a perfect recipe. Breakfast or dessert or a nice tea party! Don't skip the frosting. 
Makes one 9" x 13" Pan | Oven 350 Degrees
Spray the cake pan and set it aside.
Apple Spice Cake
2 c. diced apples
1/2 c. butter, melted
1/2 c. vegetable oil
3 large eggs
2 tsp. pure vanilla
1 1/2 c. brown sugar
1 c. unsweetened applesauce
2 1/2 c. bleached white flour
1 tsp. baking soda
2 tsp. baking powder
1 tsp. sea salt
2 1/2 tsp. ground cinnamon
1/2 tsp. ground nutmeg
Mix dry ingredients and set aside. Cream butter, oil, and sugar. Add the eggs, vanilla, and applesauce. Jog in the dry ingredients. Stir in the diced apples. Pour into your prepared pan. Bake for 45-50 minutes or until a toothpick comes out clean. 
Sour Cream Frosting
1/2 c. butter, softened
2 1/2 c. powdered sugar
1/4 c. sour cream
pinch of sea salt
2 tsp. of vanilla extract, 1/2 tsp. almond extract
Beat for 4-5 minutes. Spread on the cooled cake. OH BOY. It was even better for breakfast the next day. It was soft, and had the perfect hint of spice.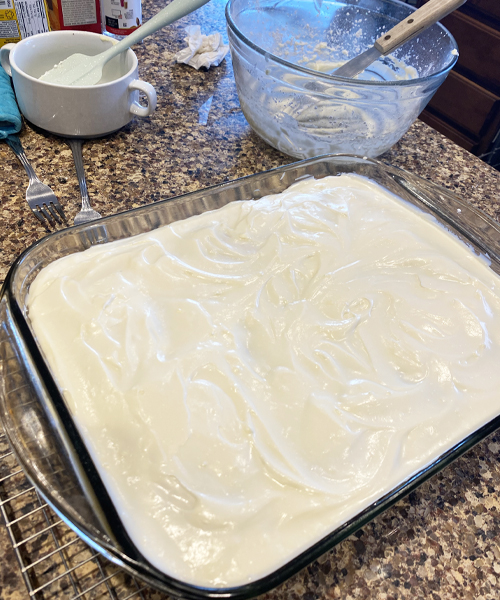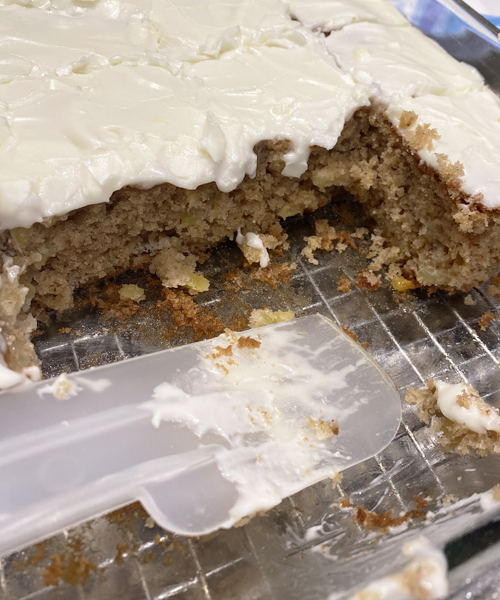 Let me know if you try it! Enjoy!
This topic was modified 8 months ago by
Theresa
Posted : 30/04/2021 5:27 pm
I don't see flour listed in the ingredients. How much does the recipe need?
I love your recipes, patterns, everything! Thank you!
Posted : 01/05/2021 8:46 am
@stephanie thank you! It was written out in paragraph not list, so I missed that important addition LOL! 
Posted : 01/05/2021 10:05 am