Perfecting a Pizzeria Style Crust!
I've been playing with this recipe for a few weeks now. I first found this on Cook's illustrated - a wonderful baking resource! If I had a real pizza oven I think it would top out my efforts!
This uses ice water and very little yeast - which makes sense to me now, as we don't want 'bready' crust. The trick is also dough refrigeration before, and a hot oven when baking.
Enough dough for 2 large pizzas:
6 cups flour
4 tsp. sugar
1 tsp. instant yeast
2 2/3 ice water
2 Tbsp. oil
3 tsp. salt
I use my Bosch mixer for this dough.
Add the flour, sugar, and yeast to the mixer and jog to blend. Now with the mixer running on low, with the main lid ring on, pour the cold water slowly as it mixes until the flour is choppy looking. Stop the mixer and add the oil and salt. Run the mixer for about 4 minutes until the dough cleans the bowl and forms a nice elastic ball.
This dough is super soft and smooth! I love it. Roll the dough into a nice round mass and then cut into two balls, wrap in plastic and refrigerate from 4 hours to 2 days.  (I made more in this batch. Comment if you want me to share the 3 large pizza recipe!)
Rub the dough with oil, roll out and then top. I moved the rack to an upper position and baked at 445 degrees for about 13-14 minutes until bubbly. You can use a pizza stone too if you have one!
I'll try to get more pictures of steps and a done pizza. It's pretty tasty!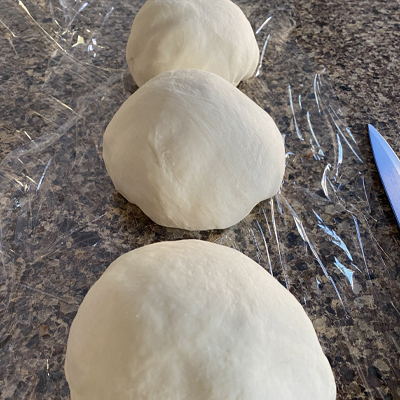 Posted : 08/01/2021 8:23 pm