Here's a yummy side dish or dessert for your Thanksgiving meal! I love making mini souffles! They are fun and attractive, especially when you serve them individually in pretty ramekins.
Homemade Sweet Potato Souffle
Makes 6-8 Individual Medium Ramekins
Ingredients:
Sweet Potato Mixture:
16 oz. Sweet Potato Puree =  5 lbs fresh (give or take) OR Two 40 oz. cans of sweet potatoes
1 tsp. ground cinnamon
1 tsp. ground ginger
½ tsp. ground nutmeg
½ tsp. ground cloves
½  tsp. salt
½ tsp. pure vanilla
Milk Mixture:
2 cups milk
1 tsp. ginger
Flour Mixture:
1 stick butter
½ c. flour
9 eggs (separated, save eggs whites in separate dish)
½ c. packed, light brown sugar
Egg Whites:
Eggs whites
½ c. sugar
Granulated sugar and Confectioners sugar for dusting
(Puree can be prepared a few days ahead and kept in the refrigerator.)
Drain and mash sweet potatoes.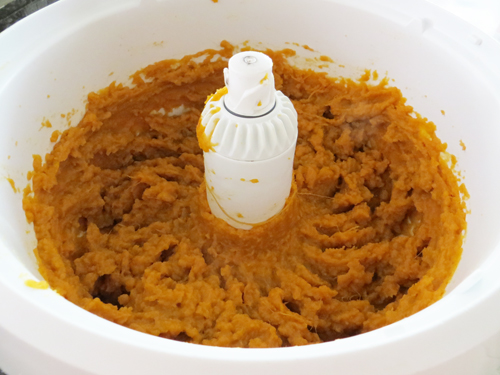 Heat oven to 350˚. Spread potatoes evenly over a lightly buttered baking sheet. Bake about 25 minutes until puree loses most of its moisture; don't let it form a brown crust!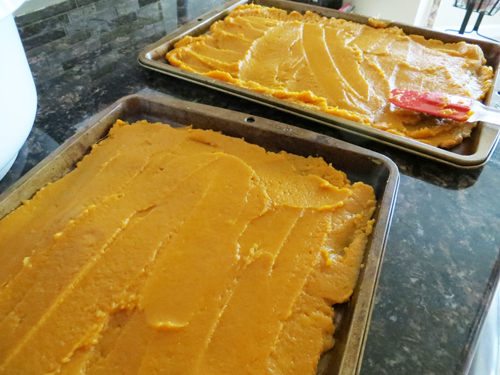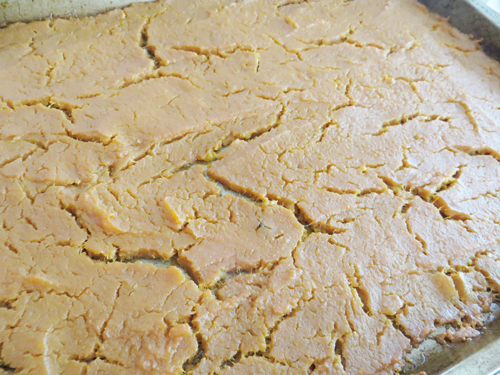 I weighed out 1 lb of puree on a kitchen scale.  If you have more, save it for cookies! Transfer to a bowl and add cinnamon, ground ginger, nutmeg, cloves, salt, and vanilla extract to sweet potato mixture. Whisk together, cover and chill in the refrigerator for at least 30 minutes.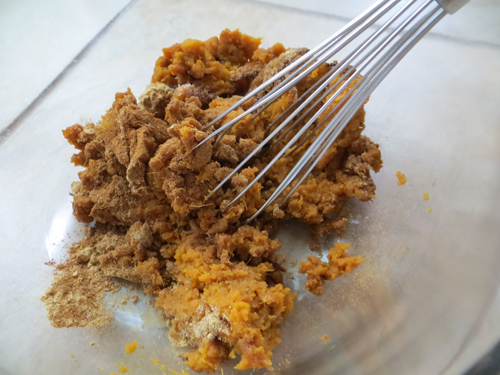 In a small saucepan, combine milk and 1 tsp. ginger. Warm, do not boil, and remove from the heat.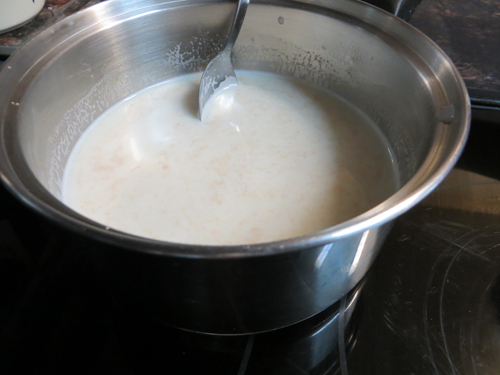 Increase oven to 400˚. Butter souffle dishes and lightly dust with granulated sugar, tapping out excess.
Prepare an ice-water bath; set aside. Melt butter in a medium saucepan over medium heat. Stir in flour until smooth. Gradually add the milk, whisking constantly, and continue to cook until thickened, 2 to 3 minutes.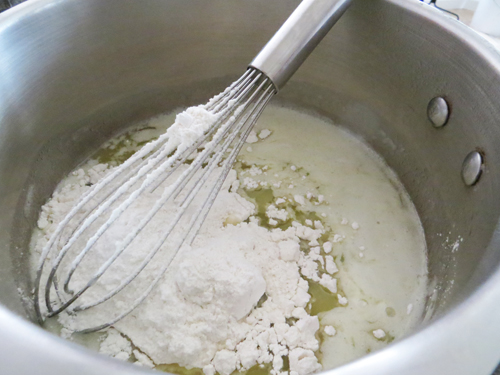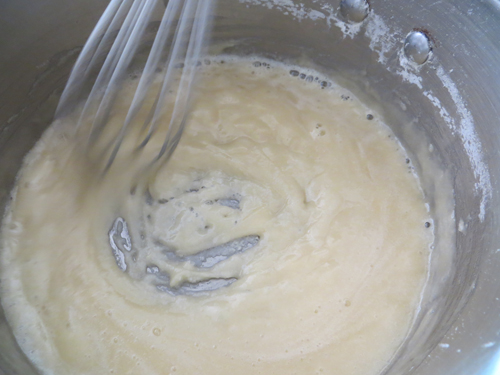 Add the sweet potato mixture and the brown sugar to milk mixture; stir to combine. Stir in egg yolks. Transfer to a large bowl, and place bowl in the ice-water bath to cool mixture completely.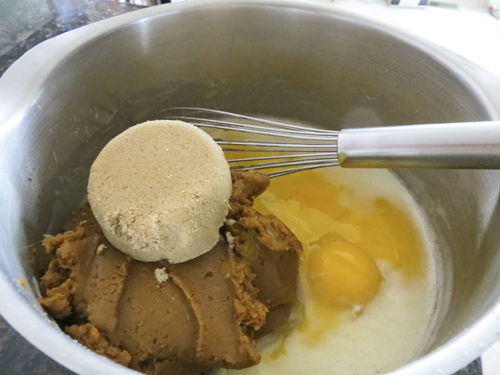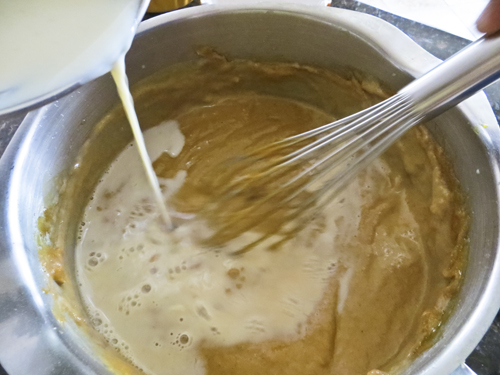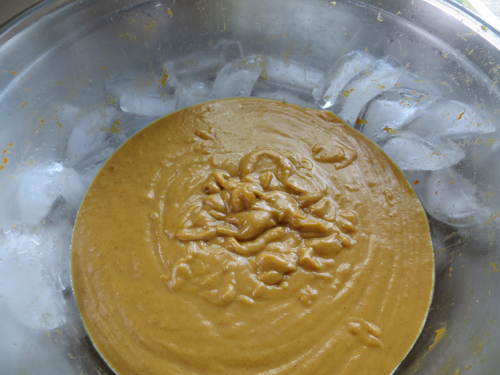 Combine egg whites and 1/4 cup granulated sugar in the bowl of an electric mixer fitted with the whisk attachment. Beat until soft peaks form. Add remaining 1/4 cup sugar, and beat until stiff glossy peaks form. Using a rubber spatula, fold egg whites into chilled sweet potato mixture in two stages. Just fold in, don't use a whisk!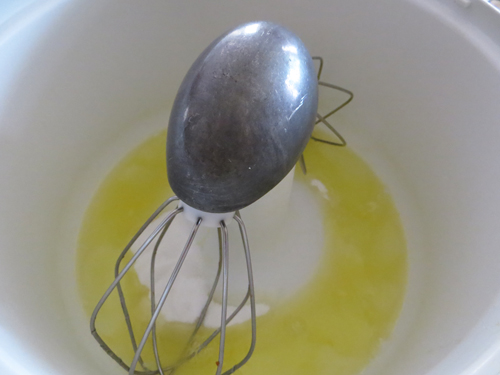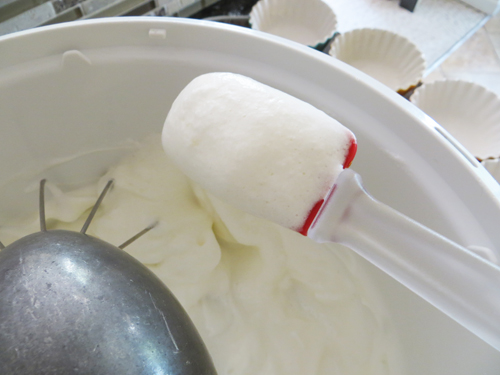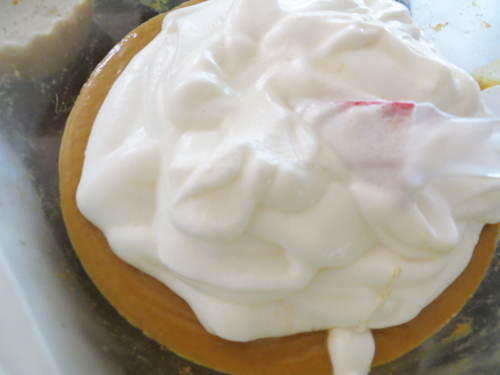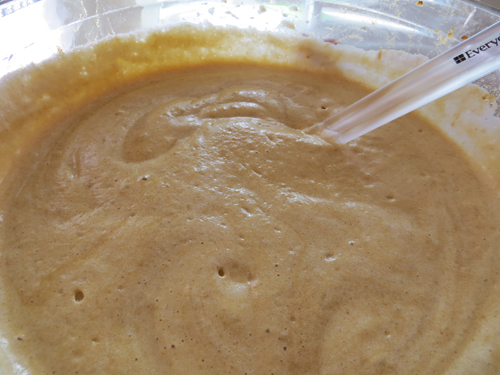 Pour into prepared souffle dishes, just to the top. Smooth surfaces of souffles with your fingertip. Bake about 20 minutes or until tops are dry and slightly brown. Overbaking can make them stiff. Dust with confectioners' sugar and serve with ice cream on the side. Enjoy!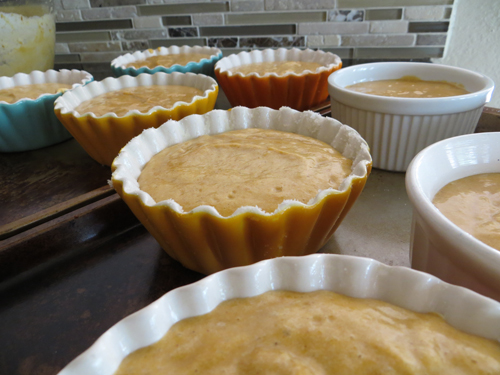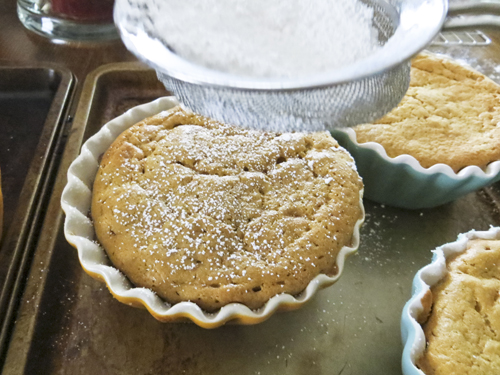 [printfriendly]